What It's Like to be a Fitness Professional During COVID-19
With uncertainty permeating the air and non-stop news of gyms closing, many fitness lovers are relegating themselves to only at-home workouts or outdoor running for awhile. But what about the fitness professionals who rely on in-person client services to make a living?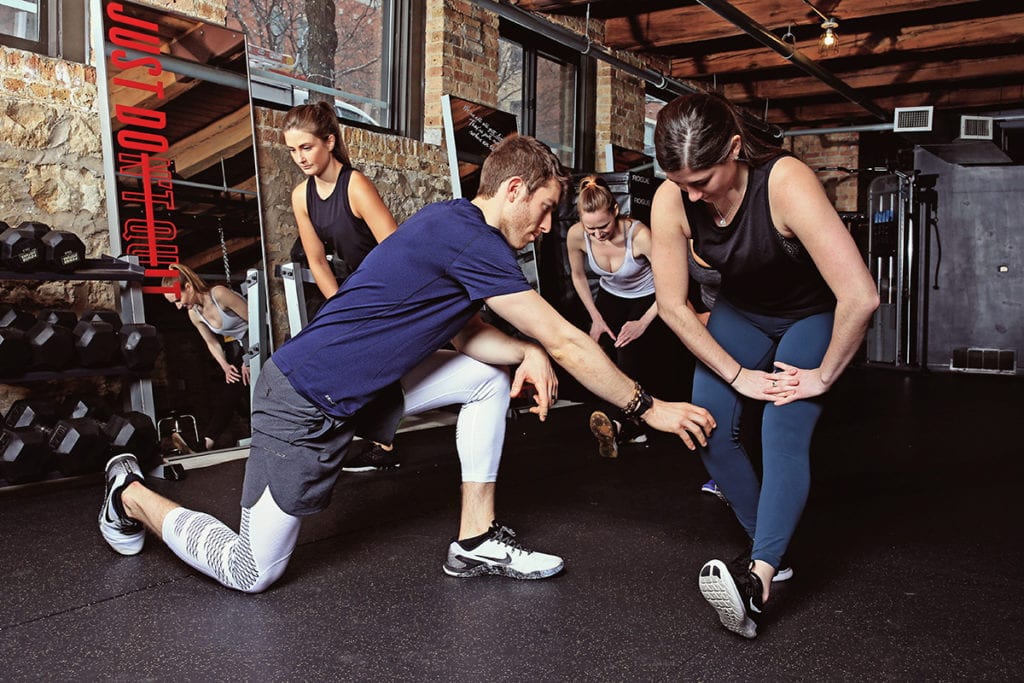 Most personal trainers or group fitness instructors are contractors who only make money for each class taught or each client trained; salaries and paid time off are incredibly rare in the industry. If you don't work, you don't get paid—and a two-week (at minimum) period without work can cause financial strain.
Kat Wiersum, an interval coach at Studio Three and group class director/instructor at Amplified Pilates, tells us "I'm scared of us being forced to shut down; at Studio Three, we will likely be paid for our time (thank God) but I'm an independent contractor at Amplified, which means I have zero safety net financially there. I'm scared of losing the majority of my income! I've had a few clients cancel sessions indefinitely because of the virus, but mostly things are the same. Everyone has generally accepted that we will lose money even if we continue to work. Classes will be smaller, which leads to less pay."
Courtney Belcastro, a coach at SHRED415 and Title Boxing Club, is just as concerned for her clients' mental health as she if for their physical health.
"I want everyone to practice safe & hygienic habits first and foremost – but we get so accustomed to fitness as an outlet that I'm worried about their stress and mental health building up and want to make sure they have a place that they can come to and sweat it out and feel as good as they can," she says.
She continues, "Title is adjusting our 'core' part of our workout to be all standing core moves so that clients don't have to lay on the mats and allowing for additional clean up time before the next class can come in."
Whitney Sommerfeldt, a territory sales manager at Koia who moonlights as a [solidcore] instructor, agrees with prioritizing clients' health and safety, but wants it to come from a place of education rather than fear.
"As someone obsessed with health and well-being, I've encouraged my clients to trust their gut," she says. "I've told them what precautionary measures [solidcore] is taking as a studio, and then I've also mentioned the additional measures I'm personally taking: no hands on assists, washing my hands before and after class, sanitizing the mic, etc. I also encourage clients to take it one step further and sanitize their machines (from the handles to the springs) both before and after class. 
"I also think that individual behavior is crucial," she continues. "Are you feeling under the weather? Stay home. Are you a client with an auto-immune issue? Stay home. Are you a healthy able-bodied client who wants the workout? Come, and take extra sanitary precautions. I think meeting it with an educational tone, rather than fear and scare tactics, is essential too; you want your client to trust you, not feel like you made them scared."
Here's what fitness professionals can do right now to help their business
Personal trainers can set up virtual sessions via FaceTime or Skype to meet clients where they are and with what equipment is on hand.
Studios can set up a members-only Facebook group (so you can verify who's a member of your studio) and share programming that can be adapted for at-home workouts.
Personal trainers can also spend this down-time putting in the work to do business administration, marketing, and more—the back-end, unglamorous part of being a fitness professional.
Finally, personal trainers can restructure their pricing so that clients buy packages of sessions rather than paying for each session as it happens. Your clients likely want to support you during this time, and this option allows them to pay now and schedule sessions for when the social distancing recommendation is lifted.
At aSweatLife, we'll be hosting our own digital workouts daily via Facebook Live—find out more here. Want to host a workout with us? Slide into our DMs @asweatlife or email [email protected]
Let us know!
Did this post help you get closer to achieving one of your goals?