How Yoga2.0 Aims to Elevate Your Instructors in River North
"No matter what type of group fitness experience you go to, once you get in that room, 80 percent of the experience is controlled by the instructor," explains Shaun Jacob, founder of Yoga2.0.
And he's totally right; in fact, when we asked you in our State of Fitness survey how much instructor preference guided your group fitness schedule, you guys were quick to say that the people behind the mic drive your fitness choices. Around 75 percent of you said instructors influenced which classes you take; 55 percent said instructors influence which gyms or studios you work out at; and 72 percent said you have strong or very strong instructor preferences.
So when Jacob decided to bring his own concept for a yoga studio to life, he honed in on quality and consistency of instructors as a main pillar of the Yoga2.0 experience.
"I was spending at least 20 minutes a day looking through five different studio schedules to find the right instructor and map it into my day—it was extremely tedious and very frustrating," reveals Jacob. He used that experience to conceptualize Yoga 2.0: a gorgeous, clean studio space with the city's top yoga instructors all under one roof, similar to Barry's Bootcamp or SoulCycle, both of which are known for their amazing amenities and high-powered instructors.
"We wanted instructors who were going to be all-in"
Knowing that he wanted to hire the best of the best in yoga instruction, Jacob created an incentive and bonus plan to help him attract a diverse and knowledgeable talent pool.
"When we were considering our instructor base, we were looking for who we wanted our family to be, who we wanted to represent us, and who was going to be all-in," explains Jacob. "We were also looking to create a really well-rounded team of truly professional instructors who have years of experience teaching group fitness classes."
Yoga2.0 has also put together an All-Star management team including Robyn Rabicke (General Manager), Marissa Khalaf (Asst. Mgr. + Brand Director) and Manny Garcia (Director of Content).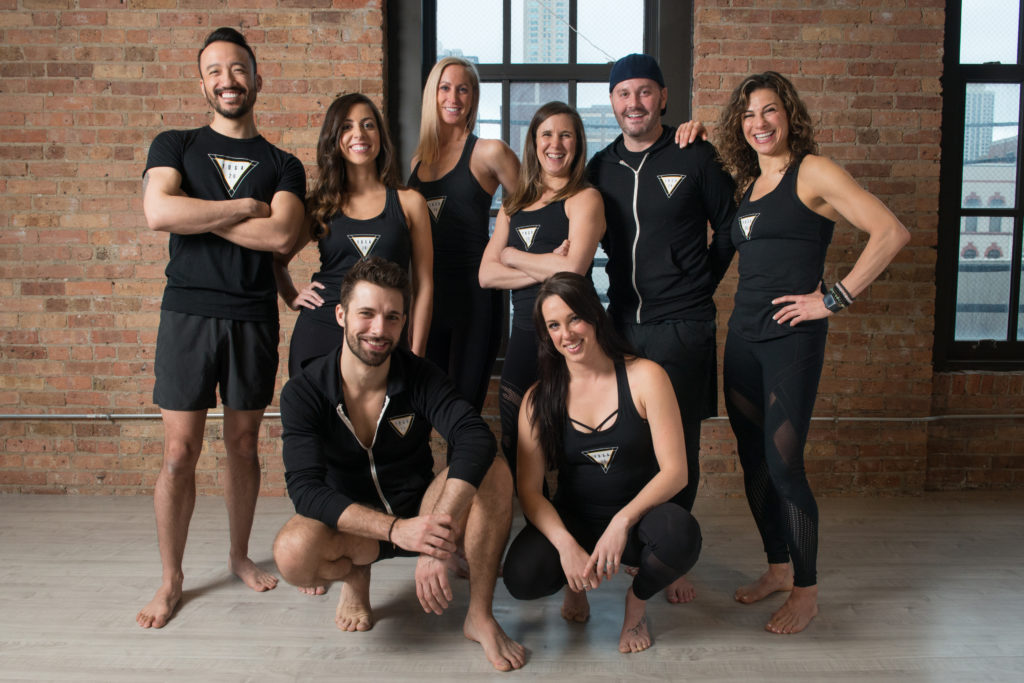 "One of my career mentors, who was a former college basketball player, told me a long time ago to find all-star talent, incentivize the heck out of them to perform, and then get out of their way and let them score points," said Jacob.  "I couldn't have found a better management team to go on this journey with."
While instructors will be trained in a Yoga2.0-specific class structure (with class options of Strength, Flow, and Revive, all in an infrared-heated studio that will fit up to 55 yogis plus a smaller studio that fits 25), they'll also be encouraged to put their own unique spin on each class they teach, say Jacob.
"One of Yoga 2.0's core values is make sure the student experience is as mentally motivating as it is physically challenging, no matter what class format or what time of day," explains Jacob.
How Yoga2.0 will infuse community into its practice
More and more often, people are forgoing happy hour at the bar for happy hour at the barre as gyms, studios, and other wellness businesses become the "third space" for communities to gather. Jacob is  passionate about integrating that community feel into the studio space and how they welcome their clients.
"Yoga is all about community, but in my experience, some studios pushed people in and out of classes and that was about it," says Jacob. To that end, he prioritized designing a large, welcoming lobby with free WiFi where yogis could come early or hang out after class, plus full-service locker rooms with high end amenities. They'll also have a full calendar of social events for members to enjoy together, such as rooftop yoga and meditations and happy hour gatherings.
"From the brick barrel ceilings to the custom wood beams and LED lighting set up to the spa like locker room and amenities, we spared no expense in making sure we offered the highest quality facility from all aspects to complement the best in class instructor crew we have assembled," Jacob shares.
Yoga2.0 will also be elevating their community by partnering with Dr. August Leming, an internationally recognized expert in human motivation, behavior change, and performance psychology. Unlimited members of the studio will have access to exclusive video content created by Dr. Leming expressly for the community, covering wellness-related topics like presence, mindfulness, compassion, resilience, and grit.
"These videos will be accompanied with monthly guided meditations," Jacob explains, "helping give our members tools experience the highest levels of performance possible!"
Giving back through the Yoga2.0 space and family
On a deeper level, Jacob wants Yoga2.0 to be an integral part of their local Chicago community as well. To start, they're partnering with CARA Chicago—no, not the run club, but the nonprofit dedicated to helping those affected by poverty get back on their feet by matching them with jobs in the local community. CARA Chicago will help staff Yoga2.0's cleaning crew.
Yoga2.0 will also, on a quarterly basis, feature a local artist and invite him or her to create a mural on one of their walls; outside of class times, the artist will also have access to the space to display their work as in an art gallery. Their first artist? Brandon Carlton, whose work centers around the theme of U.G.L.Y.: "u gotta love yourself."
Ready to roll out your mat? We're hosting a launch event with Yoga2.0 on Sunday, April 28—and you can grab tickets now! Grab your tickets for the 10 am workout here, or grab your tickets for the 12 pm workout here.