Legal Hacks for "Being Your Own Boss" as a Fitness Professional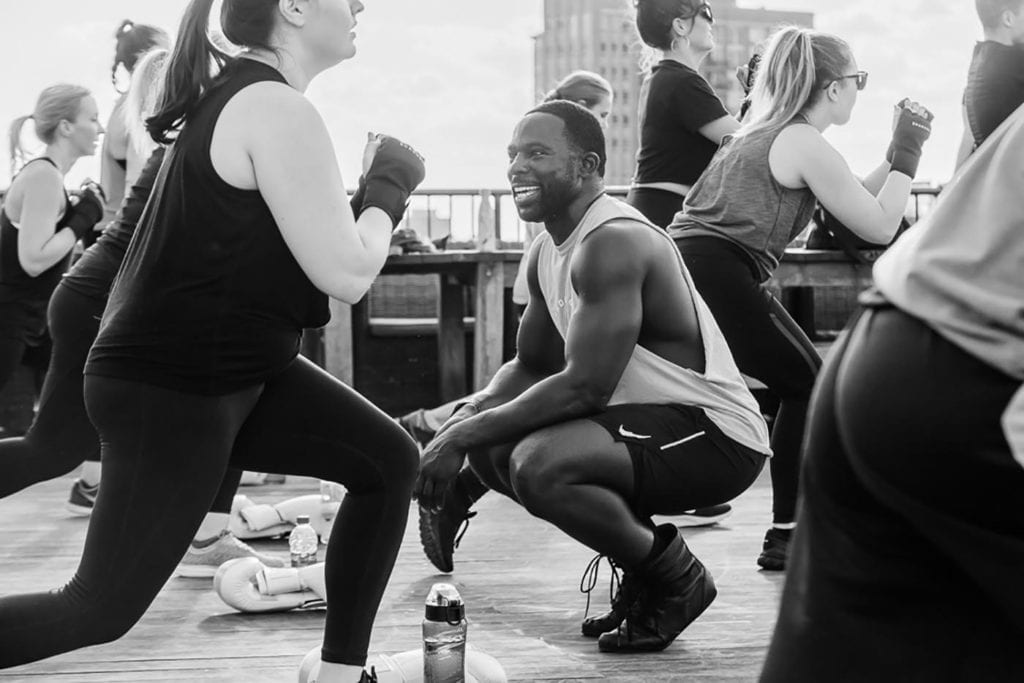 Those who get into the industry of health and wellness, personal training, group fitness, and/or teaching yoga often do it because it's their passion. It's more than a job; it is a calling. While fulfilling a calling is intrinsically motivating, without the proper business mindset to create structure within these career paths, there isn't much longevity to it.
And that's an interesting conundrum, because just going through those motions of establishing your own legal entity, tracking expense reports, and maintaining business records—for free-natured spirits like those who felt called to step into this business in the first place—can be demotivating at best, and cripplingly overwhelming at worst.
All this is precisely why at aSweatLife's trainer-focused event during the #SweatworkingSummit, fitness professionals gathered to learn how team members at SmithAmundsen law firm propose fitness professionals cover their bases and ensure they're setting up their own businesses properly for the long run.
"There isn't enough support or guidance for the people who work in the fitness community," said Liza Cuttica, workshop attendee. "It's a very unregulated industry that isn't unionized and it was so beneficial to hear the advice from the lawyers."
Here's what the SmithAmundsen team, Max Goodman and Beverly Alfon, had to say.
Why it's important to establish a business entity for yourself
First, the team clarified for us: a business entity is something like a limited liability company (LLC). It's important to know what type of business entity is important for your business, and it may not be an LLC, but it's important you set something up. According to SmithAmundsen, The primary reason to do this is to protect yourself from a third party suing you personally for your own belongings and assets when it comes to a business-related matter.
Why it's important to think about this now: To ensure that nothing like the above happens in the future, you need to keep your business expenses separate from your personal expenses, to prevent commingling, now. Essentially, if a court has to make a ruling and you aren't properly separating the two pools of finances (i.e. you're using your business credit card to buy rounds of drinks for friends on Friday nights), the court may not have to uphold the principles of your business—and your personal assets will become at risk.
Why it's important to create contracts for your clients
In the legal world, a contract is one of the most important things a court would look at in any situation in question. The document itself can be fairly simple, but, according to the SmithAmundsen team, should include the following in order to be comprehensive:
In writing (NOT spoken, and ideally not in back-and-forth text message or email exchanges, but that's better than nothing)
Signed by the client
The client must also be given a copy to keep
Included in it must be the total fees the client will owe, exactly what services are being provided, cancellation/no-show/late fees & policies you set up
Why it's important to think about this now: If you think about what your general contract format will look like now, it can become a template you use for each one of your clients and/or special events you create with a partner, brand, etc. It requires initial leg work but if you establish every interaction as a contractual agreement, expectations will be clearly set from the get-go, making your life much easier down the road. Plus, you're covered legally should anything go wrong.
Why it's important to have your own versions of a liability waiver
You may work within another gym or studio whose liability waivers cover their employees when a client or guest signs them. However, if you do anything on your own—even if it's free—you need to have that person/those people sign a liability waiver. Waivers apprise clients of specific training risks and are your best defense against a negligence lawsuit.
Why it's important to think about this now: You may not have private clients now, but if you're ever thinking about starting to do more work outside the scope of your employer, have this ready to go. Going through the steps to establish a waiver, and to include the necessary language about what's in your scope (which a lawyer can help you do) is an excellent way to remind yourself what your job within the coaching/training/teaching atmosphere is. And when potential clients reach out to you, not only do you want to be ready, it helps them know you are on your game.
Want more help to make "being your own boss" easier on you? A lawyer can help you get the business components in place to help set you up for success. Consider getting legal advice before you need it, so you can keep fulfilling your calling while making sure you're in it for the long run.