Here's How Gyms Are Responding to Coronavirus—And How to Avoid Germs at the Gym
Let's face it—fitness studios and big box gyms were never exactly seen as the epitome of sanitation. But amidst coronavirus worries, gym owners and studio managers are taking extra precautions to prevent the transmission of germs through shared equipment, sweat, and locker rooms.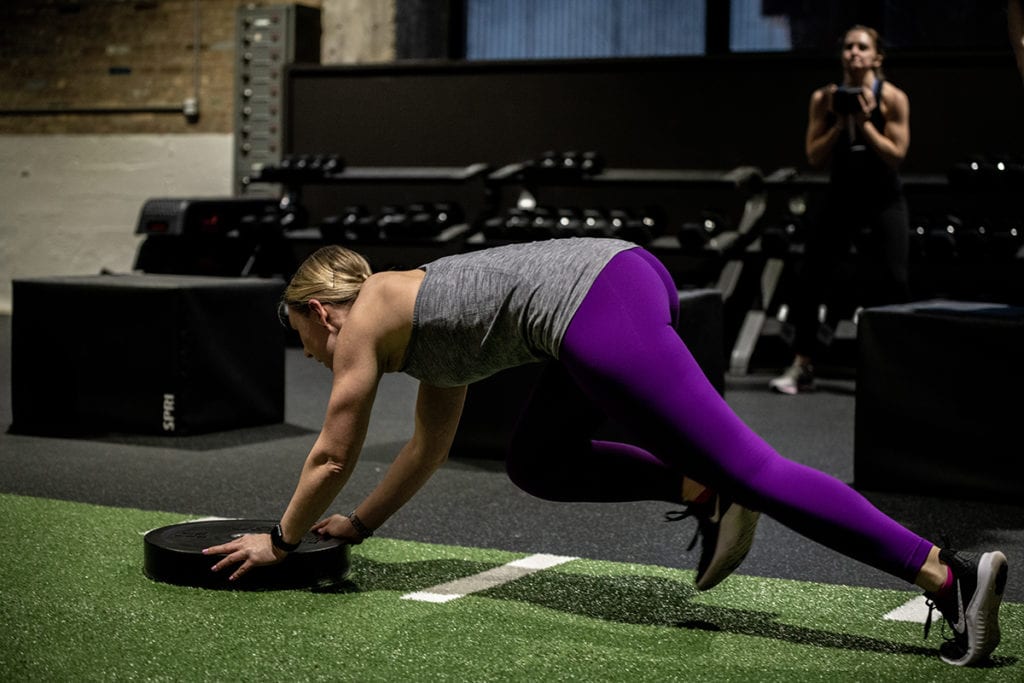 How gyms are preventing germs in the studio
Says Paul Rahn, founder/CEO of Sweat Fitness Studios in Chicago, "My top priority is to educate and inform all clients of the simple steps to take in and out of the studios to eliminate, reduce, and protect each other and ensure we all can continue to workout and stay healthy! Being vigilant in these times and taking the extra steps to support the safety of those around us is imperative for all!"
Rahn sent an email to clients detailing the steps his Gold Coast and Lincoln Park locations would be taking to protect clients and employees from germs. These measures include adding extra mid-morning and afternoon disinfects from the hired cleaning crew and providing extra hand sanitizer in the studio to use mid-workout. Trainers are also taking the extra initiative to remind clients to wipe down equipment before and after usage.
Similar proactive measures are being taken by other gyms, too. SHRED415, CorePower Yoga, Barry's, SALT, and [solidcore] (among dozens of other gyms) have all sent out client emails outlining their extra cleaning efforts, as well as reminding clients to wash their hands frequently, avoid touching their faces, and staying home from class if they or their children are not feeling well. CorePower also shared that their instructors will reduce hands-on assists and prop usage during class to further cut down on possible transmissions.
Other gyms are pushing clients to use their on-demand platforms; Barre3 in Iowa City emailed their community encouraging them to stay home if they're feeling unwell and providing a promo code for 15 days of complimentary unlimited access to barre3 Online.
Finally, some studios are waiving their cancellation late fees and offering more flexibility to clients feeling ill. For example, 305 Fitness emailed its clients detailing similar precautions as the gyms mentioned above, while also inviting clients to call the studio if they're not feeling well, and the staff would be extra flexible in returning class credits and waiving cancellation fees.
Should group fitness lovers still visit their favorite studios during coronavirus?
So far, the coronavirus outbreak hasn't been enough for studios to see any real dramatic downturn in client attendance—but some group fitness lovers are still pausing before signing up for class.
Maggie Wolff, a Chicago analytics manager and group fitness regular, says "I love group classes and don't want to stop going to them; however, during last night's class I was so much more conscious of the fact that we shared equipment and during circuit classes we don't wipe them down in between each person."
Others we interviewed echoed her perspective and noted that they were now wiping down equipment between sets rather than just at the end of class. In fact, Wolff suggests that studios incorporate mid-class cleansing into programming.
"I would not be bothered if circuit classes took time between rounds for us to wipe down shared equipment, even if that cut into class time," she notes.
How to avoid germs at the gym during coronavirus
Of course, if you're immunocompromised or just prefer not to risk any transmission at all, at-home workouts or solitary activities like running may be more appealing to you for the foreseeable future. (And as a reminder, we have a whole bunch of at-home workouts requiring little to no equipment right here).
Of course, the most effective way to prevent the transmission of germs at the gym is to wash your hands frequently, for at least 20 seconds per washing. Gym-goers should make this a ritual before and immediately after class.
Beyond that, gym-goers should follow the CDC's recommendations for the prevention of coronavirus (found here), including:
Avoiding touching your hands, nose, and mouth
Avoiding close contact with people who are sick
Staying home when sick
Coughing or sneezing into a tissue, towel, or elbow
Cleaning and disinfecting frequently touched objects (hello, iPhone screen)
Within the gym environment specifically, clients might feel more comfortable bringing their own sweat towel to class instead of relying on the studio's linens. They might also consider traveling with their own pack of disinfecting wipes to wipe down equipment quickly between sets. (And for god's sake, take this as a cue to deep clean your yoga mat and clean ALL of your workout accessories this week.)
But remember—staying healthy means taking care of yourself outside of the gym, too. Ashley Martens, a Chicago freelance writer and part-time employee at SWEAT, says, "I'm making it a point to take better care of myself overall. That means prioritizing sleep and taking better care of my immune health with a good dose of UMCKA every once in a while. (It's basically the homeopathic version of Emergen-C)."
She continues, "I am looking at the whole picture of my health, just like I do on a daily basis no matter what the current situation or state of health affairs. That means quality sleep, listening to my body and respecting how it feels (even if that means taking it easy and slowing down a bit) and focusing on filling my plate with plenty of nutrient-dense foods."