How a Custom Crystal Set Challenged Me to Face My Feelings
I feel as if I woke up one day two years ago and out of nowhere we were all talking about crystals. Ok, it wasn't exactly out of nowhere. Crystals have been a thing probably since the Big Bang, if we're going to get technical.
While I've always believed in energy, the universe, psychics and anything you'd call "woo woo" in general, crystals were kind of new to me. Using them in my daily life has really taught me how to be in tune with my feelings and goals.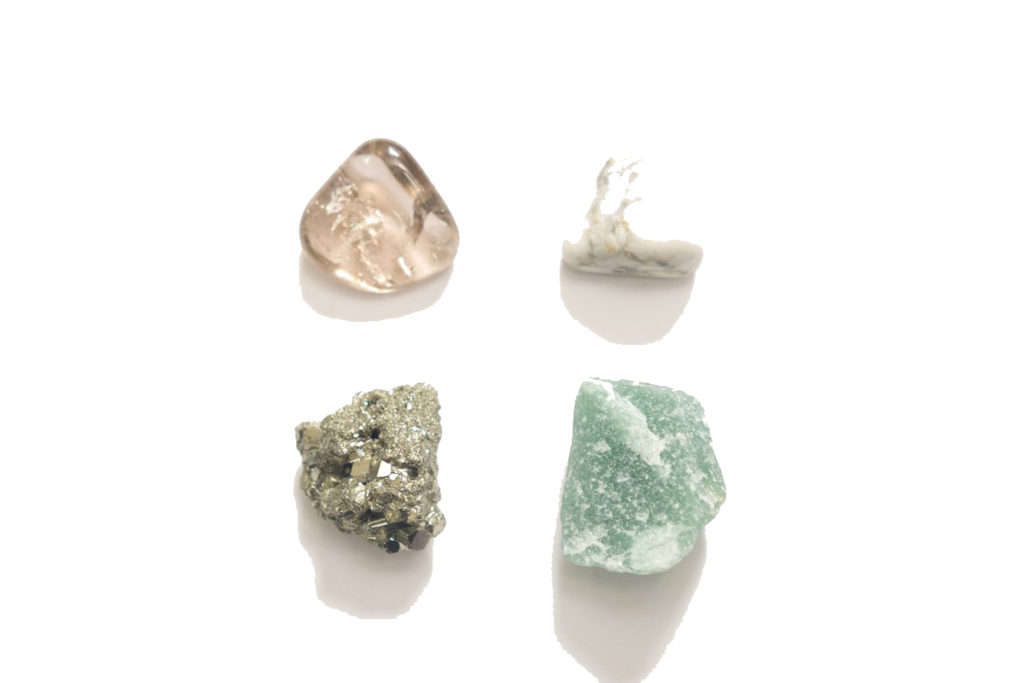 Woo woo, but also science
Now, I get it—crystals are a little out there. I believe you need faith to really receive their gifts. But, there is also scientific proof that crystals give off energy. It's called the Piezoelectric effect. That's why quartz is used in watches, computers and radio receivers.
My personal experience with crystals is that they really do work. For example, selenite is known for being helpful with sleep among other things. So, I keep a large plate of selenite on my nightstand. When I travel, I usually take a small stick with me. The last time I went away, I forgot my stick and had problems sleeping. Now, this could have been a lot of things, but deviating from my sleep ritual wasn't exactly giving me a better nights' rest.
Manifestation
Crystals can also be part of the manifestation process. I believe this for many reasons including the fact that I've manifested actual crystals. Not kidding! Many times I think I need a certain one and they just show up at my door or I get an email from someone offering me what I need. This has happened four times. So, I was thrilled to receive the last gift of crystals I manifested. It was a set customized for my zodiac sign from Love By Luna.
I am the epitome of a Capricorn and the crystals in this kit were dead on accurate. It had pyrite, white howlite, green aventurine and smoky quartz.
Pyrite is one of my favorite crystals! It's great to keep on your desk to help with prosperity, manifestation and decision-making. Considering I get a bad case of Analysis Paralysis every day, pyrite has been a game changer. I like to connect with it during moments of frustration, pause, hold the stone and breathe.
The strange thing is that I had been keeping a large pyrite from The Urban and The Mystic on my desk for months and connecting with it in the same way, not even aware of the power it had. While I love the large crystal, it's very heavy, so having a smaller one to take with me on the go is far more practical.
The kit also had smoky quartz, which can reduce self-criticism (I'm only guilty of doing this about 500 times a day). It also helps me stay grounded. Smoky quartz is an essential crystal no matter what sign you are.
Additionally, the set contained green aventurine, which kind of looks like candy. This stone's energy helps increase positivity and optimism, while white howlite helps with the process of de-stressing. It's also a useful crystal to hold during meditation.
If you've never worked with crystals before, I think these zodiac kits are the right place to start because they take the guesswork out of choosing stones you connect with.
Real talk: Do crystals actually work?
I'll openly admit: I'm not quite sure how crystals work, or even if it's just psychosomatic—but whatever it is, I'll take it. I use crystals as a tool to put me in the right mindset to achieve my goals, whether it's to finish this article or for something more long term. Life can be hard, and I'll gladly accept any help I can get.