Giving Your Body Gratitude
Your body is basically the best friend you'll ever have — that you're constantly ignoring.
Let me explain.
Our bodies have been with us through the messy, beautiful roller coaster of life since day one.  Through ups and downs, carrying us through difficult moments, stress, sadness, and anxiety, absorbing all the bumps in the road and letting us know when we need to eat, when we need to rest, cueing when it's really time to wash that hair.
Our bodies are also there in the moments of elation, excitement, and pleasure. But often all those good things aren't fully felt because we don't stop to feel and recognize them in our bodies. Our mind is already onto the next thing, and we rob ourselves of all the full sensations of happiness and joy.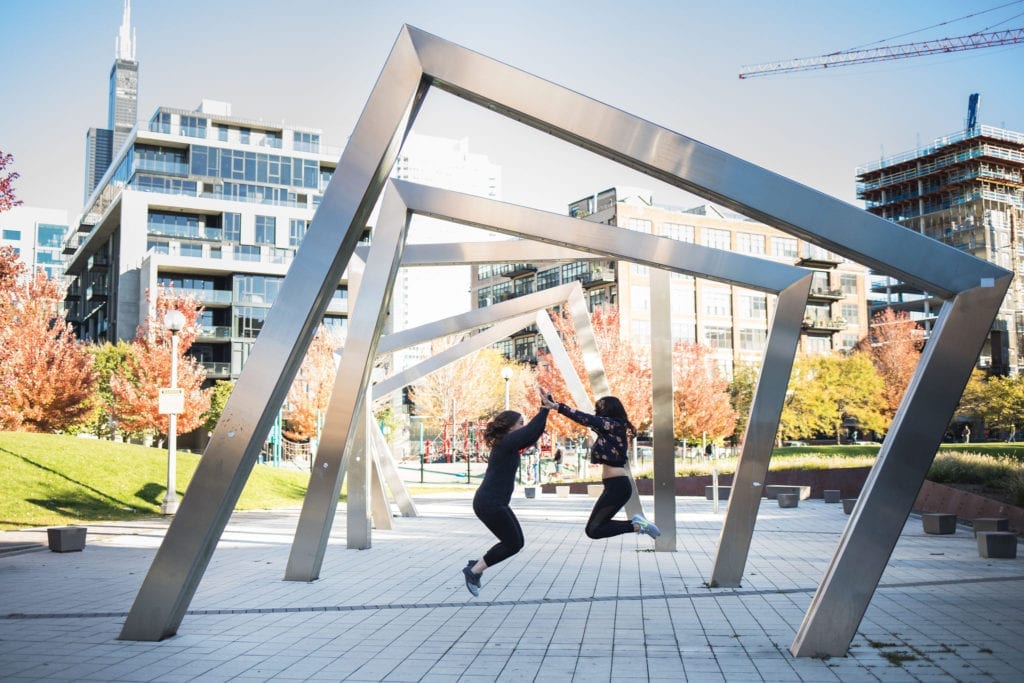 As Jen Sincero, notorious author of You Are A Badass sums it up best, "We run around doing all our busy work with our poor bodies flapping behind us like old wind socks."
Yikes. It hurts because it's true.
Let's change that and give our bodies the gratitude they deserve. The happier our bodies are, the happier and better we feel. It's about time for us to start giving back to the incredible vessels that move us through a beautiful life.
Here are four ways to give your body gratitude, and some ideas to help you do so. Up for a challenge? Focus on one of these areas each week for the next month and really give back to your fabulous bod.
Connect with it
Stopping to listen to what your body is actually saying and connecting with it is a way to appreciate all it does for you. Your body, just like a friend or partner, appreciates just being acknowledged.
After a bad day, you may think you want to collapse on the couch, but your body might desperately need a walk to let off stress. The opposite could easily be true as well- you might be heading for the gym when what you desperately need is to Netflix and chill.  We are so used to deciding with our minds that we don't think about what our bodies need.
A few ways you can connect with your body:
BREATHE.

A few deep, conscious breaths are incredibly powerful tools

and have a huge effect on our bodies- and our brains

. It's like giving your body a hug.

Meditate. Bonus points:

add in a body scan

.

'Freeze' your body. Squeeze one section of your body with as much strength as you can muster for five seconds, release the tension, and move down one body section at a time.

Stop and recognize the ways your body has been there for you.

Smell something pleasant and revel in it — a candle, flowers, a home cooked meal.

Have a solo dance party. No filtering your movements allowed.
Focus on Feel
There are so many opportunities to feel good in our bodies that we do not stop to take advantage of. Take time to focus on the sensations as they are happening — whether they are unique occasions like a massage, or simply focusing on the water on your skin in the shower.
A few ways you can focus on feel with your body:
Take time to sweat. Bonus points: do it in a new way you haven't done before.

Take a few minutes to stretch. Bonus points: do it at your desk, at the grocery store, on the dance floor- gym clothes not required!

Next time you get a pedicure, put your phone down and focus on the sensations.

Drink a cup of something hot and feel the warmth spread throughout your body. Bonus points: focus on only the drink from start to finish.

Find a short yoga flow on YouTube that you can fit into your day. There are some as short as five minutes! Bonus points: do it in the morning.
Pamper It
Do more things that feel completely indulgent for your body. If this feels frivolous at first,  remember our bodies do way more for us than we will ever do for them. It doesn't have to cost a cent, either. Just be intentional and focus on the positive feelings with no other end goal in mind.
A few ways you can pamper your body:
Take a warm shower and take time to put lotion on after. Bonus points: light some candles and add music.

Savor a piece of dark chocolate SLOWLY. Dive into the sensations.

Put on your favorite comedy special and laugh until your stomach hurts. Bonus points: Leave your phone in another room.

Put clean sheets on your bed and get in bed early to savor them. Bonus points: Sleep naked.

Give yourself a scalp massage.

Hug your friends and family.

It's good for you

.
Respect It
Perhaps most important than any other form of gratitude for your body is to respect it. Work to cut out negative habits that are unkind to your body, and be intentional about nurturing it with love.
A few ways to respect your body, today and everyday:
Dress in clothes that

feel good to your body, whether it's sweats or your favorite pair of jeans. Do a sweep of your closet and donate clothes that are uncomfortable or that you don't feel confident in.

Eliminate negative self talk and practice compassion for your body. Love it through adult acne, emerging wrinkles, and stress sweat.

Compliment your body like you would your best friend.

Drink water.

Just do it

. Put a lemon slice or fruit in there if it helps you keep on sippin.'

Prioritize sleep like you prioritize your mother.
Gratitude is most powerful when it's a habit, so take the time to find what your body responds to when you connect with it, when you focus on feel, when you give it the pampering it deserves, and as you catch negative habits and respect it. There's no more deserving recipient of gratitude than your phenomenal body.