#Sweatworking x Glossier The Art of YOU 2-Part Workshop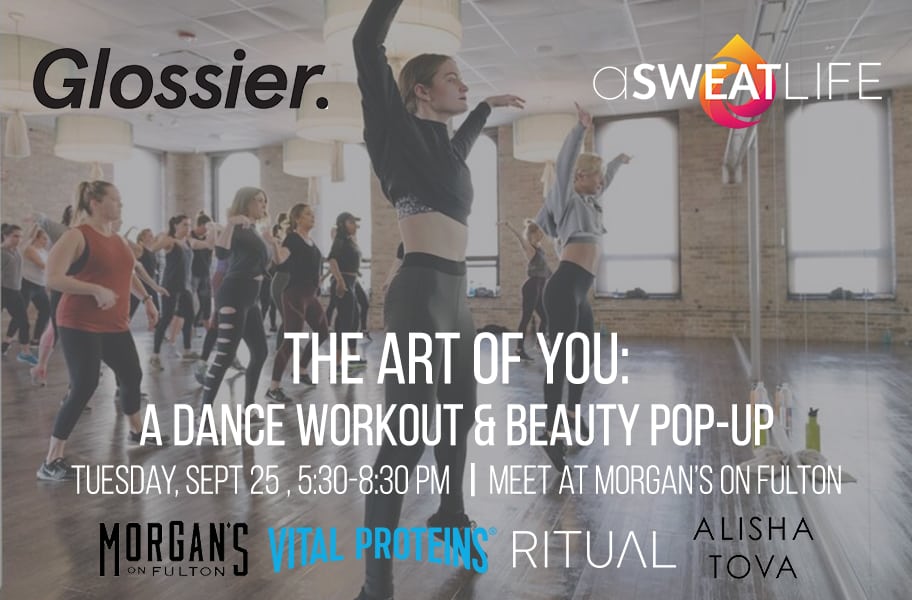 (Get your tickets to the dance and beauty two-part workshop here)
We love a good sweat session, but we'll admit — sometimes it's tough to find inspiration in dumbbells and treadmills. And then there's the next-to-impossible chore of figuring out a post-workout beauty routine that doesn't require an instructional manual or break the bank.
That is, until we were introduced to Glossier, a beauty brand offering high-quality formulas, beautiful design, and good ingredients at affordable prices for real-life.
Lucky for us, the brand has set up a pop-up shop in Chicago's West Loop through the end of October. Inspired by the city's prominent art and architecture scene, the pop-up has been set up similar to an art gallery and museum with interactive installations. Trust us, you're gonna want to have your camera ready.
We took inspiration from Glossier to put together an evening full of expression celebrating The Art of You. We'll start with a dance class led by Macie Crumb and Emily DeBouver (who you might recognize from Studio Three's crazy-fun dance workshops) at Morgan's on Fulton. It doesn't matter if you have two left feet or are a seasoned dancer, these ladies will get you moving – all levels welcome and encouraged! (Psst… keep an eye on our Instagram to vote for the song you want to learn a routine for!) We will also have the very talented Alisha Tova snapping high-quality and artistic Insta-worthy photos that we'll share after the event.
After the dance class, we'll head to Glossier's pop-up on Aberdeen for a post-workout beauty routine workshop! Their talented lead reps will walk through the brand's expert recommendations for which products to use and when to make the most of your time. Vital Proteins and Ritual will be also there to help you refuel and recharge!
What you need to know:
What is this thing? A pop-up dance workout led by two of our favorites, Macie Crumb and Emily DeBouver who have created some of the city's favorite dance routines. Following this light-hearted sweat session, we'll walk just a couple blocks over to Glossier for a workshop all about your post-workout beauty routine.
When will this be? Tuesday, September 25 from 5:30-8:00 pm
Where is it located? We will meet at Morgan's on Fulton, 950 W. Fulton St., at 5:30 pm for the dance portion and then walk a few blocks to Glossier's pop-up, 114 N. AberdeenSt.
Do I need to be a dancer or a makeup pro to attend? Definitely not! Come ready for a fun workout and to get some fun goodies at Glossier.
Will there be snacks? You can bet your dancin' shoes there will be. Vital Proteins will have their Beauty Collagen – natural elixirs made with Collagen Peptides, a highly bioavailable and sustainable source of nutrition that helps enhance hair, skin and nails while promoting overall health and vitality. Nourish your inner glow with a deliciously subtle blend of bovine hide collagen peptides, hyaluronic acid, and probiotics. Ritual will be providing healthy snacks from a local West Loop hot spot.
Where do I get tickets? Right here and below!