How Using an Accountability Partner Helps You Crush Goal-Setting
I have a confession. Sometimes, I get lazy in workout classes. I'm a trainer and group fitness instructor, so I'm aware that this incredibly hypocritical. 95 percent of the time that I'm on a microphone in front of a bunch of sweaty people, I'm telling them "yes you can," "you're strong enough," and "you've got this" when, in fact, a lot of the time I actually tell myself "I can't," "I'm tired," and "I don't got this."
But that's specifically why I love to work out next to people who take my class. I feel personally accountable to live up to my own words, to work until the last second or complete that last rep, no matter how difficult it is or how much my brain is telling me to quit. Whether they know it or not, for all things fitness, my classes are my accountability buddies.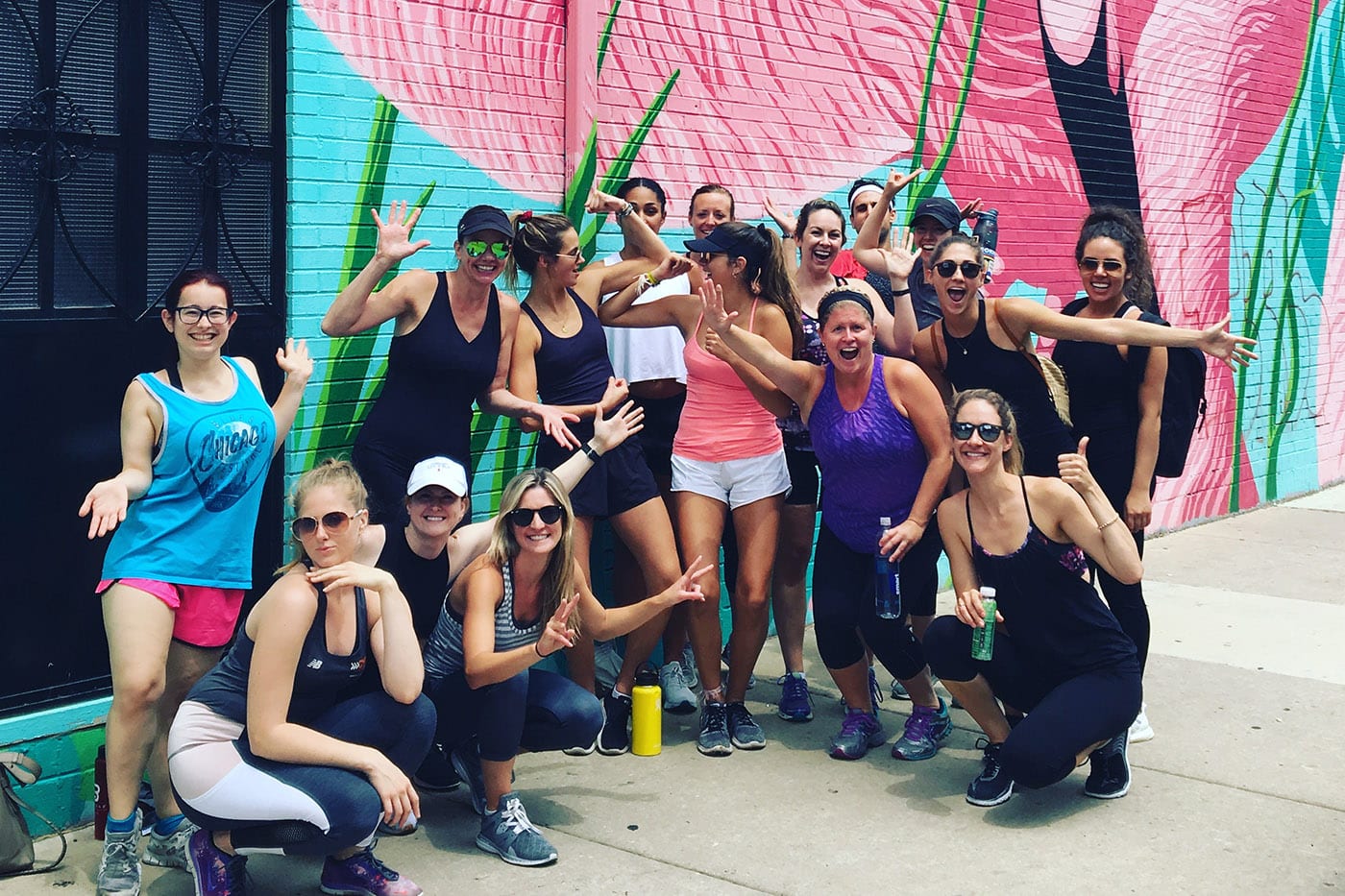 I am so grateful to each and every individual I work out next to who makes me work harder and get stronger. They remind me that no goal is achieved in a vacuum, it's always made possible by those who lift you up along the way. 
Take Eliud Kipchoge's goal to run a marathon in under two hours. Nike devoted an entire team of people to help this 32-year-old Kenyan break a world record. Or, a little closer to home, give these #WeGotGoals podcast episodes a listen: the founders of Stylisted, Julia Carmona and Lauren Katzberg, told us that their friendship and partnership set the foundation for their entire styling business and technology platform. The two lean on each other for their unique strengths.
In a previous interview, Katzberg said, "When one person reaches a breaking point, the other person somehow summons the energy and the positivity because you have to, you have to soldier on … Over time we've been able to completely trust each other to take on certain elements of the business."
Or hear from Peter Rahal, co-founder of RXBAR who talked about the journey of building a product from the ground up with a partner who is also a good friend. He describes setting egos aside and focusing on what's truly best for the business and best for the team as a whole.
But whether we're talking about breaking a world record, landing on a list of most successful companies, or having the strength to hold that plank until that final buzzer rings in a workout class, the secret sauce remains the same. And that recipe is made up of one key ingredient: accountability. Having accountability partners is not only a nice-to-have, it's integral to achieving your goals. According to Forbes and the American Society of Training and Development, you have a 65 percent greater chance of reaching a goal with an accountability partner.
And that's exactly why we built accountability into the aSweatLife Ambassador program.
"An accountability buddy gives you the gratification in conquering something together," Denver Ambassador Kelly Molnar said. "I've been a team sport gal my entire life, and accomplishing something collectively inspires and drives me to go bigger than I'd go on my own."
Molnar is a marathoner, triathlete and group fitness instructor herself, but even she feels the effects of working hard for something alone.
"Sometimes extremely driven people can get tunnel vision. Grinding hard, with their head down, they forget to look up and see where they are going. An accountability buddy shares your vision and can help you stay the course."
When Molnar moved from Chicago to Denver, finding a group of people to help her find and stick with a routine that allows her to be her healthiest, best self has become even more important. And other Ambassadors agree, having a community that supports the values you want to embody in your daily life makes it a whole lot easier to actually walk the walk.
Heather Schultz, a Chicago Ambassador, said: "I have learned how to support other people [and] ambassadors in a positive way … I also learned that a group of women is a positive force and I have found these women to be a great support. I have shifted my life to focus more on health and I am having a ton of fun."
The application for the 2019 Ambassador program is now closed,  but you can read more about the program's perks and get ready to apply next year here).