How the Founders of Stylisted Built a Partnership and a Platform to Empower Women
This episode is presented by Chicago Sport and Social Club, reminding you that summer is just around the corner. Get into a summer volleyball league now and use code "GOALS" to get 5 percent off until March 15.
It's no secret that we're majorly in awe of the ladies of Stylisted — after all, this isn't the first time we've talked (okay, gushed) about co-founders Julia and Lauren on  aSweatLife.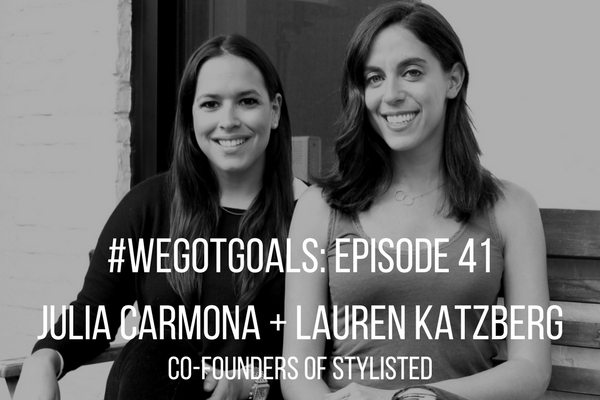 But when we brought them into evolveHER to be interviewed during our Lunch-and-Learn live podcast recordings, we were reminded all over again why these ladies have inspired us so much in the first place. Seeing them speak in front of an all-female audience (many of whom had entrepreneurial inclinations) was nothing short of a kick in the pants to go after what you want.
Another thing that really came through over the microphone was the true teamwork and friendship that acts as the foundation of Stylisted.
"The partnership is our business," Lauren stated matter-of-factly. "It was in the very beginning and it is to this day."
As friends and partners, Julia and Lauren learned to rally each other when one was feeling down. At the same time, they learned one major entrepreneurial lesson early on: never be afraid to ask for help, whether from each other or from outside resources.
"People want to help," stressed Julia. "Everyone is eager in a way to show off what they're good at and help you out … definitely don't be afraid of that."
Just in case we weren't convinced, Lauren added, "Your ability to ask for help and leave your shame at the door is all you have for the first two years." When you don't have money or experience, you're forced to admit when you don't know something. Luckily, as the co-founders discovered, all it takes is a simple ask, and the entrepreneurial community is usually excited to help a fellow founder.
Julia and Lauren recognize that they're fortunate to have been able to grow together as founders, when all too often you read about rough breakups and unwanted exits between partners in start-ups. They attribute that path to having the same long-term vision for the company. At evolveHER, Julia and Lauren spoke about the importance of having the same overall vision for a company when working with a partner and co-founder — but at the same time, they make sure to set small, achievable goals that you can accomplish on a shorter timeline.
With balanced goals and a balanced partnership, one thing is clear: the Stylisted co-founders are paving the way for female entrepreneurs in the tech space to empower each other.