What to Expect from Your First Indoor Cycling Class
One of the best cardio workouts you can do is indoor cycling. But if you're a newbie, you might be intimidated: How the heck do you set up your bike and clip into the pedals? What are all those knobs on the bike for? And will you be able to understand what to do once the lights are dimmed and music is pumping?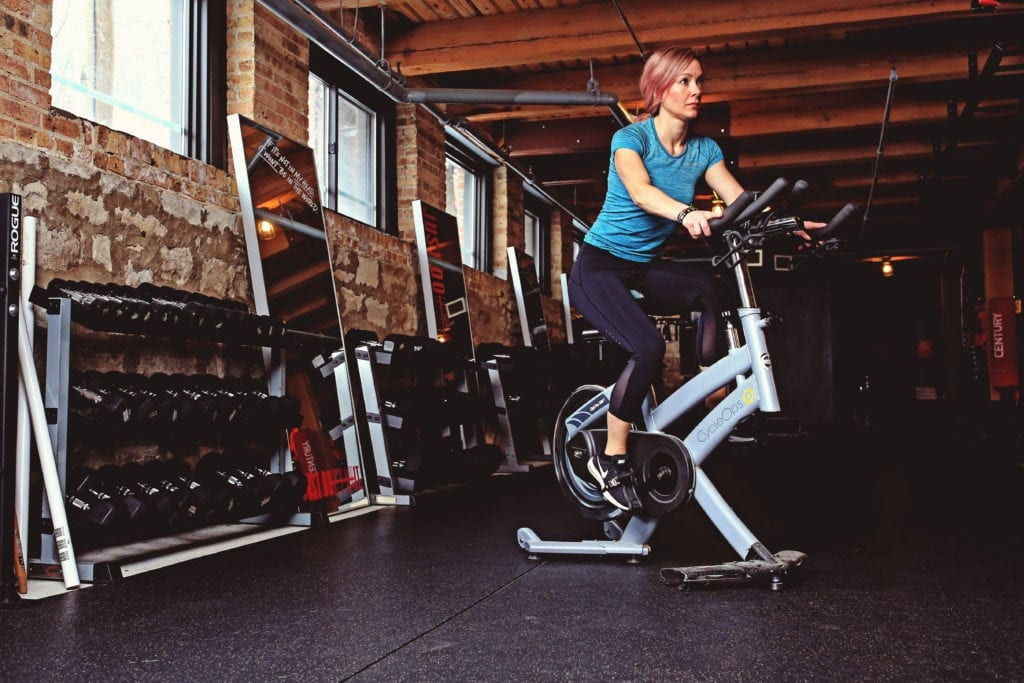 Once you get the hang of indoor cycling, we have a feeling it'll become one of your go-to workouts–and the best part is, studios are super-welcoming to beginners. We're also here to help. Below are pointers that'll help ensure your first indoor cycling class is a total success.
It pays to get to the studio early.
"There's no question that anything new can be scary, but don't let those nerves cause you to be late to your first class," says Erin Moone, co-founder of StarCycle. "By arriving 10-15 minutes before your first ride you can make sure to chat with your instructor and get a proper set up on the bike."
Indoor cycling shoes are typically available to rent at most studios.
"There are a variety of shoe types in indoor cycling, most involving a cleat that allows you to clip in like you would on a road bicycle," says Moone. "However, unlike a road bike, the clips are a bit more secure since you don't need to clip out constantly at stop lights like you would on a road bike. This allows for a safer ride."
Moone explains that in addition to providing safety, this type of shoe allows for a completely different workout. It targets muscles more deeply since you don't have to rely on your foot and ankle strength to push and pull pedals like you do in shoes that don't clip in. "Instead, you get deep into your glutes, hamstrings, and core," says Moone.
Don't worry about buying these shoes until you have a few classes under your belt, either. "Most indoor cycling studios rent them out for a small fee," says Moone.
Bike fit is super-important.
"It's important that the bike is fit appropriately for your individual body proportions so you can maximize your ride," says Moone.
She explains exactly how to set up your bike: Stand next to your bike. The seat height should be about even with your hip height, when the handlebars should sit slightly above seat height. If you have back problems, move both up a little higher.
"The distance between your seat and handlebars is important because it will ensure proper alignment of your knees over your feet," says Moone. "If you stand with your elbow on the tip of the seat then extend your arm out to the handlebars, your fingertips hand should just barely touch the handlebar."
Don't be afraid to ask your instructor for help setting up.
No clue how to move your bike seat up or down or how to get your feet to clip into the bike? Just call your instructor over. "They are always happy to help you adjust the fit of your bike, put you in a different size shoe, or walk you through the muscle activation of a particular exercise," says Moone.
Your bike might have some fancy features.
Every studio has different bikes, but most of them have a resistance knob. "This will be turned up for higher resistance to simulate a climb up a hill, for example, and really allows riders to customize their own ride each and every time they clip into the bike," says Moone.
Most bikes also have an emergency break to slow or stop your wheel. Some studies have monitoring technology that will tell you all your stats, including RPMs (revolutions per minute), calories burned, or a leaderboard.
There are a few different class styles.
Most indoor cycling classes are 45 minutes long, with the lights dimmed and the music turned up. However, there are different types of classes. "At StarCycle, we ride to the beat of the music and work the entire body, including a section where we use light hand-held weights," says Moone. At other studios, you might compete against other participants in the room or focus on riding at a specific RPM.
"Indoor cycling has been around for a long time, and the exciting opportunity now as a rider is to find the flavor that really resonates with you," says Moone.
It's fine to take breaks.
Indoor cycling is definitely an intense workout, so if you need to take a second to catch your breath or drink water, don't hesitate to do just that. "Ultimately, you know your body better than anyone, and if it's calling for a break, take one," says Moone. "You'll still be ready in the saddle and chances are, you'll come back into class riding even stronger."​ ​
Expect a community feel.
"You might physically be alone on your bike, but indoor cycling classes are all about the energy of the group," says Moone. "A big part of why indoor cycling has been so popular for so long is that classes are high energy, and participating in this energy exchange as a client can be as rewarding as the actual workout." So go ahead and give the person next to you a high five after class is over!