Learning Bike Set-up at SoulCycle Chicago
After SoulCycle opened its doors in Old Town and the Loop, Chicagoans started to speak the lingo and learn to ride a stationary bike rhythmically. The classes take riders out of a competitive space and bring them together to ride as one group, hitting the same beat with the same foot.
A lot goes into the SoulCycle experience, from the instructor's cues to the way the bike is set up to the positioning of your body on the bike to the way you use your resistance knob.
All of that stuff together can sound intimidating, but we're helping to prepare Chicagoans for their first ride (including many who will ride for the first time at asweatlife.com's #Sweatworking event July 21). We got to know SoulCycle Chicago instructor Hallie Wilson who told us what every rider needs to know before walking into their first SoulCycle class.
For starters, Wilson reminds first-time riders not to stress about being new.
"Everyone has had a first class at some point," she said, "We're here to help you get set up on your bike. And at the end of the day, you're just sitting on a stationary bike, pedaling your legs. You're in complete control of your workout, your resistance wheel. Everything. The experience is going to be as challenging as you yourself want it to be."
Even Wilson was new once. In New York City, Wilson jumped on her SoulCycle bike for the very first time, finding stress relief in the classroom and an escape from her days in advertising.
She was quickly hooked, "I started to embrace the community. I would go back more and more to get the physical, mental and emotional benefits that SoulCycle can offer."
In time, Wilson pursued a life outside of the office as a SoulCycle instructor.
"I spent seven years behind a desk," she said, "Over time I learned that I was meant for more than just sitting behind a desk all day."
Now you can find Wilson outside of corporate America teaching seven times each week and blogging at Corals + Cognacs.
Here's what Hallie wants to prepare you for before you walk into your first SoulCycle class.
Setting up your bike
Your bike setup greatly impacts your ride. Your seat should be at hip-height and your handlebars should be at about the same height.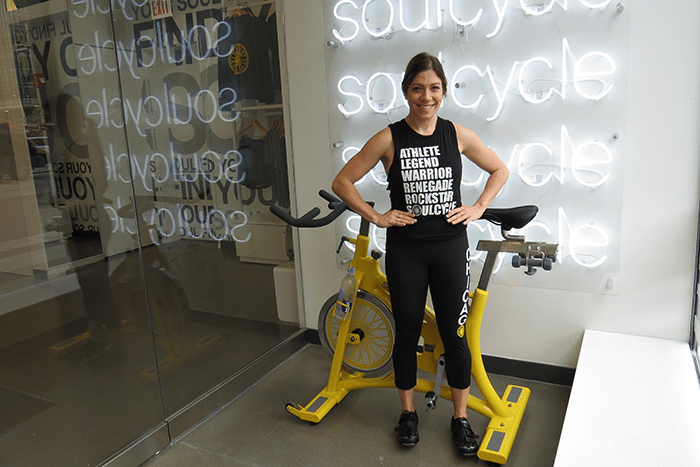 And there should be an arm's length, plus a little bit of wiggle room, between your seat and your handle bars.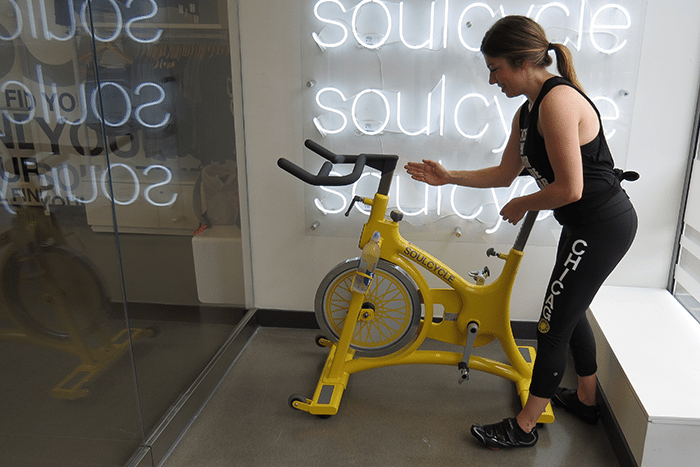 Clip-in shoes are mandatory. Riders can pack their own or rent a pair. Wilson says, "Clipping in is like putting on high heels – as you slide your foot in, act like your heel has broken and then stomp it down."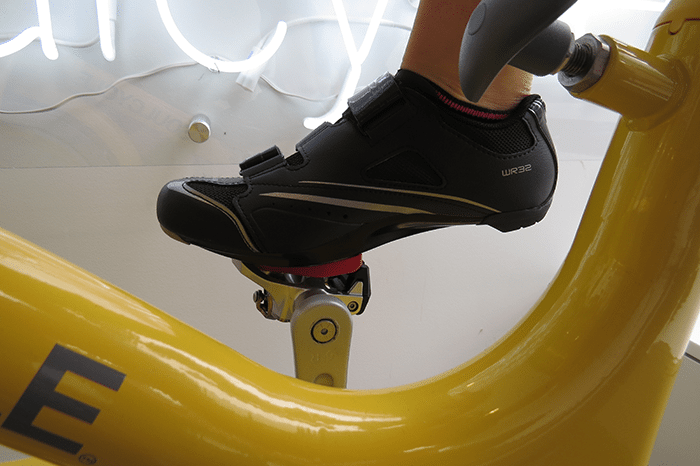 Getting your body in position
You'll hear instructors mention first position, second position and third position in SoulCycle classes, which all cue riders to hold their bodies and hands in specific ways.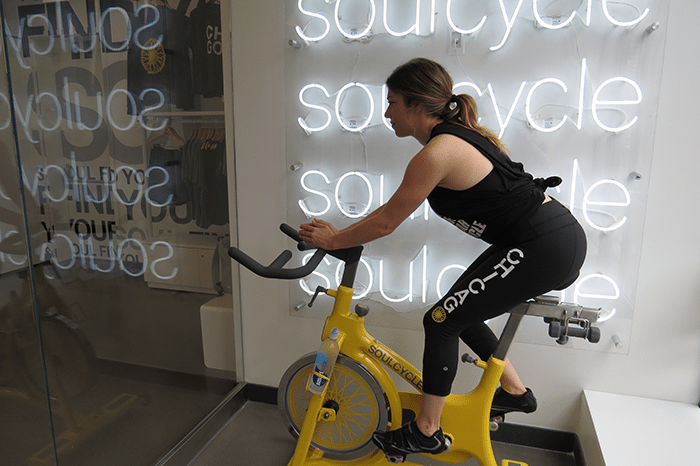 You'll see that there's an extra piece extending the handlebars forward on SoulCycle bikes.
"[The extra piece] forces you to ride back over your saddle with your core. It adds to the more full body experience throughout the entire ride," Wilson said.
In position one, your hands are together at the center of the handlebars and you're riding in the saddle.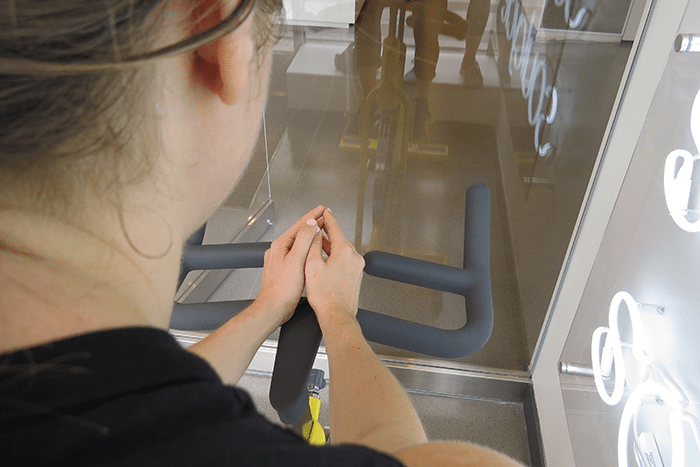 In second position, riders can be sitting in the saddle or riding out of the saddle.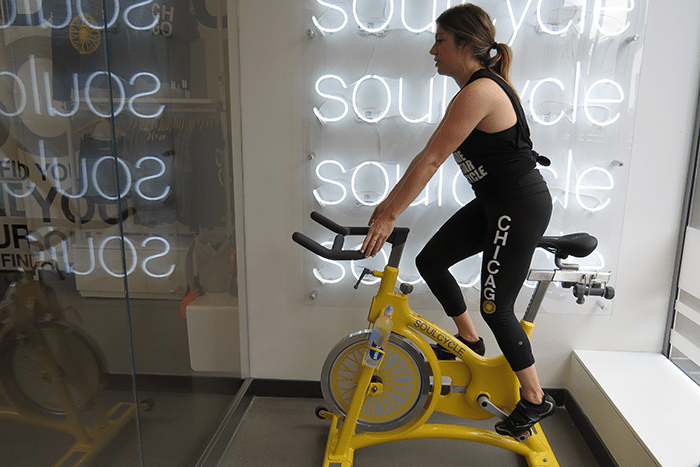 Hands are gently held at the curved portion of the handlebars.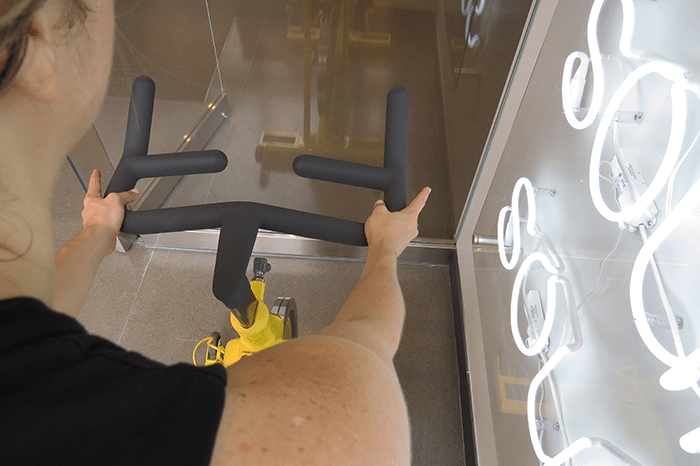 Wilson stressed the importance of form in third position.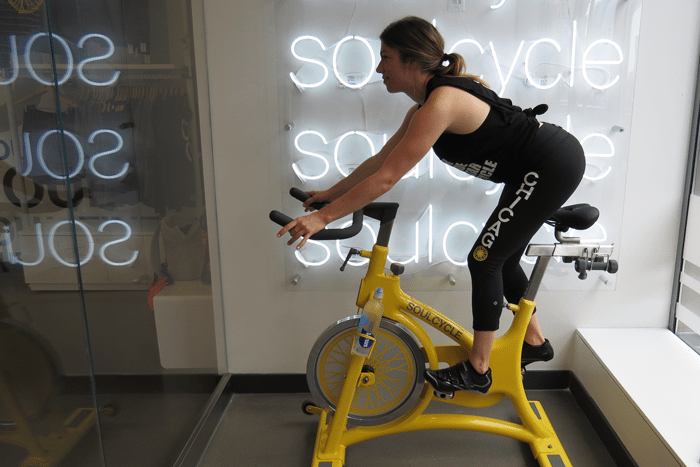 "When you're riding you should actually feel the saddle between your legs throughout the class. Not in an uncomfortable way, just as a reminder," Wilson said. "I always tell people to pretend like they have a magnet on their butt and that there's another one on the wall behind them and it's pulling your back there."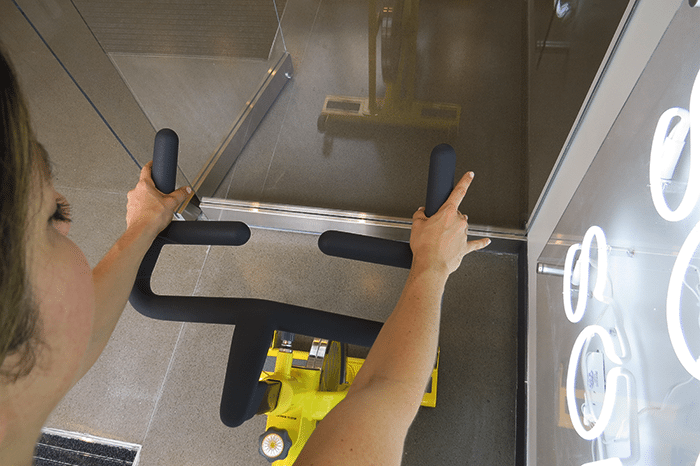 "When you're out in third position you want to reach your hands really long and keep your hands light on the handlebars and your arms rolled inward. Open up your chest," Wilson said.
Turning up the resistance
On the SoulCycle bike, you'll find a resistance knob below your handlebars, which is used a little differently, Wilson said. "At SoulCycle, we never really talk about two, three or four specific full turns because the bikes are calibrated differently, so it's just about putting your hand on the wheel and turning it until you feel whatever you're supposed to be feeling for that song. "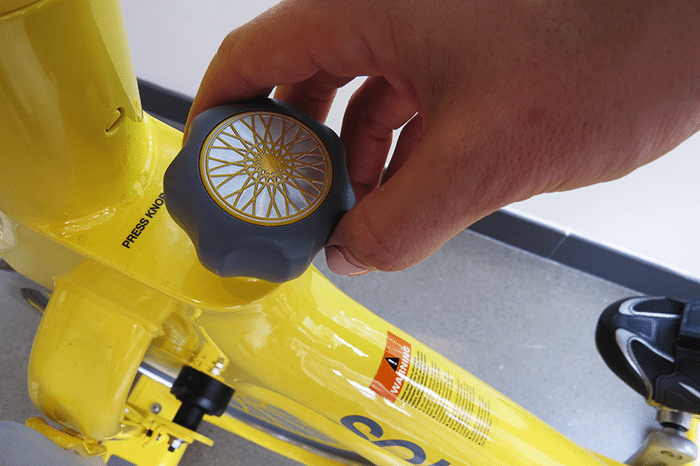 Pumping some iron
There will be weighted upper body section on the bike. For that section, Wilson said that riders are encouraged to reach down add resistance so that they're forced to use their abs during the weights section.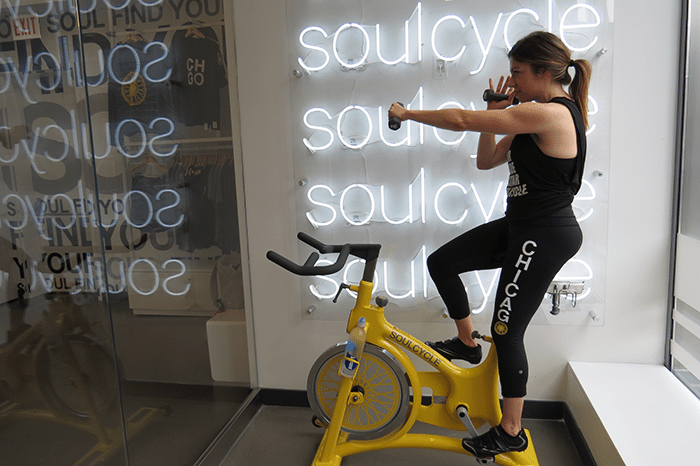 "Your core is engaged the whole class," She said, "Not in a manner that's disruptive or distracting or hard, but just in a very controlled way."
With those four tips, you're prepared to rock your very first SoulCycle class. We always say that fitness is better together, so grab a friend, a towel and a water bottle and go get it.
Any workouts your want us to break down or lingo you want us to define? Let us know in the comments!