Want to Become an Indoor Cycling Instructor? Here's What You Need to Know.
Enthusiastic about fitness? Need a little extra cash? You may want to become an indoor cycling instructor.
But how do you do that exactly, and what do you need to know before you start pedaling down that path? Here's what to know about becoming an indoor cycling instructor.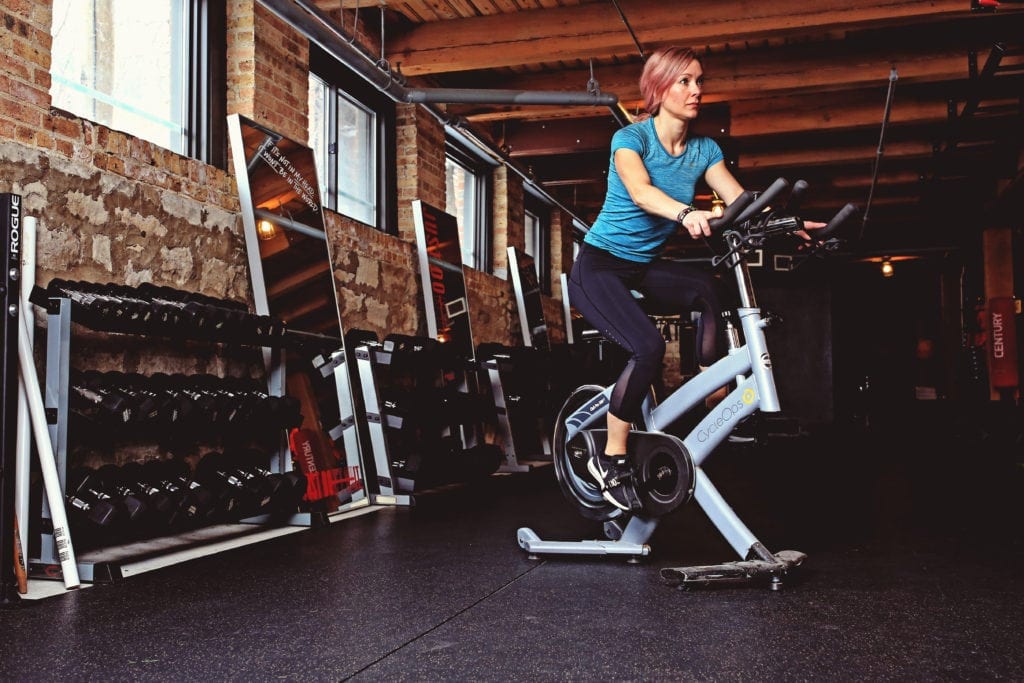 First, you'll need a baseline level of endurance.
First, you can't be a couch potato and expect to make it through a certification or instruction course (as you might have guessed before even reading this post).
"You have to be able to have enough endurance to speak clearly and authoritatively to a class while cycling," said Shannon Flanagan, a director at Cycle X Studio in the West Loop. "Instructors should never have as much resistance (on the bike) as they would have if they were actually taking the class."
You'll need some certifications
You will need certifications to instruct; some will require a fee. First and foremost, you need to be certified in CPR.  Any place to which you apply as an instructor will require that.
You will also find that some cycling studios, or gyms that offer cycling, prefer different types of certification. There are cycling certifications (from the National Exercise Trainers Association or Spinning®, for example) and group exercise certifications (like NASM group fitness certifications or ACE group fitness).  Nationwide, you have your pick of companies that provide both.
Save yourself some time and call the places in which you intend to seek employment to confirm their requirements. Consider if you want to work in only one specific location, or in more than one place (in which a general cycling certification might be a better use of funds).
According to Flanagan, "most boutique studios have their own training. We require instructors to have a Group Exercise Certification and CPR certification.  Most boutique studios should have their own training curriculum."
"Certain companies, like Flywheel, actually do in-house training," said Lyonel Reneau, indoor cycling instructor at Flywheel Sports and SweatWorking instructor.
Online courses are available, but nothing beats in-person practice
Once you choose the type of teaching certification class you want, sign yourself up! Though there are online classes available for cycling certification, they may not be your best option. Flanagan said that for group exercise, you need to show your ability to teach a class in front of others in order to pass.
As for what you should expect at a day-long certification class, be ready for playlisting, vocal training, and more.
"What we do with our new hires is go through how we make playlists.  We have a few templates that they use to make sure that the BPMs are different enough between each song.  (You want to make sure you aren't having your class sit or stand for too long)," Flanagan explained. "We have instructors talk into the mic and make sure they are speaking through their diaphragm."  
Now, nail the audition
So you got your certifications, narrowed down where you would like to be an instructor, and set up your audition for the job. Now what?
"Play songs you LOVE! Nothing will make you shine more. They really and always just want to see you shine," said Reneau.
Flanagan added, "Show your personality!  You cannot be timid or shy. Make sure to be authentic and in control."
You got the job! So, how hard is it to prepare for class?
"The hardest part is actually the music. When you are training, you learn a very specific method and style as to know what a correct format of a class would be like," explained Reneau. "You actually learn the type of position (jogs, flats or climbs) by finding the bpm. It actually helps you to find the songs you like and then you can place them in your ride appropriately."
For Flanagan, "I love music and I love being able to put a playlist into a story on a bike.  I try to make my playlists a journey instead of just a workout. Some days are easier than others to create a plan. "
How to make it the best experience for your students
You, of course, want to be an amazing instructor who gets people talking and wanting to take your class.  How do you enhance the experience for the students?
"Take a lot of classes.  Not just cycling. I take a lot of classes and I try to walk away with one positive thing and one thing I would do differently if I was teaching," Flanagan said.  "And certainly, the number one thing is to make sure you keep the riders safe at all times."
Reneau offered, "Personality is key. Remember that the fitness portion is only PART of the experience. They ultimately come back because they like how YOU provide the fitness."
It may not sound like a ride in the park (pardon the pun!) to become a great indoor cycling instructor, but it's worth the time and energy to spread your enthusiasm for fitness and help others achieve their goals.