Chicago Rallies with Kevin Hart and Maria Menounos
"Rally, making health care work for you," Rally Health's website reads. Amidst a healthcare industry that can be confusing, overwhelming, and even discouraging, Rally Health's pledge is very refreshing.
Rally Health is a health and wellness platform that connects consumers with healthcare providers. Rally Health's flagship offering is "Rally, a digital health platform featuring a suite of online and mobile solutions that help people manage their health and health care needs: Rally Engage focuses on personalized health and well-being support; Rally Choice is a health benefits marketplace; and Rally Connect offers care provider search and cost transparency."  
In recent years, companies such as UnitedHealth Group and Allstate have focused on putting the well-being of consumers first and supporting consumers in their efforts to lead healthy life-styles. Allstate in particular has contributed a lot to local communities through its sponsorship of RAM Racing and its Hot Chocolate Race series, showing their commitment to helping their customers live full, healthy lives.
Some healthcare providers have also shown their commitment to the well being of their consumers by paying them to exercise. This exchange is a win-win as the consumer experiences the benefits of a healthier lifestyle while costing their healthcare providers significantly less. Overall, the new healthcare industry trend seems to aim for healthy, happy, and informed consumers — instead of just seeing customers as potential profits and losses.
And healthy, happy, informed consumers are what Rally Health is all about. Not only does Rally Health provide an elaborate digital platform to help its consumers, but it also has a strong ambassador program that helps the company to reach consumers on a more personal level. Rally named actor and comedian Kevin Hart as its first Health Ambassador in 2015. Since then, running back Melvin Gordon and television personality (and brain tumor survivor) Maria Menounos have joined. Together, they have worked to inspire people to adopt healthier lifestyles and to become better informed when it comes to making important health care decisions.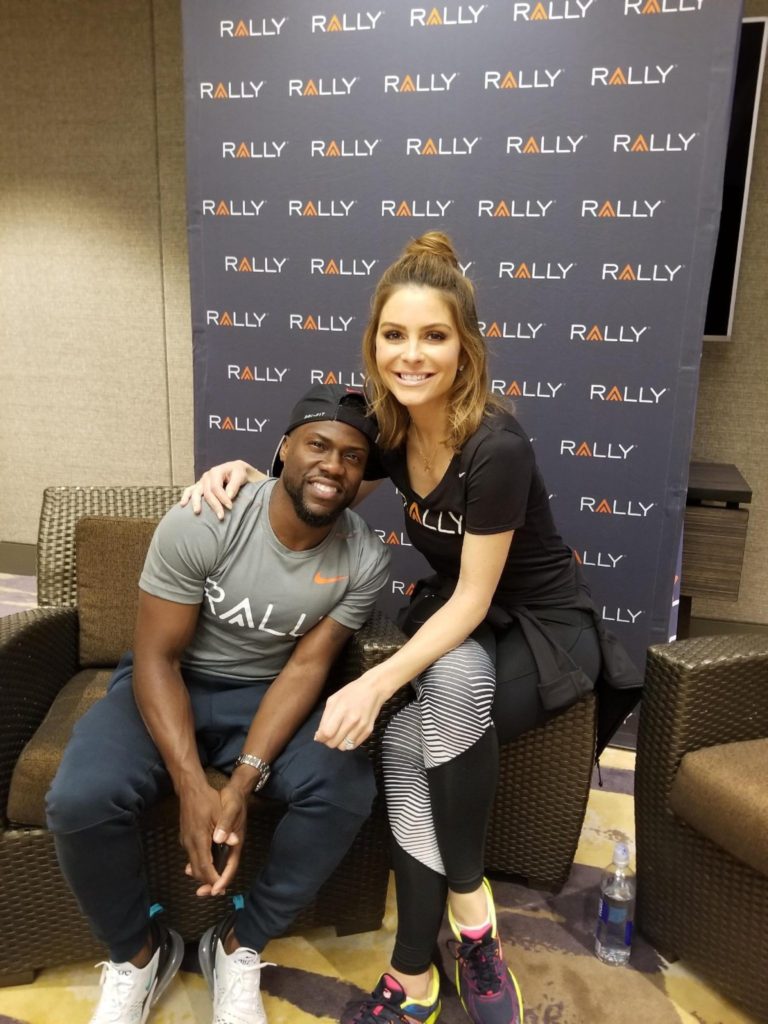 I had the pleasure of sitting down with both Hart and Menounos on Saturday, April 14 at Chicago's Rally HealthFest. Although the original itinerary set at Maggie Daley Park was disrupted by the weather, Hart and Menounos were all smiles as they surprised clients of Midtown Athletic Center during a workout. Both Hart and Menounos are very passionate about both Rally Health and Rally Healthfest. In fact, Hart played a strong role in creating and hosting the very first Healthfest when he took on the Health Ambassador Role.
"It was me saying we should do something where we incorporate people," Hart explained. "How do you get people engaged? How do you get people out? How do you get people to be a live-action example of what you're trying to do?
Rally Healthfest is an outdoor, family-friendly event that offers participants cooking demonstrations, healthy snacks, workouts and other fun, active games such potato sack races and water balloon tosses.
Hart embraces such activities as he believes that the best way to stay active is to do something that focuses more on fun than on strict exercise. In fact, Hart shared about his YouTube channel called "What the Fit", in which he engages participants in environments where they do "random events that involve physical fitness without them realizing that physical fitness is involved. For example, we were firefighters for a day, cowboys for a day, sumo wrestlers for a day… we make it fun."
Menounos chimed in that she enjoys fitness most when it's fun or when it's a game, agreeing with Hart that it's important to switch it up. With this in mind, spending a day outdoors with the family is such a great way to switch things up and make fitness fun for all.
Getting the whole family involved is also something that means a lot to both Hart and Menounos. "A family that does anything together, anything that can get you to bond, is a strong family," Hart explained. "That's what Rally is following suit of. When we say 'family friendly', we are going to pull you out, we are going to get you to move—dive into physical fitness. You'll learn how to eat healthy, for you and your family. You'll educate yourself on what healthy living is. Understand your body. Understand your kid's body. Understand your wife's or your husband's body."
Rally Health uses four pillars to guide families to make healthy choices: MOVE, EAT, CARE, FEEL. Hart explained the pillar that means the most to him.
"Care. There are so many different levels to care, and it can have so many different meanings to match all of those levels. You get to an age when you really see what's important—that family element. That strong household: wife, kids, friends. You care for your health. You care for their health. You really want for them to have the things they need in life, to be in a position to be good in life. All of that stuff falls under that care umbrella."   
Menounos agreed that care does have a lot of importance in one's life, and she urges women to care for themselves. "I kind of target women in a big way, even more so now after my [brain tumor removal] surgery," Menounos explained. "Really focus on your health and putting yourself first, not putting yourself last and then having to suffer the consequences.
"For me it's really focusing on getting your annual exams and paying attention to your body. Keep a pain journal so when you do sit with your doctor you can remember some of the things that have been bothering you because you usually will forget when you get in that room."
The opportunity to get up, get out, and get moving with the family for a day at Rally HealthFest may be what participants see, but the message Hart wants you to leave with will last far beyond the event.
"Realize that you're a machine," Hart stated. "When you get people into thinking like that and moving like that, it's a habit that they don't want to break."