June 24: Join Soul Camp Chicago for a Day Camp with a Fitness Flair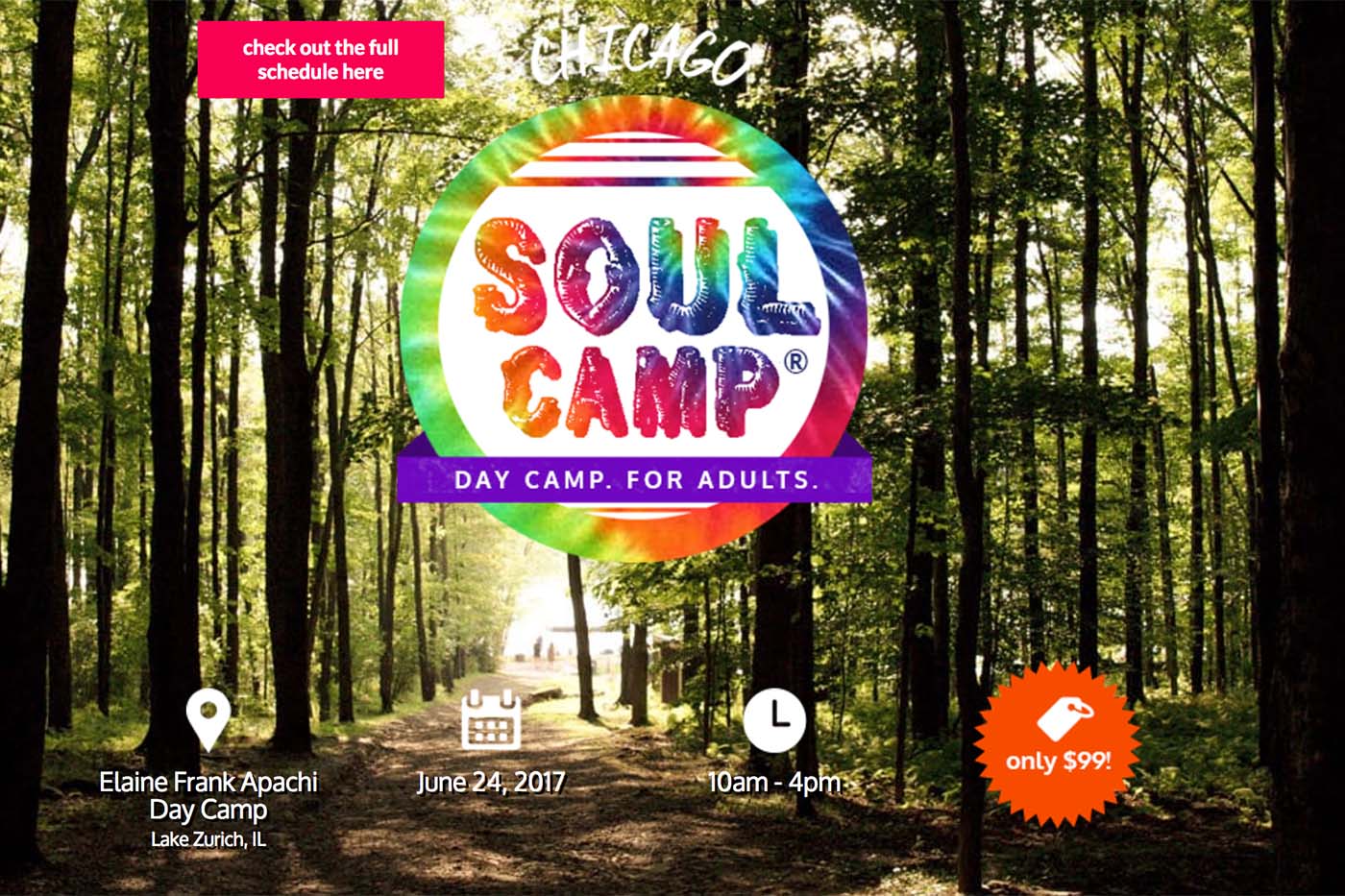 (Grab tickets here)
If your summers as a child were punctuated by camp the way mine were, you fondly remember running free, swimming in a lake and playing gigantic games of capture the flag while sweating yourself silly the way that only a kid can. Two entrepreneurs from New York City asked themselves why that experience was reserved for childhood.
And because of that question, Michelle Goldblum and Alison Leipzig created a camp for adults, Soul Camp
Across the country, Soul Camp creates healthy mind, body and soul experiences with its camps, but with the recent launch of its day camps, attendees don't have to devote an entire weekend. June 24, Soul Camp will take over Elaine Frank Apachi Day Camp in Lake Zurich. The camp is perfect to let out your inner child, with nature trails, a zip line, rock climbing and so much more.
To add the "soul" to the camp, Directors and Co-Founders Alison and Michelle bring in friends to curate interesting and memorable experiences. Want a tarot card reading? Eric Garside will be in the house. Want to do improv? Of course you can with Eduardo Placer. Feeling your yoga practice? Lizzi Cutler is there to get you in the flow. Want to sweat? I'll be there leading a HIIT class. Want to paint, draw, talk about love or play games? Yes, yes, yes and of course there will be games. It's camp.
When is it: June 24, Soul Camp will run from 10 am until 4 pm
Where is it: Soul Camp will stay true to its camp roots by taking over an actual camp. You can find this day camp session in Lake Zurich, IL at Elaine Frank Apachi Day Camp, which locals to Chicago may remember quite fondly.
How do I get there: There's a bus leaving from downtown Chicago or parking at the day camp's property. The bus will run you an extra $35 and parking will cost $10, but you can pay for both when you grab your tickets.
How much does it cost? There are levels to this experience. Standard camper, VIP and Deep Dive. With each price point – $99, $129 and $249 respectively – you're able to customize your experience. Standard ($99) comes with all activities and a killer swag bag. VIP ($129) will get you access to all activities, a killer swag bag and entrance to the gifting lounge. Deep dive ($249) will get you access to all activities, a killer swag bag and entrance to the gifting lounge and a one-on-one tarot card reading.
How do I sign up? Use this link to save 20%