Here at aSweatLife, we're big on goals. We like talking about them so much so that we launched a podcast dedicated to the different ways high achievers set out to achieve theirs. And when it comes to my own goals, 2017 was the year I asked how I currently look at them and what might I want to change. My answer? A vision board.
The past couple of years I made sure that I came up with at least a couple of new goals and would then write them down on a piece of paper; that paper was usually lost a couple of weeks after. This year was the first time hearing about vision boards. I wanted to try something different, learn about something new and focus my goals on feelings rather than being too specific with what I want to accomplish.
Want to kick off the spring season with a fresh start? Here's a step-by-step guide to the vision board process that worked for me.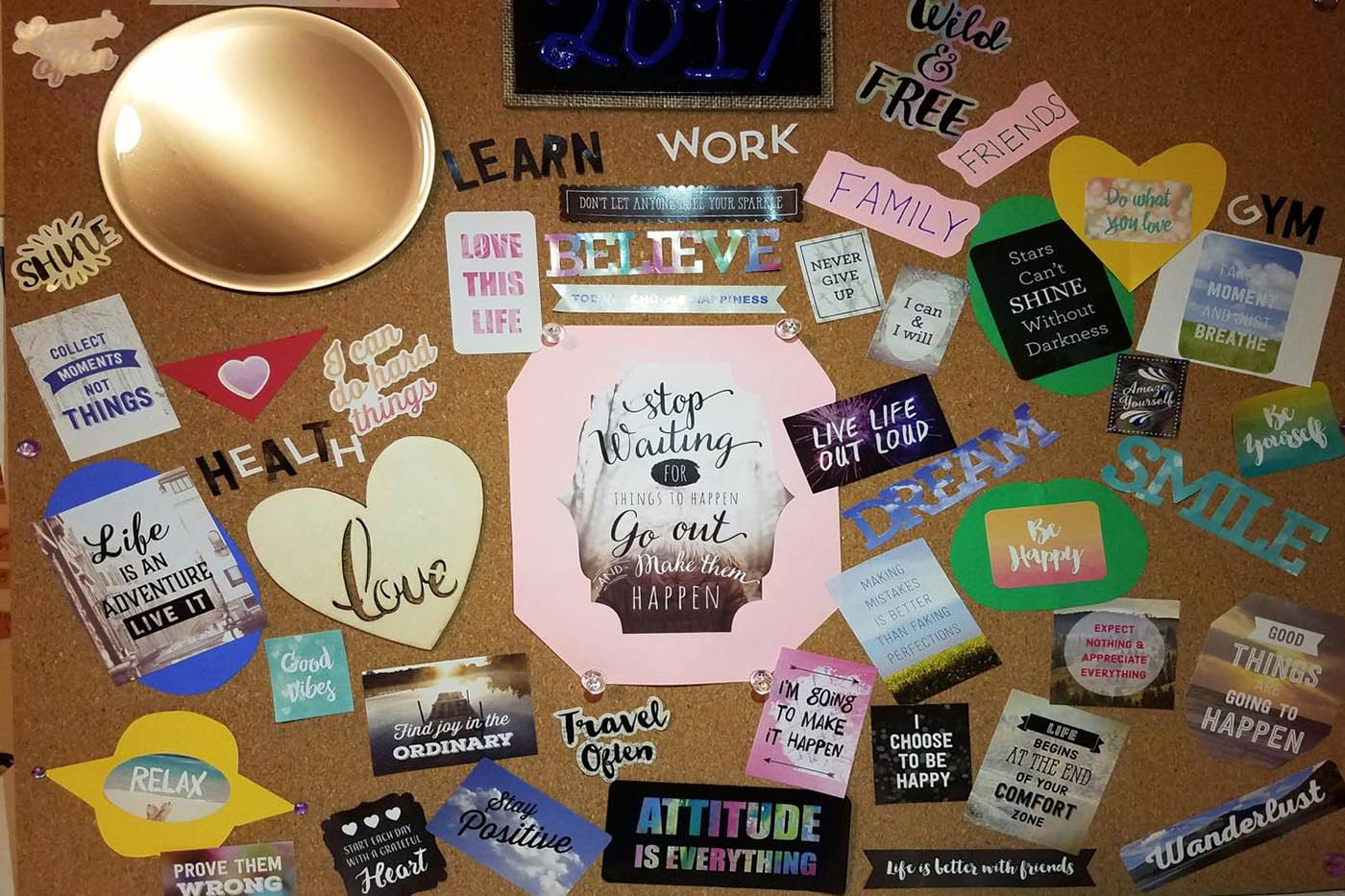 What is a vision board?
Just as it sounds, a vision board is a board with images, quotes, and objects that helps to visualize your goals. It is a mechanism that helps with focusing on what we want to achieve and how we want to feel. The items on the vision board do not have to be exact goals we have, they can be words or things that we want to work on or how we want to feel. They are reminders for our visualizations of our success.
One of the items on my vision board is a mirror, why? I chose the mirror because I am working on self-love, which I will be reminded of when I see it there. Other items on my board are the words 'Wanderlust' and 'Travel Often.' 2016 was a year filled with traveling and it was one of the adventures that made the year successful. This year I want that to be a focus again. Traveling allows us to learn about other cultures, de-stress as well as live in the moment and enjoy that time. The rest of my board contains positive words and quotes to see daily and to keep those thoughts in my subconscious throughout the day.
Why make a vision board?
Making a vision board can only help to visualize what it is that we want. Many of us set goals for how we want to succeed in different areas of our life, but by visualizing those things we're more easily reminded of them. Visualization is used quite often with athletes to picture success. According to Entrepreneur, "If you can't picture yourself achieving a goal, chances are you won't."
I have decided to sit by my board at least once a day and focus on the words and items on it. When I look at my board, I tend to clear the thoughts of the day and think of what it is that I am working towards. A feeling of joy and optimism comes over me and I remember that these are my goals, what I want to accomplish and that I can reach them if I work for them. This daily time for myself also makes me visualize how I will feel by reaching the goals.
Now for the fun part!
How to make a vision board:
Organize some ideas, thoughts and goals you have for your year – anything you want to embody in 2017
Get a cork board or presentation board, or just an object that can be decorated
Find magazines, quotes, stickers, anything that will remind you of those goals and feelings you thought of for Step 1
Be creative! Cover your board with anything that you have chosen
Have fun, there is no right or wrong way to make that board
Your vision board is done, now what?
Place it in a space where you can see it every day. This will allow you to keep those goals and feelings alive daily. Also, keep in mind that a vision board is not a magic wish board. It will help keep you focused and attract that positive energy but remember to keep working hard!
Whether you make one by yourself or have a group of friends over and make it an experience, give it a try!
If you've already made one, share how this has worked out for you!