Talking Career Peaks with World Championship Climber Sasha Digiulian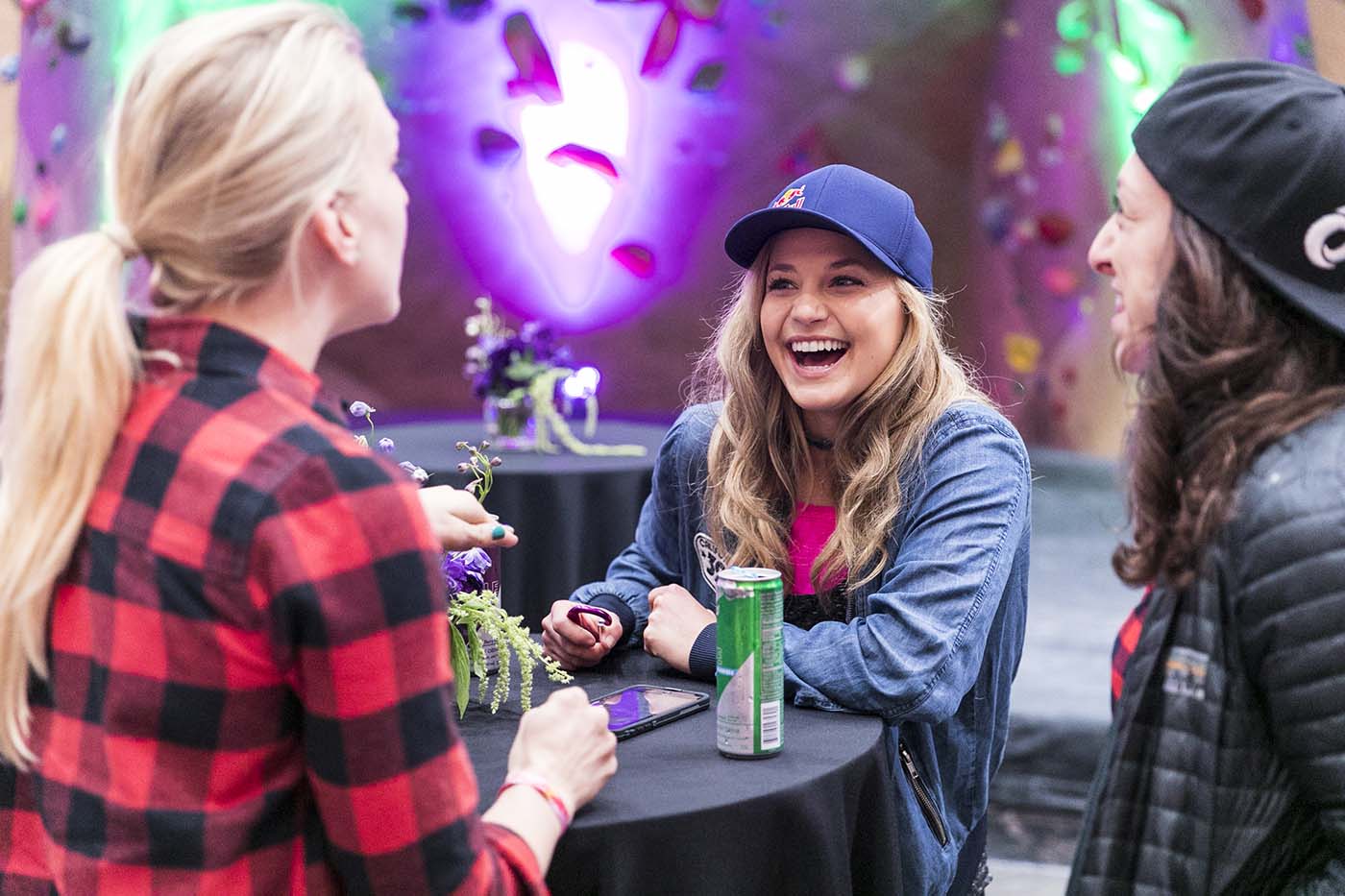 (Photo provided by Red Bull)
Sasha Digiulian is at home in climbing gyms like Brooklyn Boulders where we set up to chat with her between a DJ and a catered taco bar. Sasha was the star of the show at Red Bull's launch party for its new Purple and Lime Editions.
Sasha blazed her own path, ascending the ranks in climbing at a young age. Start to count Sasha's accomplishments and it's easy to lose track of everything she's done in her climbing career that started at the age of six. Under her belt? A Climbing World Championship win, a professional climbing career with brands like Red Bull backing her and a record that no one can ever take from her – she's the first North American woman to climb a 9a route (one of the most difficult climbing routes).
But when asked to reflect on her career, a surprising achievement shines through for the climber.
"The moment that I was the most proud wasn't when I was climbing – it was when I got into Columbia University," Sasha said. "With climbing, it's always this chance and all of these things coming together on that exact day when you do a really hard rock climb outside. It could have been anyone's victory, but it's yours because of X, Y, Z factors."
That point of pride comes from earning it – working hard and gaining entry to the prestigious university.
Though years of hard work led Sasha to success in climbing, she sees her career as a climber as a launch pad for something greater. Through her travels to climb the world's toughest mountains, her focus was drawn to ways her sport can impact the world.
On her travels, she's "using climbing beyond this selfish reason of going and climbing these beautiful things because they're there, but learning what sort of power and impact we can accomplish through climbing as a vehicle to greater goals, like female empowerment, like developing areas and saving the environment."
And it helps that she's well spoken and driven to succeed, but like women across the globe, she struggles with feeling like she hasn't yet earned her success.
"It's hard for me to take a lot of credit for my accomplishments, which is a fatal flaw," Sasha admitted. "When I won the world championships, I didn't believe that I had won the world championships when I was standing on the podium thinking, 'There must be an error.'"
Outside of climbing, Sasha plans to use her education and drive to continue her career in writing, travel and climbing. You can see those aspirations shine through in her column in Outdoor Magazine, but a future in broadcast journalism is also top-of-mind.
Although she aspires to augment her career as a professional athlete, she has no plans to stop climbing any time in the near future.
"One of my goals is to do a significant first ascent on every continent," she said.
For those who need a refresher in climbing vernacular, that means she wants to "be the first to make a successful, documented attainment of the top of a mountain, or the first to follow a particular climbing route on all seven continents" according to the oft-cited wikipedia.
Find Sasha climbing across the world, making a difference wherever she can and, of course, on Instagram posting fearless photos of death-defying heights that are bound to make your palms sweat just catching a glance.