#Sweatworking Takes on Pre- and Post-Workout Nutrition at Mariano's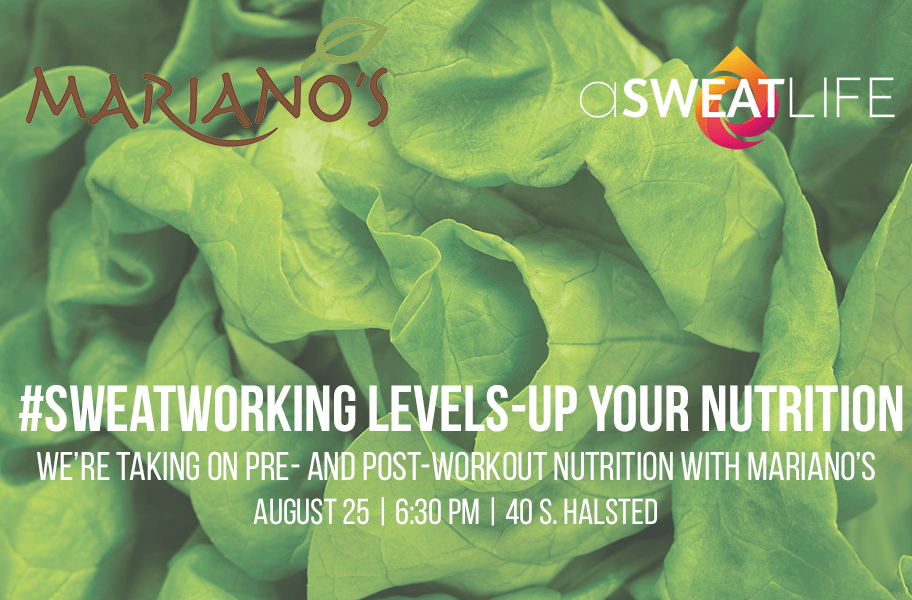 If you've ever wondered what you could do to feel even better before and after those tough workouts, the answer is probably your pre- and post-workout nutrition (and recovery, but we'll get to that a different day).
At aSweatLife, we're always looking for new ways to help you find your healthy groove through #Sweatworking. Most of the time, we sweat, but when the Registered Dietitian at Mariano's – Allison Parker – offered to take aSweatLife and #Sweatworking through some pre- and post-workout nutrition strategies, we jumped at the chance.
August 25, Mariano's is giving us a chance to get together sweat-free to get the scoop on fueling for our workouts before and after.
Just in time for marathon and half-marathon season.
We've seen Allison in action before and she is whip-smart with a knack for delicious food. So don't worry that she'll tell you to throw away flavor and eat only boiled chicken. She knows how to make food that will fuel your goals, but is still something you'll want to make for your friends.
We'll snack while she talks and we'll all walk away with recipes and ideas to make the fuel you put into your bodies even more meaningful.
When: August 25 at 6:30 pm
Where: Mariano's in the West Loop at 40 S. Halsted. There's plenty of parking at this location, so grab your buddies and carpool.
Why: Because what you put in your body matters, especially when you're fueling up for a race or an endurance feat, so let's make the best choices we can with the help of an expert.
Let us know!
Did this post help you get closer to achieving one of your goals?