What You Can When You Can – Book Review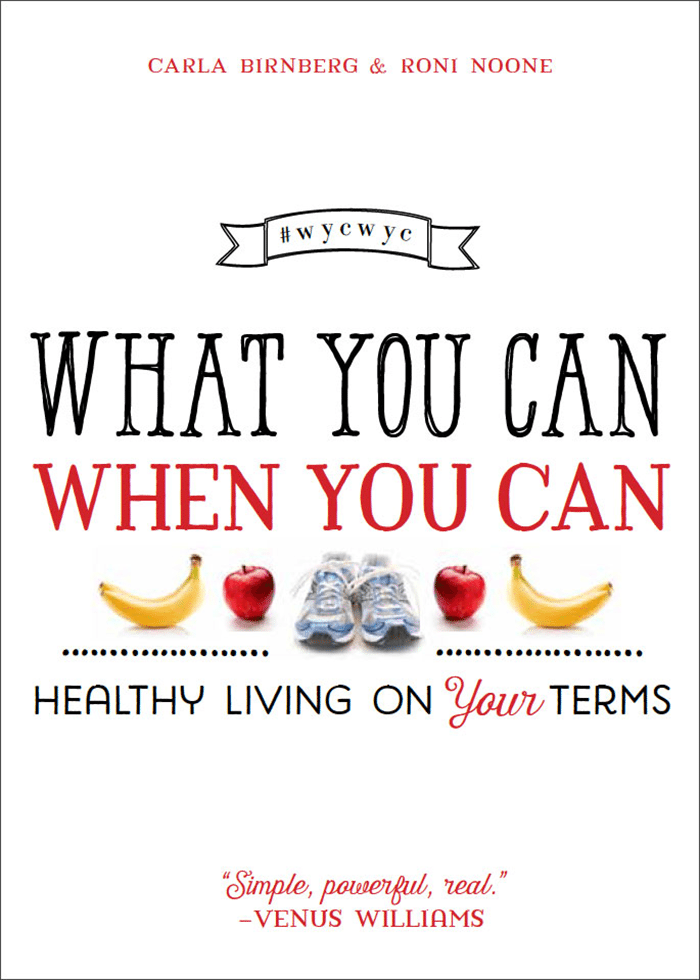 (Cover image via WYCWYC.com)
What You Can When You Can: Healthy Living on Your Terms
 is a book written by Carla Birnberg and Roni Noone, both phenomenal women and seasoned bloggers. I first became aware of the what you can when you can idea last June when I attended the Fitbloggin conference.  Everyone was given a sticker with the hashtag #wycwyc and I set out to learn more about what it meant.
What you can when you can, which from here on out I will refer to as WYCWYC for brevity's sake, is not just a catchphrase but a real movement towards embracing the lack of perfection in our lives. It is about pursuing our healthy goals in a healthy way. It reminds us that every little bit we do towards achieving those goals is valid and enough.
Many times in our quest for healthy living we get caught up in what we think we are supposed to do.
"I need to go to the gym five times this week."
"I have to consistently eat well and only enjoy unhealthy food in moderation."
When life gets in the way and we are unable to achieve those lofty goals, our first thought may be that the whole plan has derailed and there is no use in setting it back on the tracks. What the WYCWYC mentality teaches us is that every little bit is better than nothing at all. Were you only able to make it to the gym three times? No big deal. Try taking a walk after dinner one night so you get some movement in. Had a few too many cheat meals this week? Just jump back into healthy eating.
WYCWYC is a quick read that is broken up into small, manageable chapters. The entire book is only 160 pages long. The premise is explained and then illustrated through numerous examples of how to use the philosophy in your everyday life. It's not only about exercise and eating, but also living day to day by doing what you can when you can.  This is a great read for anyone who has trouble with self-compassion and understanding that no one can do everything at all times.
There are six sections to this book. Here is a one line synopsis of each:
Part I: It's All About Mindset – Change your thinking
Part II: Rethink And Take Charge! – Change your actions
Part III: Daily Considerations – How to make small changes in your daily life
Part IV: Food For Thought – How to apply WYCWYC to healthy eating
Part V: Tricks Of The Trade – Ways to take care of your mental, physical, and emotional health
Part VI: Before We Let You Go – Final thoughts and suggestions
From the introduction, "this book is for everyone who is struggling with a sense of what we 'should' do. It's about seeking out every opportunity that interests you without feeling guilty or disappointed in yourself for not being perfect. WYCWYC is an approach to life that helps us break out of the negative cycles holding us back."
For me, living as a perfectionist for so many years has been exhausting. It has taken me a long time to learn the lessons that are so simply laid out in the pages of this book. It helps me to realize that my best is always good enough and I shouldn't compare or judge my actions against others or an unattainable goal.  The best example of this for me recently is not training for my last race. I did what I could and made the best out of the situation, knowing that I was doing what I could when I could.
It's never too late. When we stray from our plans, the temptation may be to abandon them altogether. We may throw away the whole day of progress and state that we will start again tomorrow. WYCWYC argues that tomorrow is too far away. It's not worth beating yourself up for eating too many cupcakes (mmmm) at work and then letting the rest of your eating take a nosedive. Embrace how delicious those cupcakes were and grab a salad for dinner.
To read more about WYCWYC, check out the website here.
Let us know!
Did this post help you get closer to achieving one of your goals?