Chicago Summer Workouts Guide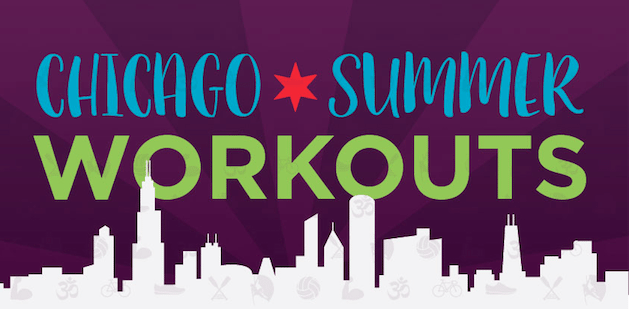 Now that Memorial Day has officially happened, we can finally say that it's summertime Chi (even if the weather doesn't always cooperate). That means that now is the perfect time to switch up your workout routine. Whether you've been going to the same group fitness classes every week or running the same route every morning, there's no better time than summer to try a new workout, a new sport or even just goof around with a Frisbee or a soccer ball in Oz Park.
Need some ideas? With the help of our talented designer Hannah Lesko, we've created a map of Chicago summer workouts with all the summer's best fitness options on it. You can browse by neighborhood or by sport genre to find the perfect activity for your and your fit friends. Once you try something, let us know what you thought! It's the most wonderful time of the year…

Water Sports
For nine months out of the year, Lake Michigan is a cold, icy, windblown body of water. For the other three, it's a gorgeous blue-green, dotted by white sailboats. Take advantage of the lake's tranquility this summer with a stand-up paddleboarding excursion that'll work your core and arms while testing your balance, or a kayaking workout that you can do alone or with a partner. Want an extra challenge? Try a SUP yoga class with Chicago Paddle Company, a combo CrossTown Fitness/SUP class at Chicago SUP at 8:30 am Saturdays or Chicago Water Sport Rentals. Looking for a team experience? Take a rowing class with Lincoln Park Boat Club. Or, for a truly unique experience, check out Chicago Paddle Rentals' kayak spin class (yup, you read that right) for a workout that combines the idea of a stationary bike in the water with the upper body workout of paddling.
Rock Climbing
Get to new heights – literally – with one of Chicago's many outdoor rock climbing options. The recently opened climbing wall at Maggie Daley Park offers a climb with a view of Lake Michigan, while the climbing wall at Lakeshore Sport and Fitness (located in the Illinois Center) is the tallest indoor climbing wall at North America, towering at ten stories.
Team Sports
Go back to your childhood by rallying your friends and forming a team for one of the Chicago Sports and Social Club's many summer team sports leagues. From softball to kickball to soccer, or even bubble soccer or corn hole. Not ready for the commitment of joining a league? Grab a few friends and a net and head to one of the beach volleyball setups at North Avenue or Oak Street Beach. Sand has a lot of give, so jumping to spike the ball becomes a lot harder than it would in your typical high school gym. Losing team buys the first round.
General Fitness
Get out of a overcrowded, overheated gym and take your workout outdoors with an outdoor class or bootcamp. Millennium Park's famed free workouts by the Pritzker Pavilion make the perfect pre-brunch activity, while Nike Chicago downtown offers a variety of free workouts each week, from yoga to barre to HIIT (and the occasional big ticket workout). Meanwhile, the November Project, led by a former collegiate cross-country star, is a 'weather-proof' tribe that offers free fitness without any equipment to anyone who wants to get sweaty- no matter what fitness level they may be. Come for the free workout, stay for the incredible sense of community.
Yoga
You've seen the shirts that say "Namaste in bed" – but how about namaste outside? With these outdoor yoga options, you'll be able to take your practice outdoors, whether it's on the beach, at the zoo, or in a park (note that Millennium Park's free workout classes often include yoga).
Biking
On weekends when visitors come to town (and in Chicago summer, isn't that basically every weekend?), there's no better way to show them the city than to take them on a bike tour. Grab a Divvy bike or a tandem bike from Bike and Roll if you're feeling chummy, and take to the lakefront path. Wear a helmet!
Running
You survived the polar vortex and miles on the treadmill- reward yourself by checking out one of Chicago's run clubs. With options for every day of the week, you'll have no excuse not to lace up- and hey, you'll probably even make some new friends along the way!