Standup Paddle Pilates at Chicago Paddle Company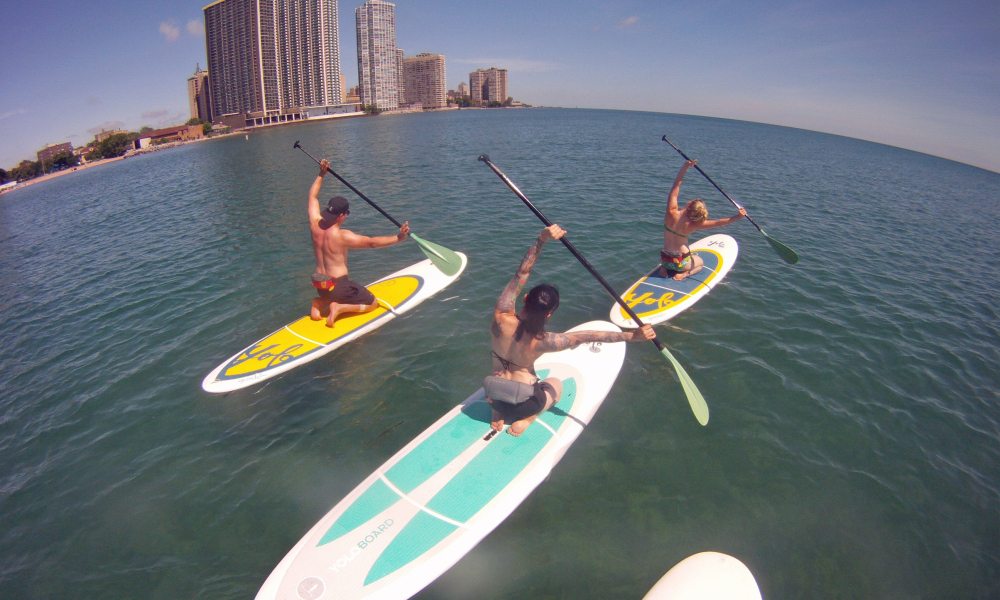 Studio/Gym: Chicago Paddle Company, 5800 N Lakeshore 

Class Focus: By using the board as the Pilates 'mat,' S.U.P. Pilates takes the balance and stability you're generally working with Pilates and puts that on steroids. 

Cost per class: $45 for S.U.P. lessons and S.U.P. yoga and Pilates classes.
$15 for Run/SUP: Every Tuesday at 6:30 pm, you can mix up your run by taking part in a unique experience that combines running and stand up paddle boarding.
Money saving offers: 
$75: 2-pack
$499: If you try S.U.P. at Chicago Paddle Company and you fall absolutely in love with it, you can purchase a membership to give you unlimited access to the paddle boards.
The Fab Fit Take:
I can't tell you how much stand up paddle boarding makes me appreciate this city, the weather and Lake Michigan. There's this sort of does-it-get-any-better-than-this feeling when you're looking back at the Chicago Skyline from the water.
Fiance and I headed up to Hollywood Beach for SUP Pilates with Chicago Paddle Company. It took a little bit of tough love and persuasion to finally convince him that he wouldn't fall off the board. The temperature of the lake is actually pretty refreshing, not that anyone fell off their board …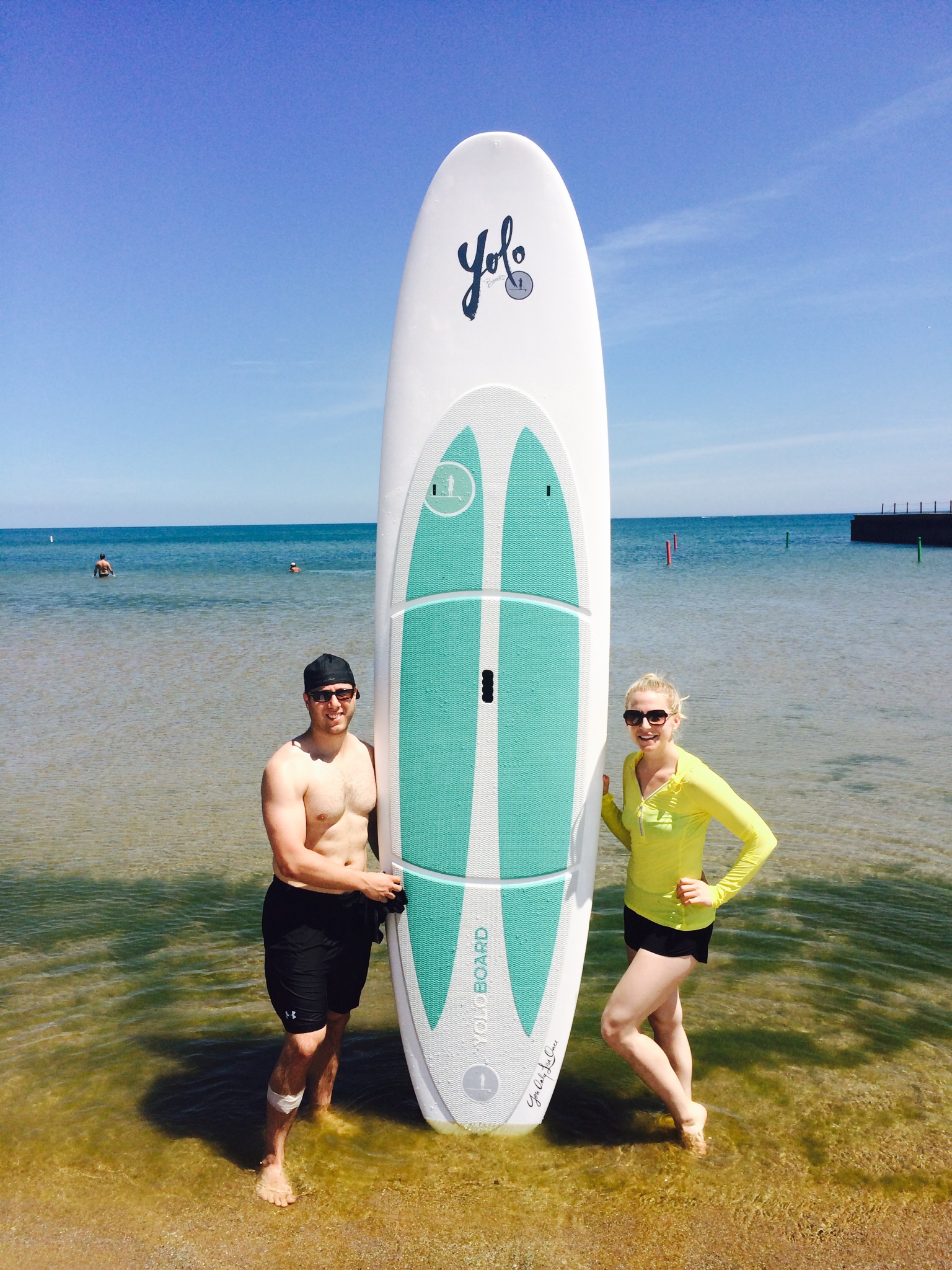 The owners of the Chicago Paddle Company, Amy and Westy, are serious about Paddle Boarding as a sport. Both are certified paddle board instructors and Westy is a sponsored paddle boarding athlete who flies around the world to compete in standup paddle boarding races. One of his sponsors, YOLO Board, will have you know that they've been saying YOLO since 2005. That's way before Drake dropped the Motto.
As Fiance and I prepared ourselves to work arms, core and more on the water, Amy gave us a quick crash course in paddle boarding and Erin, the instructor, explained the breadth of class.
Paddle boarding is already an amazing upper body and balance workout. Paddle Boarders constantly work to stay on top of the board by stabilizing with everything from the core to the toes. Don't forget about engaging arms, shoulders and back when paddling.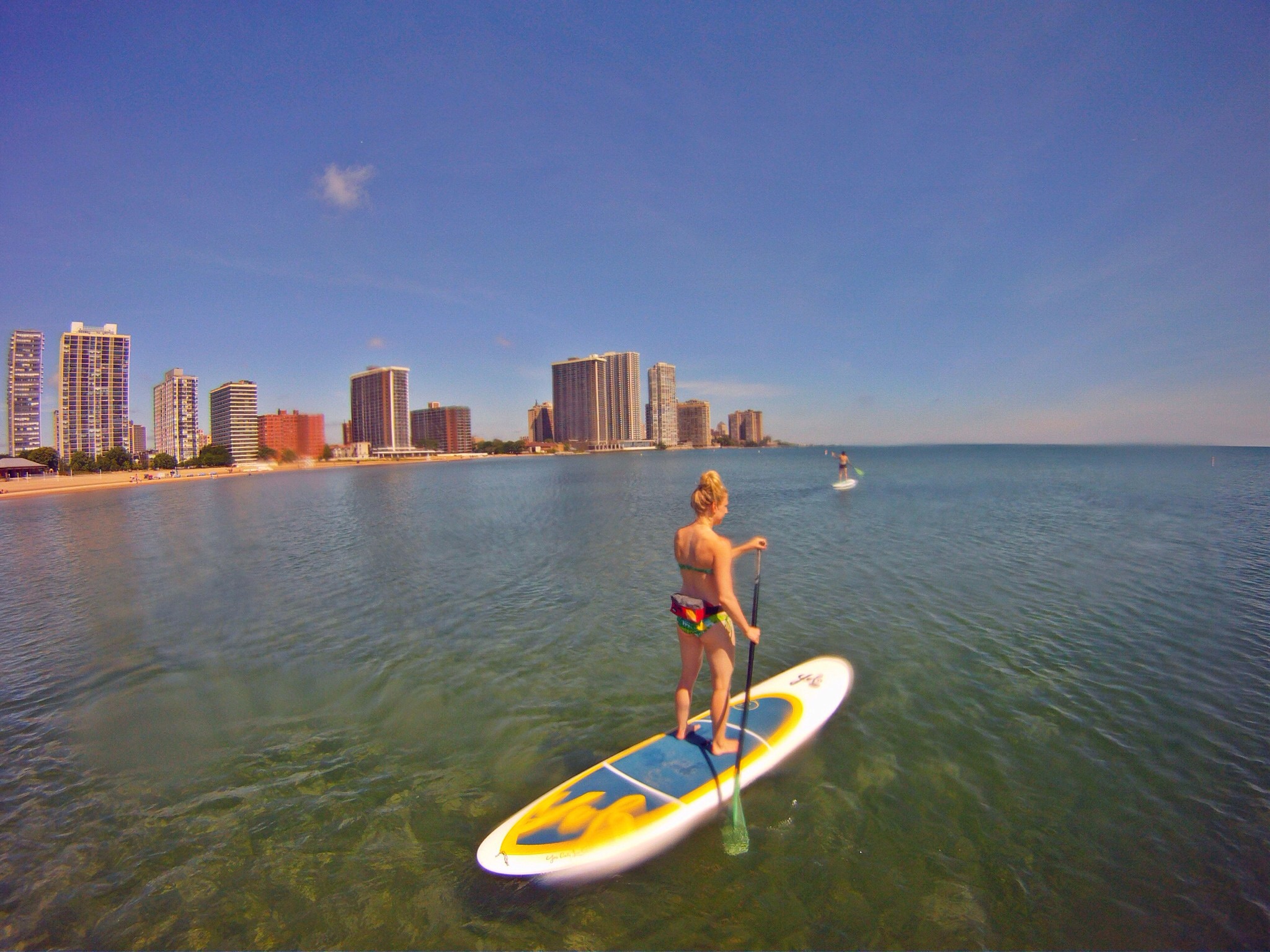 Add a core-intense Pilates mat series to the mix and you have yourself a gentle, but complete workout.
Nature threw a breeze at the class that pushed our paddle boards out from the shoreline as we went through each Pilates series. This created a sort of Paddle/Pilates interval class. We'd do a Pilates series, drift away from shore, paddle back towards shore and get into our next series. Sounds like a natural opportunity to get an even better workout in.
As we went through each series, we worked core and back by focusing on side-bends and planks.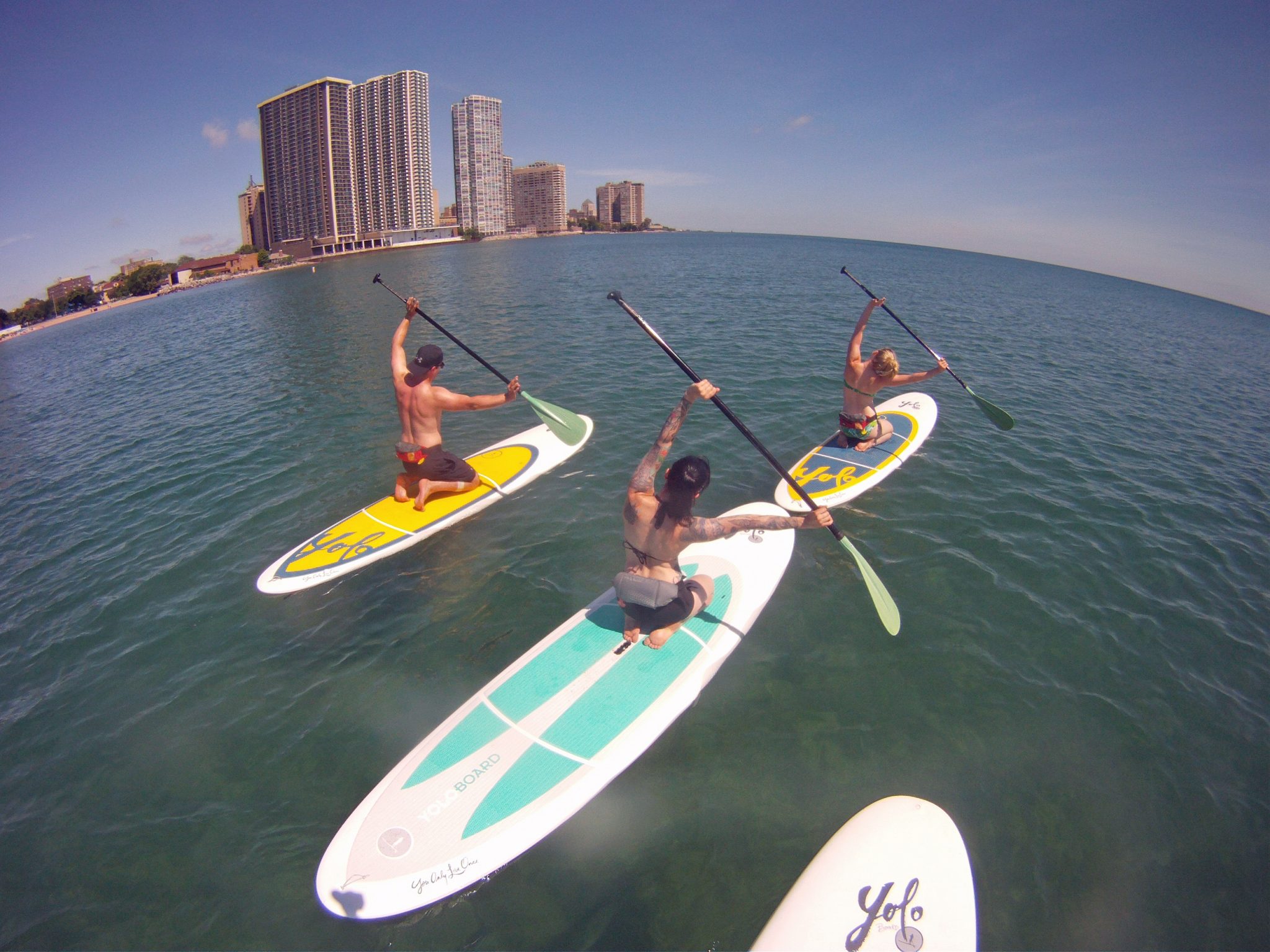 Every Pilates move was considerably more difficult on a paddle board and required even more core stabilization. Let me tell you about the glute bridge. After two minutes in a glute bridge march, my butt was screaming. Paddle Pilates success.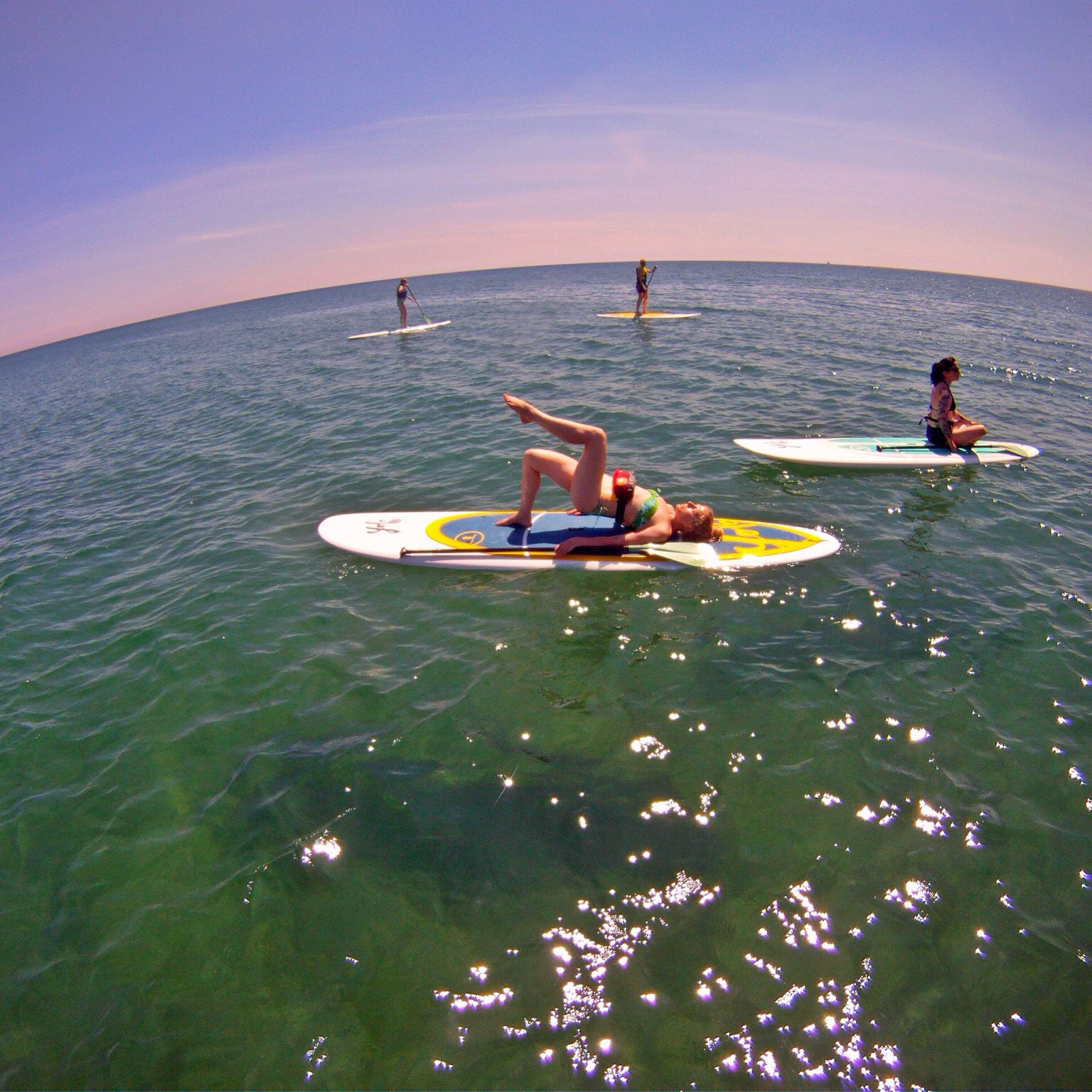 This workout was an amazing addition to an already perfect Sunday, even Fiance got into it. Get up to Hollywood Beach and try it for yourself.
At the beach, in the gym or on the paddle board, clothing brand Graced By Grit creates clothing that looks good and is functional for fitness and water sports. I rocked the American Tank, the Land and Sea hoodie and the kick your butt short, all made of quick-drying material.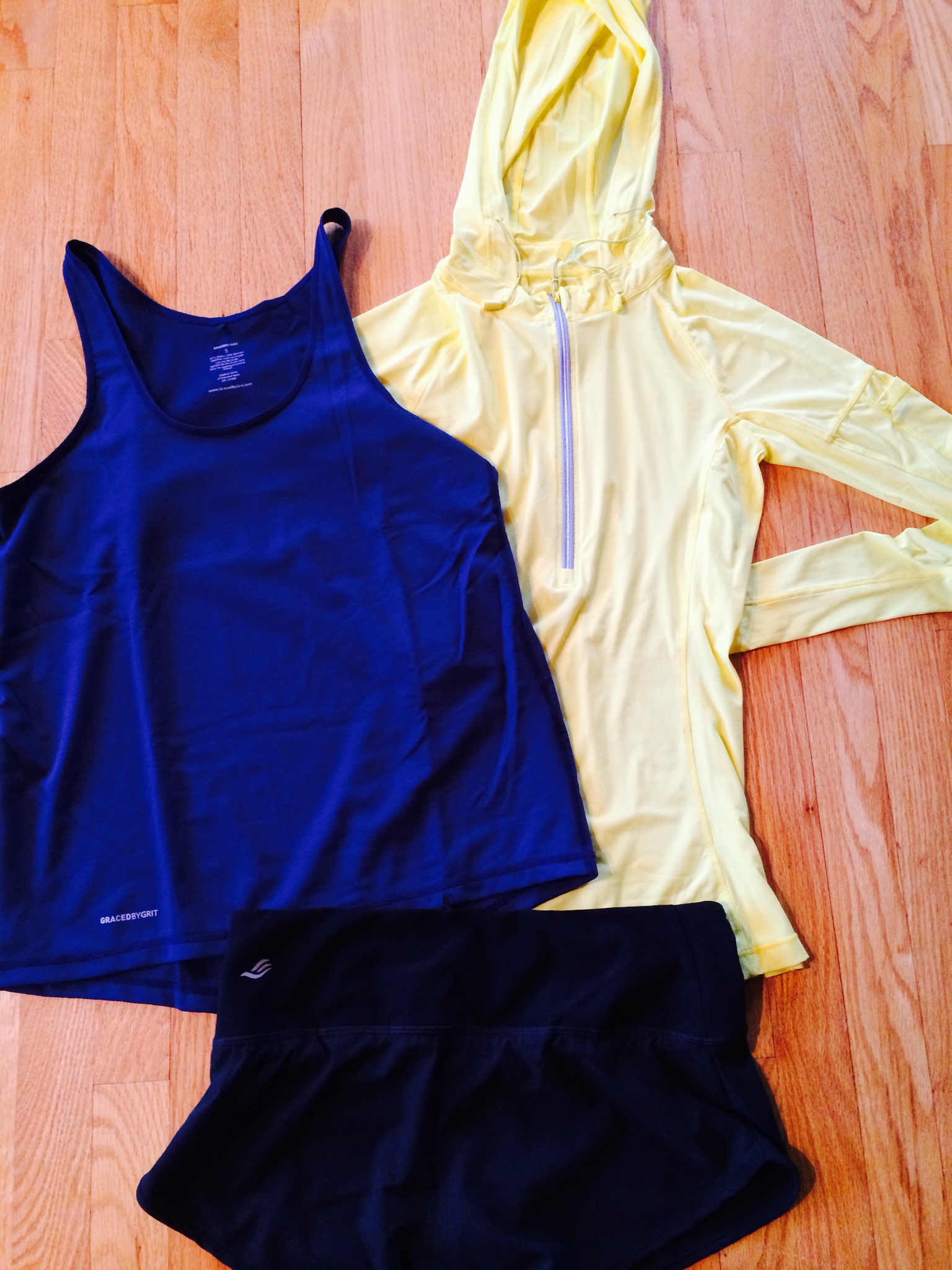 (Disclosure: Chicago Paddle Company provided complimentary entry into the class and Graced by Grit outfitted me with these fantastic quick-dry paddle boarding threads. As always, I only write about the workouts and the products that I try and love)