Struggling with Motivation Post-Marathon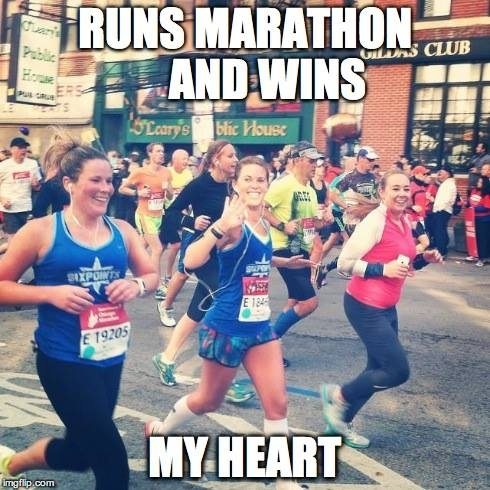 It's kind of crazy to think about how long I was planning and training for the marathon. I mean, I entered the lottery in early April, started training in June and crossed the finish line in October. That's a solid six months devoted to one four-hour block of time. And even when I wasn't running or training, I was still spending a lot of time thinking about the marathon, planning as much as I could so that I'd be prepared come race day. It was a really big part of my life, the kind of thing that everyone knew I was doing and would ask me about whenever we saw each other or chatted. And it was awesome.
Now that I've had a few weeks to recover from the double whammy of the Chicago Marathon and the Nike Women's Half Marathon, I feel a little bit stuck. I've been running a few times a week for fun, usually lunchtime loops around Humboldt Park, and I've been enjoying doing the cross-training and group fitness classes that I missed so much during marathon training. I've re-dedicated myself to my Hard Pressed sessions, and I've learned to look at my planner and not freak out at a week completely without planned runs or training sessions.
But….
Something's missing, and after a timely #BibChat, I realized what is was: my motivation.
Not to toot my own horn, but I've always been a highly motivated person. That's part of the reason I dug marathon training so much – I loved having a schedule, having goals to hit, having something that I could point to whenever I left for a run before the sun came up or felt too tired to get in a tempo. Without having a goal race in my future, I've been a little bit floundering in my fitness routine, not sure of what to do or what kind of schedule to stick to, if any schedule at all.
During #BibChat (Tuesdays at 8pm CST, for those of you interested!), I watched Twitter closely as fellow runners discussed how they get back into running after a target race, how to stay motivated when your bed beckons or after extended time off of running, and rewards for staying on track with training. And with those insights in mind, I was able to pinpoint the two key components to getting my motivation back after a huge race:
1. Revel in the recovery. Take a week or two off from running except when you truly feel like it, treat yourself to the sweets and food and beer that you deprived yourself of during training, say yes to long brunches and late nights out without worrying about how it's going to affect your run the next day. Go to a spin class, yoga class, swimming or just walk to work for your activity. Thoroughly enjoying your well-deserved time off is key, because if you jump back into running too soon or if it feels forced, you'll end up hurting yourself and your love for running.
2. Jump back in it. For most runners, this means signing up for a new race and setting a new goal. Think about your recent race: what went well? What didn't? What did you like and dislike about that race and that distance? How do you want to improve specifically? What would have made this race better for you? With those thoughts in mind, research your next target. Maybe you want a PR, and you're on the hunt for a flat, fast course in good conditions. Maybe you want more of a challenge, and you want to run in the mountains, on the trails, or complete an ultra. Maybe you want to plan a destination race, or maybe you want to run somewhere your friends and family can easily come watch. Whatever you want, sign up and commit as quickly as possible- this will give you the kick in the pants you need to jump start your running.
Personally, I'm still debating my next race- I'm tempted to do a spring marathon, but I'm pretty terrified of winter training in Chicago. I'm already signed up for the Hood to Coast relay race at the end of next summer, but I think I need something else in between now and then to keep me running. Any suggestions on what race I should do next? How do you stay motivated after a big race?