Planning a Run-cation with the Nike Women's Half in San Francisco
Way back last spring, I entered the lottery for the famed Nike Women's Half Marathon in San Francisco, signing up with a few good girlfriends for a weekend of running and relaxing in the Bay Area. After my first marathon, nothing sounded more relaxing than a casual half marathon in one of the hilliest cities in the nation.
I'm being sarcastic. Kind of.
I'm fully aware that most people would view doing a full marathon and then a hilly half in back-to-back weekends as kind of insane and probably not that fun. However, I still fully advocate that a vacation that has a built-in fitness component is superior to all other vacations. Here's why:
Knowing that I had a tough half marathon already lined up for the weekend, I was thrilled about my decision to EAT ALL THE THINGS in San Francisco, including but not limited to: two kinds of pizza, oysters, ice cream, zucchini cakes with poached eggs, and a whiskey-blueberry crumb cake that I would kill for.
After the race, I was able to flush out any soreness from my legs by walking and sightseeing some.
Having friends to go to the expo with, share a hotel room with, wake up at 5:15 am with, and more made the race experience so much more fun.
A run-cation (or fitness vacation) was an awesome way to get friends from various places across the country in one location.
Of course, the main draw of a run-cation is the race itself, and the Nike Women's Half Marathon in San Francisco did NOT disappoint. The race is geared towards women, especially those running their first half marathon, and every aspect of the race weekend is created with the female runner in mind.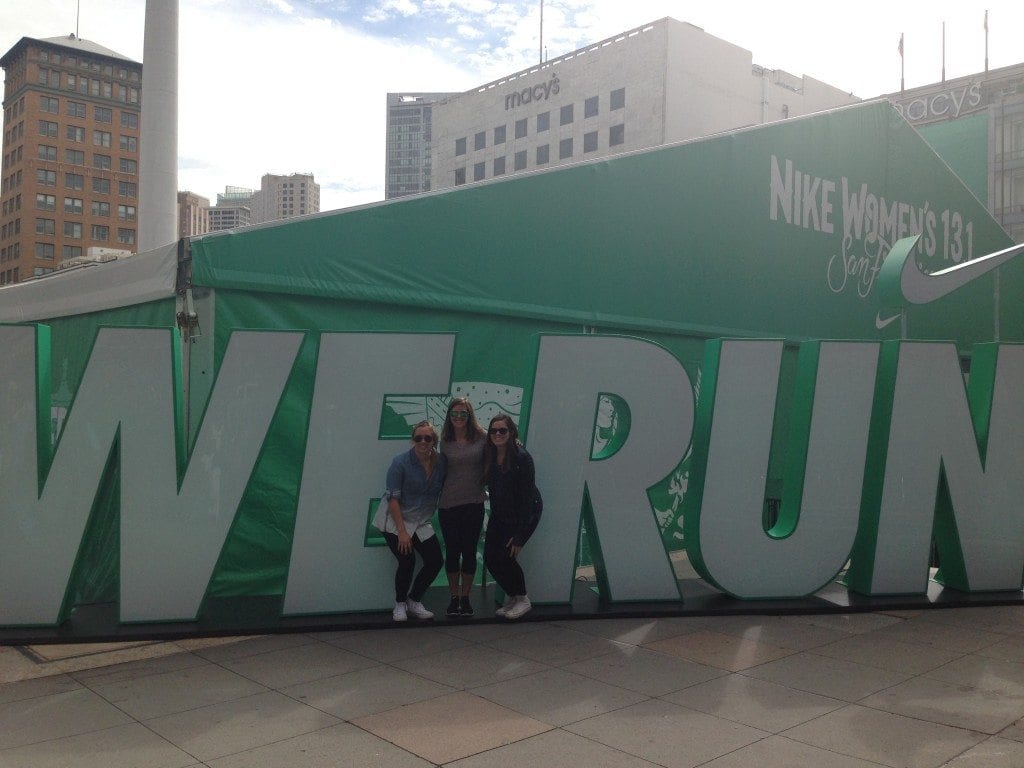 The race weekend starts with the "Expotique," aptly named since it's a mix of an expo and a personalized boutique shopping experience. After picking up your packet (including a pretty sweet high quality finisher's tank), you're free to browse through several sponsorship activations, such as a hair-braiding station from Paul Mitchell, free cupcakes and truffles from Whole Foods, and photo booths. You can also get your gait analyzed by a Nike Pacer and stock up on any last-minute run essentials you might have forgotten in your suitcase – sunscreen, sunglasses, rubber bands, fuel, and more.
After the Expotique, it was pretty impossible NOT to make a stop at the Nike store just down the street, especially since they had an amazing window display with every racer's name displayed. The store was incredible and absolutely decked out in multiple levels of Nike gear that was specific towards the San Francisco race – one-of-a-kind merchandise that makes the perfect souvenir. I managed to walk away with only a pair of new Pegasus 31s in the signature race design.
The race began in Union Square and wound west through Golden Gate Park, up to the coast, and ended at Crissy Field. Admittedly, I was terrified of the hills – and while they weren't overhyped, they were definitely manageable. The first hill came quickly at Mile 2, and while it was steep, it was possible to run up the entire thing. After that, we coasted through eight miles through the Golden Gate Park. I would call it the scenic Golden Gate Park, but it was so foggy you couldn't see anything! Nike also made sure to have cheer squads periodically throughout the course, such as a gospel choir, high school cheer teams, drum lines, and more, which really perked up the foggy course.
And then, Mile 10. Oh, Mile 10. I knew it was coming before I started the race, and I knew it was really coming when I saw a sign on the course that said "1000 Feet – GO HILL SEEKER, GO." And then I REALLY knew it was coming when a giant curved monstrosity of a hill appeared out of the dense fog and seemingly laughed in my face. I'll spare you the details, but just know that at the end there was a huge group of excited people cheering as you crested the hill. Not a bad feeling at all, and almost good enough to make me forget the pain I had just suffered for five minutes.
The last three miles were downhill and then flat, and they included a "chocolate mile" sponsored by Whole Foods, where volunteers handed out chocolate truffles (now is a good time to mention that the aid stations were stocked with water, Nuun, LunaBars, and more). And at the finish line, after passing through a chute stocked with more snacks and recovery drinks, there was this glorious sight: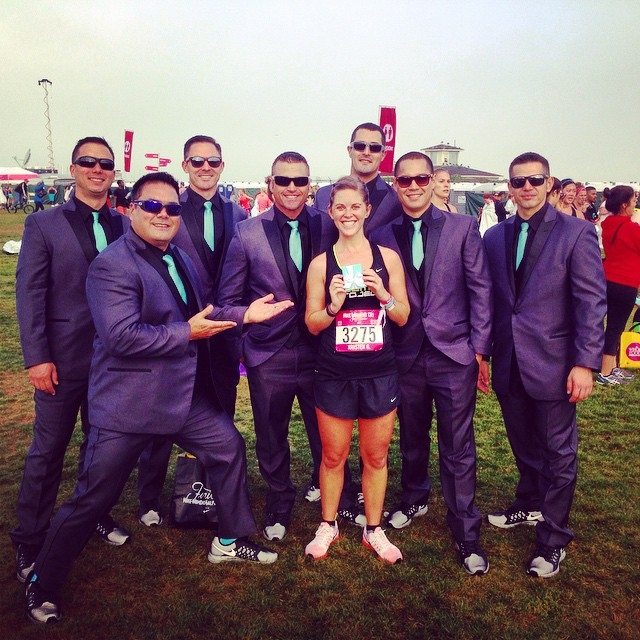 Yes, those are San Francisco firemen, in tuxes, surrounding me as I hold my new Tiffany's finisher necklace- much better than a medal, yeah?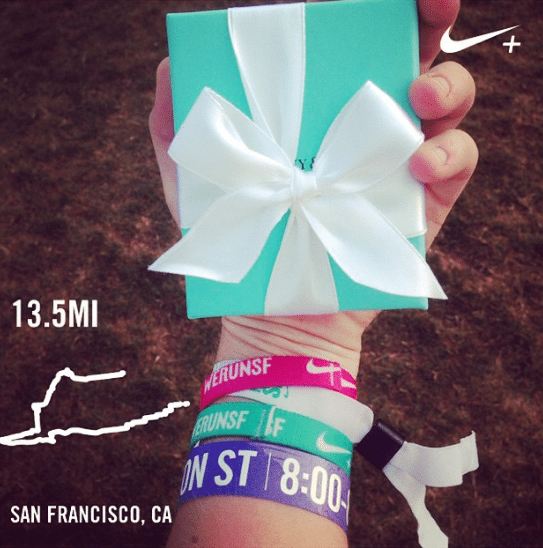 For a full review of the Nike Women's Half Marathon in San Francisco, check out my review on BibRave!
Overall, I had an amazing weekend of friends, running, shopping, and sightseeing- what more can you ask for? If you're thinking about hosting your own running or fitness vacation with friends, here are a few tips to help plan the perfect vacation:
Get everyone on board early. Planning is much easier when you have people committed in advance.
Choose an activity that everyone can do. A half marathon isn't everyone's cup of tea. If your group of friends isn't all runners, there are plenty of other options for yoga retreats, ski weekends, hiking getaways, surfing lessons, and more.
Plan early. These types of vacations are gaining in popularity, so plan early to secure your spots and get the cheapest fare for hotels and airlines.
Don't stay stuck to the hotel. Even if you have a big race during the vacation, get out and explore the city you're in. You're on vacation, and you'll regret missing out on a fun time more than you'll value fresh legs the next morning. Or, if possible, schedule your activity early in the vacation so that you can do whatever you want afterwards!
Indulge! After all, you're on vacation. Whether indulging for you means taking two yoga classes a day, having a fruity drink by the pool, or getting a massage, take advantage of your trip to treat yourself, no matter what that means to you.
After this run-cation, I came back to Chicago feeling relaxed and inspired to sign up for another destination race with friends soon. If only I had unlimited vacation days …
Have you ever done a fitness-centered vacation with friends? Any recommendations on destination races for me to explore?