Carb Loading for a Marathon: Marathon Monday
If there's one thing all runners love to talk about, it's eating. During a long run, it becomes sort of a fantasy to imagine what you're going to feast on after you're finished with that grueling 20-miler. A tall stack of blueberry pancakes? A stuffed breakfast burrito? A Bloody Mary with all the fixins? It's enough to make you wonder whether that's sweat or drool running down your face.
Before a marathon, food becomes even more important. At this point, you've probably nailed down your pre-run meal and how you fuel yourself during a run. But running for 26.2 miles often requires a tweak to your overall diet and nutrition.
Enter carb loading for a marathon. Carb loading is a strategy used by marathon runners to maximize the storage of glycogen (or energy) in the muscles. While fruit has carbs, it's not the optimal fuel for carb loading, since it's high in fructose and less effective at raising glycogen levels than high glucose foods. Running out of this storage of glycogen is when runners tend to hit the dreaded wall during a race.
The classic carb loading meal, of course, is a hearty pasta dinner, since its calories come from starch, a glucose polymer. Other popular carb loading options include bread, rice, cereal, and potatoes.
Sounds simple enough, but there's more to carb loading than sitting down to a giant plate of spaghetti and meatballs the night before a marathon. Here's how to carb load for a marathon:
Start early. You can start carb loading as early as five days out from your race by increasing your carb intake a little bit, and then ramping up your carb intake in the two days before the race, which you can do by having one carb-rich food at every meal and snack. Since carbs = calories, it's natural to eat a little less protein and fat-rich foods in these last two days.
85-95%. That's the amount of your calories that should come from carbs in the two days before a marathon. As someone who typically avoids carbs, I definitely balked at the number and said something along the lines of "That's not how I normally eat at all," but as my dad wisely pointed out, "Well, Kristen, you don't normally run a marathon every week, of course this isn't how you normally eat." Point taken.
But don't stuff yourself. The night before the marathon, eat dinner on the early side so that you have time to digest, and keep it small, but carb-heavy.
Bored of bread and pasta? You can also eat tortillas, waffles, oatmeal, pancakes, bagels, yogurt, and juice. Fill your fruit fix if you want, but keep it low-fiber to avoid digestive problems- bananas or apples and pears with the skin peeled off are good options.
Contrary to what Regina George may think…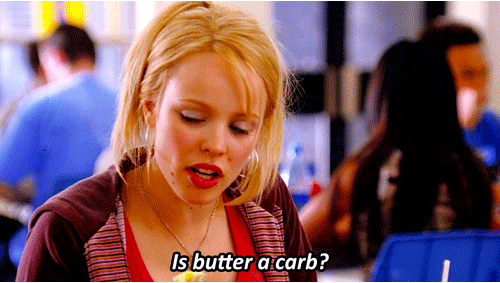 … stay away from too much butter or other high fat foods, like creamy sauces, cheese, oils, and dairy products like full-fat ice cream.
You'll probably gain a couple of pounds … but that's totally fine and means that you're fueling correctly. For every ounce of carb you store in your body, you store about three ounces of water
You can get carbs from beverages. If the amount of food you're eating seems staggering, get your carbs from juices and sports drinks. Make sure you're staying hydrated in general with lots of water.
Need ideas for meal plans during your carb load?  Try here, here, or a few of our favorite standbys – like Banana Protein Pancakes or Overnight Oats. And enjoy the feeling of carbed-out bliss in the last few days before you run the race of a lifetime!