How to Spot and Manage the Holiday Blues
During this time of year, we're encouraged to be ~Merry and Bright~, however, some may find that they feel more connected with the Grinch. If you're unfamiliar with one of literature's most prolific antagonists, the Grinch is a resident of Whoville who would rather spend time alone with his dog than sing Christmas songs with his neighbors. 
You may find yourself feeling similarly this holiday season. According to the National Alliance on Mental Illness (NAMI), 64 percent of those who are already managing a mental health condition experience heightened symptoms during the holidays. If you're feeling low this year, know that you're not alone.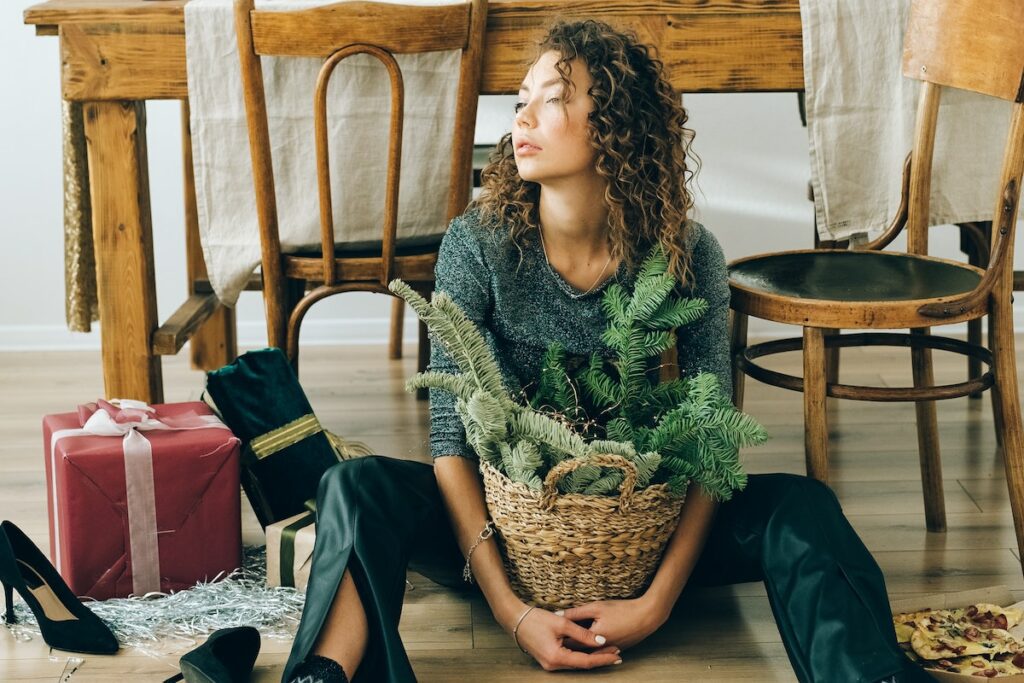 Common reasons why you may feel down during the holidays
There are many reasons why you may be feeling down this time of year. Some of the most common culprits include:
More frequent social interactions
Financial stress
Pressure from perceived obligations like travelling and purchasing gifts
Being required to attend family gatherings 
Not being able to attend family gatherings
Grieving the loss of those who've passed
Loneliness
Change in routines
Disappointing memories of the season
Amidst the reasons described above, many people also experience increased mental health challenges during the darker and colder months due to seasonal affective disorder (SAD). If you relate to some of these challenges, I encourage you to be mindful of your mood and energy throughout the holiday season.
Signs you're experiencing the holiday blues
One way to engage in this mindfulness is to be aware of certain signs or symptoms of the holiday blues. Some things to take note of are:
Increased tension: Are you tensing up in your body more often than usual? Are you experiencing more muscular pain or tension headaches?
Fatigue: Do you feel you need to sleep more often? Are you sleeping later? Are you more tired throughout the day?
Insomnia: Are you struggling to fall or stay asleep when this isn't typically an issue for you?
Increased isolation: Are you seeing your friends and family less often than usual? Are you not wanting to see people when you're typically social?
Loneliness: Do you feel disconnected from other people? Are you able to engage in meaningful conversations with others?
Feeling loss: Are you grieving the loss of an important person, place, or thing in your life?
Experiencing sadness: Is your mood lower than usual in general? Is your low mood persistent?
If you answered yes to any of the questions above or identify with any of the listed symptoms, you may be experiencing the holiday blues or may be at risk of developing them. If you're feeling the holiday blues, it's okay! There are ways to care for yourself in this time so you begin to feel more like yourself.
How to care for your emotions during the holiday season
 While the holiday blues are challenging, they're manageable. The sooner you begin to manage your symptoms, the better. Also, if you know that you tend to feel bluer during the holidays in general, using the tools listed below may help prevent a lower mood. Some supportive ideas include:
Stay connected to your routine. Humans tend to prefer structure. Even if you're traveling or taking time off, try to follow a similar routine to the one you follow in your non-holiday life. 
Maintain some form of movement. Exercise is one of the most efficient stress relievers. If the holidays cause stress for you, try to prioritize a daily walk or some other form of movement.
Prioritize sleep and rest. Maintaining sleep and rest will also help you with mood regulation. Without proper sleep, most of us aren't able to manage our moods as easily.
Drink in moderation — or not at all. It can be easy to drink in excess during the holidays as there are often many parties and fun events to attend — however, excess alcohol consumption is connected to lower moods since alcohol is a depressant. Stick to NA drinks or be mindful or your consumption.
Follow a budget. Between travel, purchasing gifts, and attending dinners and parties, the holiday season can quickly become pricey. I recommend reflecting on your priorities for the season and sticking to a reasonable budget to avoid buyer's remorse and breaking the bank.
Listen to music, journal, or engage in some other relaxing activity. Lastly, make sure you carve time out for yourself to rest and relax by doing something intentionally restful. It's okay to step away from the hubbub if you need to do some self-care.
The bottom line: While your holiday season may not reflect the rom-coms on Netflix and the Hallmark channel, know that you can set yourself up for success with intention and mindfulness. If the holidays still leave you feeling a bit blue, know that this time is temporary and the new year is just around the corner.