Why You Should Add Hop Water to Your Bar Cart ASAP
After one too many hangovers and upset stomachs after a night of drinking, I decided to quit alcohol once and for all in January.
While I'm not totally certain if I'll never imbibe again, I've been having a lot of fun trying all the cool new nonalcoholic beverages on the market. I've stocked my bar cart with everything from booze-free wines to gins to aperitifs and impressed my friends with my mocktail-making skills. 
But my favorite nonalcoholic drink of the moment happens to be something called "hop water." Keep reading to learn about this refreshing bevvie, its many benefits, and which ones are worth sipping this Sober October and beyond.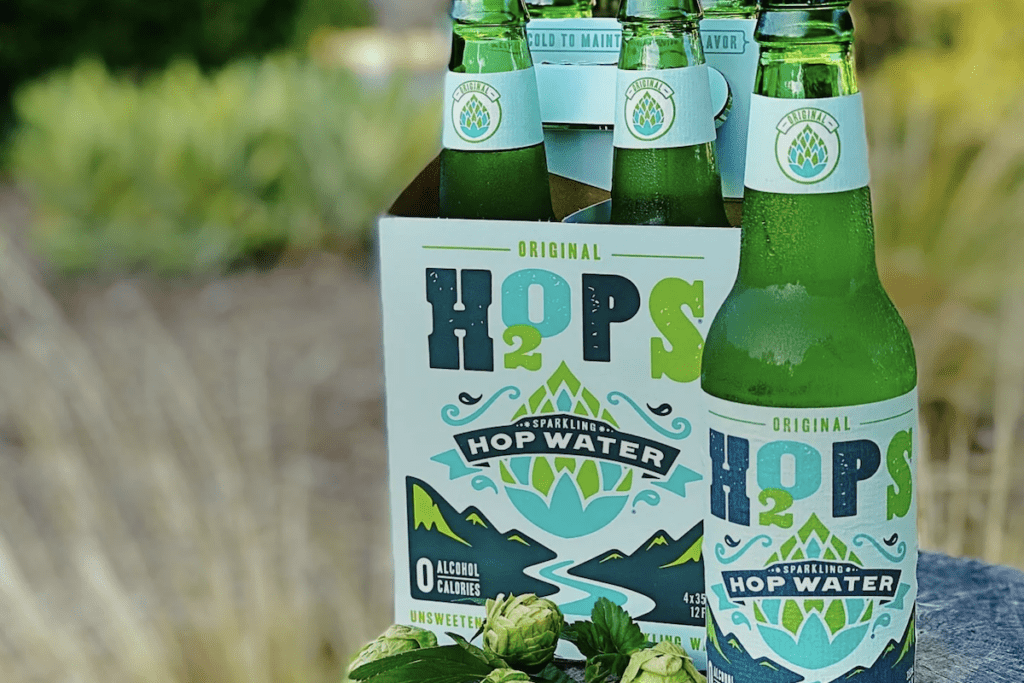 What is hop water, exactly?
Hop water is nonalcoholic sparkling water infused with the flavors of hops. 
"Hop waters are a great nonalcoholic alternative to beers — and even alcohol removed beers, which are not the same as hop waters," says Hilary Sheinbaum, author of The Dry Challenge: How to Lose the Booze for Dry January, Sober October, and Any Other Alcohol-Free Month. "Hop waters provide flavor with zero calories and 0.0% alcohol."
Why is hop water so popular these days?
"I think so many people — myself included — have flocked to the seltzer waters and are keen on staying hydrated while enjoying a beverage without a buzz," notes Sheinbaum. "Hop water is perfect for that."
One of the biggest hop water benefits for me, personally, is that it's gluten-free. As someone with celiac disease who also doesn't drink, I can't do nonalcoholic beer because it contains gluten. So hop water has become my beer alternative to enjoy during sports games, BBQs, and more. 
Thanks to the hop flavors, it tastes like a cross between seltzer and craft beer, minus the post-drink bloating and headache I used to experience from gluten and alcohol. Needless to say, I'm here for it. 
Where can you find hop water?
Thankfully, hop water is becoming more readily available to purchase around the country. I've found varieties at Whole Foods as well as Boisson and Better Rhodes, two alcohol-free shops that ship nationwide.
I've also started to see it at bars and restaurants and have even recommended it to bartenders to stock as an alternative to nonalcoholic beer.
What are the best hop waters to try?
Want to get in on the hop water fun? Here are a few varieties worth trying right now: