I Was Diagnosed with Celiac Disease During a Pandemic
As a self-proclaimed foodie, learning that I had celiac disease in March was a major blow. I'd have to start a gluten-free diet immediately and stay on it for the rest of my life to prevent intestinal damage that could lead to infertility and cancer, my doctor told me via Zoom, as her office was closed in the wake of the coronavirus pandemic.
According to the nonprofit organization Beyond Celiac, roughly one in 133 Americans has celiac disease, a serious autoimmune disorder that damages the intestines and messes with your body's ability to absorb nutrients.
Common signs of celiac include bloating, gas, fatigue, and depression—all things that can be mistaken for other conditions. That's why it often takes people six to 10 years to get a proper diagnosis. I've dealt with mild stomach issues for more than a decade—but I never thought celiac disease could be the culprit until my pain became more severe a few months ago and I had an endoscopy at the end of February to see what was going on.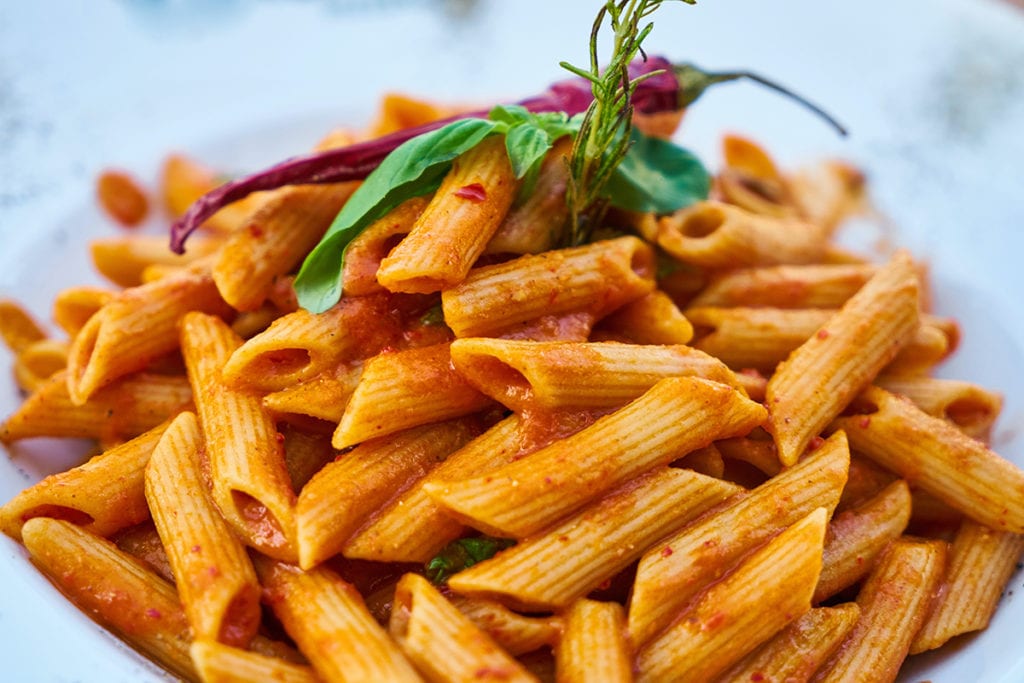 Finding the silver lining in having celiac disease
Being diagnosed with celiac disease in the middle of a global pandemic has definitely made coping harder in some ways. I haven't actually been able to see my doctor, or dietitian, in person since being diagnosed. Instead, I've had to rely on phone calls and Zoom appointments, which just aren't the same as real face-to-face time.
Food shopping is also a challenge. I'm still learning which foods do and don't contain gluten (who knew soy sauce was made with wheat?), so I spend a lot of time reading labels and double-checking ingredients while trying to socially distance in my cramped neighborhood supermarket. Needless to say, I always leave the store feeling stressed.
There are some silver linings to the whole situation, though. While I'm bummed I'll never be able to drink a craft beer or bite into a freshly-made soup dumpling from my favorite hole-in-the-wall spot again, I'm relieved to finally know what was causing my stomach issues and to have a clear-cut treatment plan. In fact, I feel so much better physically since cutting gluten out of my life two months ago and starting a vitamin regimen. My bloating is completely gone and I actually have energy.
Staying at home has also made it a lot easier to stick to a gluten-free diet. I don't have to worry about cross-contamination from any restaurants and I'm not tempted to "cheat" on my diet while out with friends. Plus, since I don't have to commute to an office, I'm able to cook dinner at a reasonable time and I actually have the energy to whip up more elaborate recipes.
I've had a lot of fun experimenting with gluten-free ingredients and have realized that gluten-free food can be delicious. (My favorite quarantine recipe is this miso-mushroom pasta, which I've made four times in the last month using certified gluten-free red miso paste and brown rice pasta. It's freaking delicious, and I think my partner loves it more than I do.)
Expert tips for navigating a gluten-free diet during quarantine
I know I'm not the only one who has to adhere to a gluten-free diet for health reasons. My goal as a health writer has always been to help others, so I called up Kaitlyn Willwerth, RD, LDN, with OnPoint Nutrition, for advice on navigating a new diagnosis—and a new diet—during this topsy-turvy time. 
Take time to educate yourself.
"The biggest thing, especially when you're newly diagnosed, is to educate yourself about your condition," says Willwerth. "During this time, it's not very common to be seeing doctors face to face, so if you're diagnosed over the phone or video, make sure to ask a lot of questions." For celiac disease specifically, a gluten-free diet is the only treatment, so ask your doc how to go about adopting this kind of diet if you're not super-familiar with it.
Working with a dietitian can also be beneficial, says Willwerth, as can familiarizing yourself with nutrition labels so you can easily spot gluten (wheat, barely, and rye are the most common sources). "Most companies have gotten really good with labeling, and they're required to label whether something is produced in a gluten-free facility or if it may have come into contact with gluten," says Willwerth.
Stock up on pre-made meals and frozen foods.
Although I've enjoyed cooking, sometimes I need a break. I've avoided ordering takeout from local restaurants because I'm afraid of cross-contamination in the kitchen, but I've found a few companies that offer pre-made certified gluten-free meals, frozen foods, and snacks.
"Freshly is a good option because all of their stuff is certified gluten-free," says Willwerth. I've been enjoying Freshly—their meals come ready-to-eat (all you have to do is microwave)—as well as Thrive Market, which sells a large variety of gluten-free snacks and condiments.
Because food shopping in person is stressful and it's been tricky to nab an online grocery delivery spot in New York City, I've also signed up for Hungryroot and Green Chef, two meal delivery services that are safe for people with celiac. They send you all the ingredients to make a variety of meals, along with the recipes, which makes life easier.
Think outside the pasta box.
Being on a gluten-free diet doesn't mean you'll never be able to eat carbs again. "You can still have carbs, they're just going to look a little bit different," says Willworth. "There are a lot of really high-quality starches that will provide you with carbs." Some of Willworth's favorites include sweet potatoes, edamame, corn, peas, and butternut squash.
As for pasta, I'm a fan of ones made from brown rice, chickpeas, and red lentils. With the right sauce, you honestly can't tell the difference between them and regular pasta.
Join an online support group.
"I always try to encourage my clients to look around on Facebook and join groups in their area," says Willworth. "People in those groups are more than willing to give tips and share tricks." I've found delicious recipes in the celiac Facebook groups and Reddit communities I've joined.
I've also found the Find Me Gluten-Free app very useful. It features user reviews on restaurants all over the world. I have a bunch of places bookmarked, including Posh Pop Bakeshop, a fully gluten-free bakery in NYC, that I can't wait to go to once it's safe to ride the subway again.
Be kind to yourself.
"In my experience working with clients who are doing really restrictive diets like this, it can be really tough on people mentally—and it can be really discouraging when it's not going as planned," says Willworth. Don't be hard on yourself: Remember that you're learning, and you're going against years of habits you've formed.
"Habit change is not easy, and there are a lot of emotional ties with food," says Willworth. "It can be really hard to give up foods you've eaten for your entire life or that have a special place in your heart for whatever reason." That's why Willworth urges anyone dealing with a new diet to be kind to themselves and seek help, whether from a dietitian or therapist, if you need support.
The bottom line: "Be forgiving of yourself, and get creative, because you can have a lot of fun with food, and you can make a lot of really great things that are gluten-free and taste similar to things you used to eat," says Willworth.