How to Find the Healthiest Spiked Seltzer
As a major beer lover, I was crushed when I had to give up my go-to drink after being diagnosed with celiac disease earlier this year. Who knew beer had gluten in it? Luckily, spiked seltzer is naturally gluten-free, so I could still kick back with an alcoholic beverage at the end of a long day.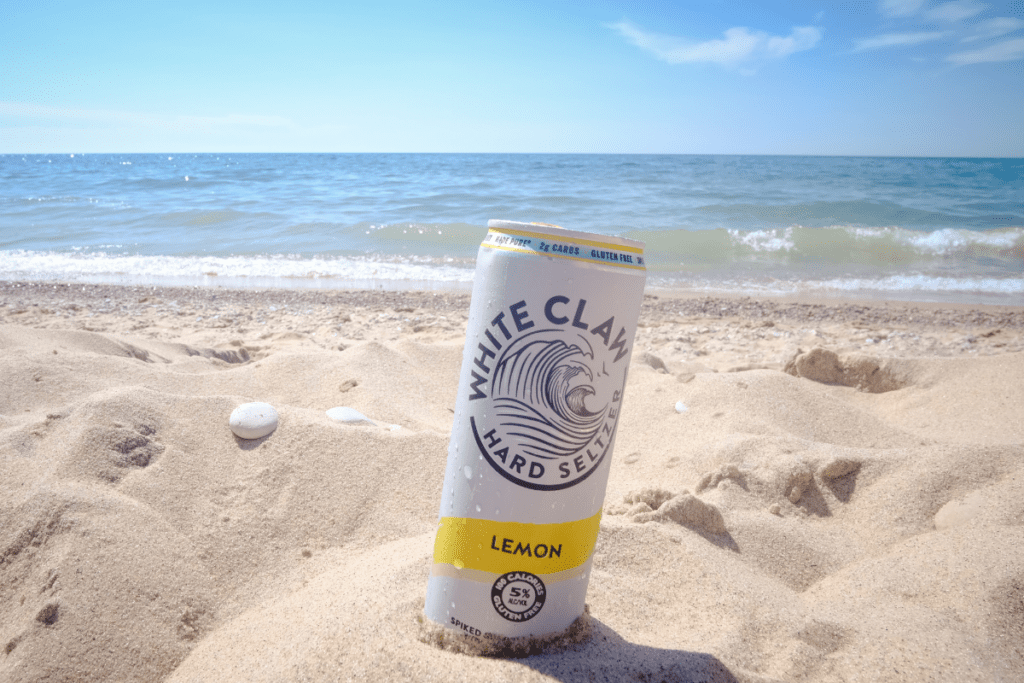 Not only is spiked seltzer gluten-free, it's also generally a healthier option than many other canned or premixed drinks. And it's pretty darn tasty to boot, IMHO.
Why spiked seltzer is a "healthier" alcohol choice
The reason spiked seltzers are healthier than other drinks is because they "are typically only made out of carbonated water, alcohol from fermented cane sugar, and fruit flavorings," explains Paige Valentik, RD, registered dietitian for Sodexo. "This makes the beverage lower in calories and extra ingredients."
Yep, spiked seltzers are typically lower in calories when compared to heavy beers, wine, or mixed drinks made with high-calorie mixers, says Valentik.
"The calorie content of spiked seltzers are comparable to light beer as well as liquor mixed with no-calorie beverages," she shares.
There is a caveat, though: Spiked seltzers are only healthier if you practice moderation, of course.
"It's easy to 'overdrink' on spiked seltzers versus other alcoholic beverages, [and then] you're no longer consuming less calories," says Valentik.
How to choose the healthiest spiked seltzer
When looking for the healthiest spiked seltzer, Valentik suggests focusing on calories rather than trying to limit specific ingredients. That's because all alcohol is processed by your body in the same way.
"No matter what form of alcohol a person consumes, it's going to be digested the same," she says. "So, focusing on calories from alcoholic beverages is the best way to go versus going crazy with trying to limit carbohydrates/sugars and other ingredients."
That said, it's still a good idea to limit added sugars for other health reasons. (Studies link high-sugar diets with everything from heart disease to diabetes to high blood pressure.)
"Look for spiked seltzers with no added sugars or listed as '0 grams' under added sugars on the nutrition facts label," says Valentik.
The healthiest spiked seltzers, ranked
So, what exactly are the healthiest spiked seltzers? Based on Valentik's guidelines, here are four good options, ranked by calories, carbs, and sugar:
This spiked seltzer brand ranks top on our list because a can clocks in at only 90 calories, with 2 grams of carbs and 0 grams of sugar. The ingredient list is simple: All that's in Bon & Viv's spiked seltzers are purified water, champagne yeast, and natural fruit flavors. Plus, the low calorie seltzer flavors are sophisticated, ranging from clementine hibiscus to coconut pineapple to pear elderflower. 
This is my go-to brand of spiked seltzer. Each can is 100 calories, with 2 grams of carbs and 1 gram of sugar. Truly's spiked seltzers come in fun, fruity flavors like wild berry, blueberry and acai, and lime (my personal fave). I like that the flavors are refreshing without being overly sweet.
This super-popular spiked seltzer brand definitely deserves a spot on this list. That's because White Claw has pretty much mastered the art of fizzy, low-cal drinks. Each can is 100 calories with 2 grams of carbs and 2 grams of sugar. Flavors include watermelon, tangerine, and mango.
High Noon's spiked seltzers combine vodka, real juice, and sparkling water in a 100-calorie drink. Each low calorie seltzer can has between 2-3 grams of carbs and 2-3 grams of sugar. Choose from flavors like pineapple, peach, black cherry, and more.