3 Common Products That May Affect Your Menstrual Cycle
Your regular morning routine probably includes several different PCPs (personal care products), from toothpaste to shaving cream. While most PCPs are deemed safe, some of these products contain harmful ingredients that act as endocrine disruptors.
Endocrine disruptors, if you're not familiar, are chemicals found in most consumer products. They can be toxic to the human body by causing hormonal imbalances. According to Dr. Nwadike, MD, MPH for Healthline, these hormonal imbalances can significantly affect the menstrual cycle, causing irregular, light, or heavy bleeding, stress, acne, etc. Periods can be hell to go through for many women, so using safe products can limit the pain and stress they cause.
If you're curious about what may be harming your menstrual cycle, check out the following list of potential endocrine disruptors.
Nail polishes
Who doesn't love a nice mani-pedi now and then? There are a variety of nail polishes that are commonly used by nail salons and consumers, such as basic, gel, acrylic and shellac. But is nail polish considered an endocrine disruptor?
A study conducted by Duke University and EWG Environmental Working Group (EWG) revealed that participants who recently painted their nails had triphenyl phosphate (TPHP) in their urine samples. TPHP is an endocrine disruptor that causes hormonal imbalances often found in plastics and is a fire retardant.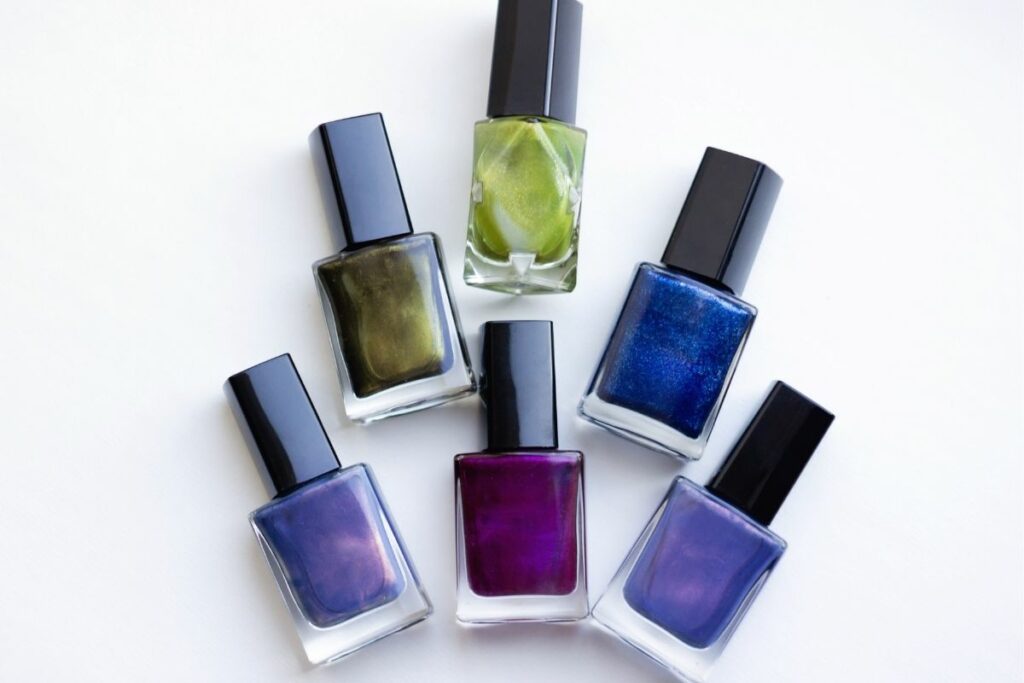 Lipsticks
A must-have cosmetic product many women keep in their make-up bags is lipstick. Most lipsticks get their beautiful hues from a dye mixture. Unfortunately, these dyes often contain the chemical bisphenol-A, also known as BPA. As reported in a study by Hafezi and Abdel-Rahman, BPA is found in everyday consumer products such as epoxy resins, water bottles and cosmetics. These endocrine disruptors can cause hormonal imbalances and may also lead to fertility issues and breast cancer.
Period products
Some of the most concerning products that contain endocrine disruptors that can cause hormonal imbalances are feminine hygiene products. Women will spend thousands of dollars over the course of their reproductive years to manage their periods. However, these same products have been found to contain several endocrine disruptors.
A 2020 study by Gao and Kannan tested common feminine products: pads, tampons, sanitary wipes, panty liners, creams, deodorants and sprays. The results found 24 endocrine disruptors within them. Some of these endocrine disruptors included dimethyl phthalate (DMP), dibutyl phthalate (DBP), ethylparaben (EtP) and several others.
Other potential endocrine disruptors
Other products not mentioned but may also contain endocrine disruptors include perfume and fragrances, foamy soaps, mascara and hair dyes. Unfortunately, beauty products don't require FDA approval. That means the beauty industry can get away with selling cosmetics with endocrine disruptors. However, there are healthier alternatives to purchase to protect your menstrual cycles, such as organic pads and tampons and vegan nail polish.
When shopping for period products, be sure to check the labels for any harmful chemicals listed in the ingredients. Or, you can avoid these products entirely by making the switch to organic products. Many of these products are now sold at stores like Target, Walmart, and are even available to order on Amazon.
If you believe you may be experiencing endocrine disruption, talk to your primary care physician or OB/GYN to get professional medical advice.