The Five Best Reusable Water Bottles to Keep You Hydrated
Confession: for years, I bought cases and cases of water all of the time. It was awful for the environment, but hydration is important. I was hospitalized for dehydration multiple times many years ago, so between that and working out, I require lots of water. I recently moved into an apartment with not one, but two different built-in water filters. There's a tiny tap on my sink and on the outside of my fridge. 
So, now, I'm officially one of those people who always has a water bottle on them. Sometimes multiple. And I judge myself for my formerly bad behavior completely. 
Do I need a BPA-free water bottle?
You can't talk about water bottles without mentioning BPA (Bisphenol A). BPA is a chemical found in food packaging as well as water bottles. It's an endocrine (read: hormone) disruptor that can contribute to a list of health problems. The FDA has banned it in baby food and formula packaging. Some states currently have restrictions on allowing any products with it. No matter what water bottle you use, make sure its BPA-free. 
How to clean your reusable water bottle
This should go without saying, but it's really important to keep your water bottle clean. I also try not to use one without washing it at least once a day. Here's the Internet's best advice on how to clean a reusable water bottle.
While some manufacturers don't advise it (check the bottom of your reusable water bottle for specific cleaning instructions specific), I wash all of mine in the dishwasher. But do this at your own risk. If you're compelled, buy a bottlebrush. 
Our five favorite reusable water bottles
Soji
This is the holy grail of fancy water bottles because it has a crystal in it. The bottle itself is made of glass, which has its pros and cons. Glass is "safe" to drink from, doesn't contain chemicals and the vessel itself won't interfere with the taste of whatever you're drinking. But it also doesn't help to maintain the temperature of what you're drinking, and you need to be careful not to break it, especially if you're using it at the gym or during a group fitness class.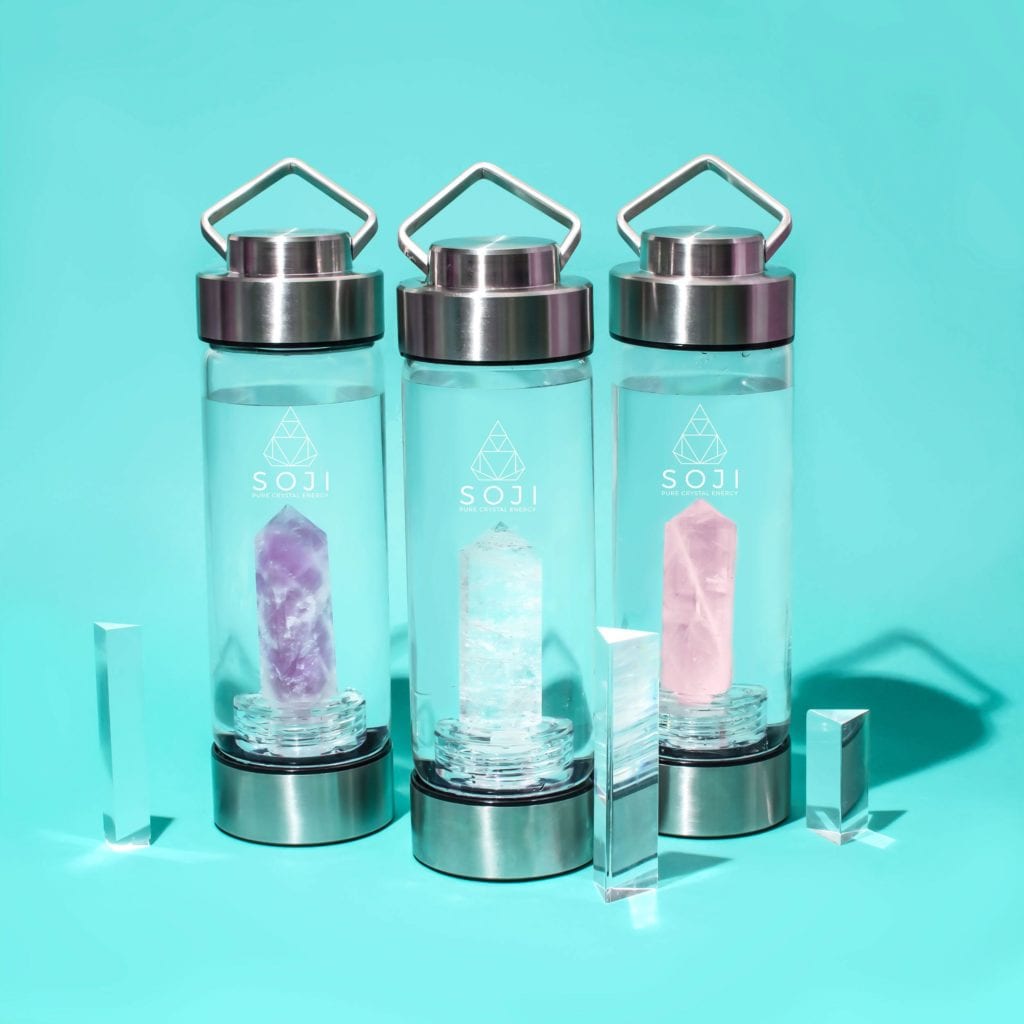 However, Soji has taken of any potential problems by including a sleeve that protects the bottle and helps to keep liquids cold.
The Soji opens on both sides, so you can clean it easily. The crystals, which are inserted through a removable holder, are interchangeable. So, you can buy multiple crystals and use it for the same bottle. However, both the crystals and holder need to be washed separately.
It's fun to choose your crystal. Clear, rose and smoky quartz are available as well as obsidian, citrine, and amethyst. Every crystal has its own power. If you believe in crystals, or just want to bring higher vibes into your life, the Soji bottle is a must.
To Buy: Soji Energy; $94
Avana Ashbury
Made of stainless steel, this bottle features a patented FreeSip spout so you can sip or swig it. The built-in straw feels a bit like a sippy cup for adults, which I personally like. You can even leave the top off while you work out because the opening isn't large enough to create a major spill.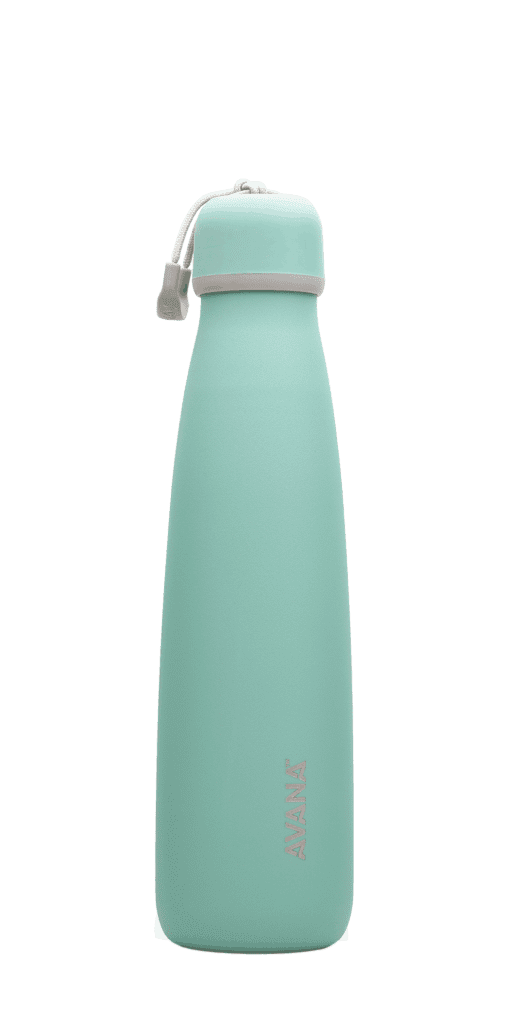 The Ashbury is designed to keep liquids cold for up to 24 hours (leave it in your car) and hot for up to 12 hours because it has a double wall of stainless steel. Stainless steel is a common material for water bottles because it's safe and effective.
The rubber cap is great because it won't dent if you drop it. Just be sure to screw the cap on tightly, so it doesn't leak.
Avana also makes a donation to clean water projects in developing countries for every bottle sold, so you can treat yourself guilt-free.
There are nine colors available in 18 and 24 oz sizes. If that isn't large enough, Avana's 32oz Beckridge makes a great alternative.
To Buy: Avana; $35-$40
Avana Makai
If you want a glass bottle, but worry about breaking it, the Makai is for you. With a thick rubber bottom and cap, it's a bit of an insurance policy. The wide spout also makes it easy to add ice cubes.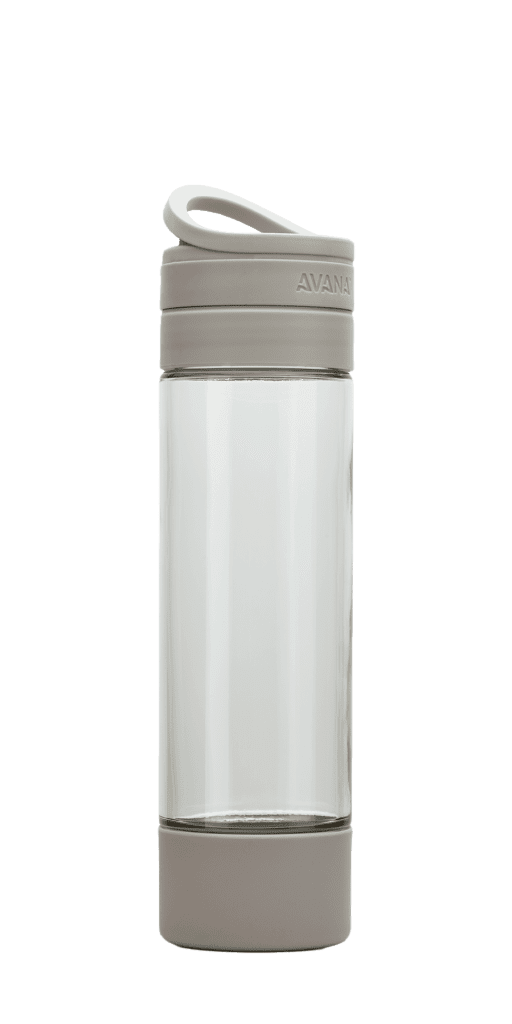 To Buy: Avana; $35
Nomader
The Nomader is a collapsible bottle, great for camping, but also perfect to keep in your gym bag or if you're walking around on foot and don't want to carry something heavy. It can also roll up to take up as little space as possible.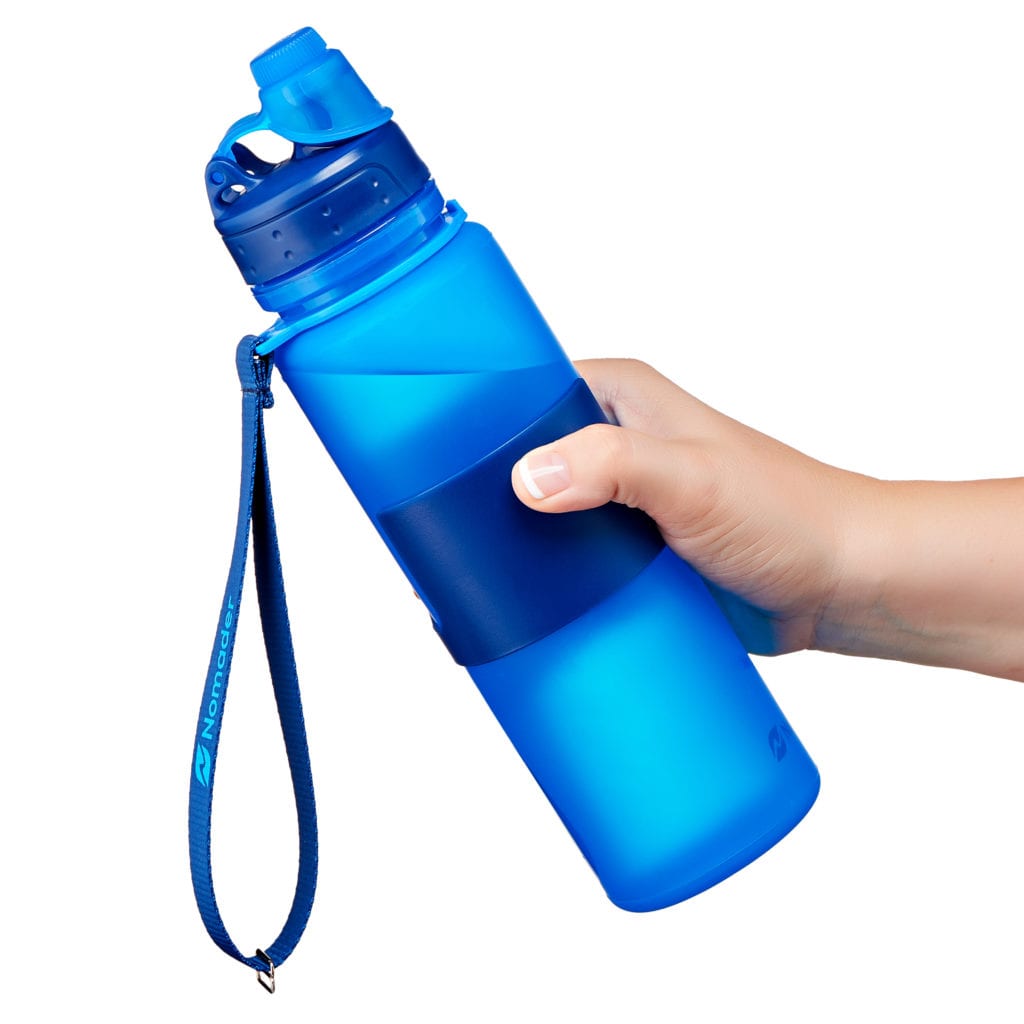 Made of food-grade silicone, it's safe for both hot and cold beverages. This material is also shatter and dent proof as well as dishwasher safe. Then opening reminds me of a "sports cap" you find on disposable bottles, which makes this one easy to transition to using.
To Buy: Amazon; $24.95
EcoVessel Boulder
This stainless steel water bottle keeps beverages hot for up to 12 hours and cold for up to 40 (I can't imagine anyone needing to keep water cold for that long, but I'll go with it) because it's triple insulated. It also comes with a removable strainer to infuse fruit, tea or even ice. There are two lid openings so you can either gulp from a larger opening (makes filling fast) or sip a smaller spout. The bottom has a silicone bumper to protect it from denting.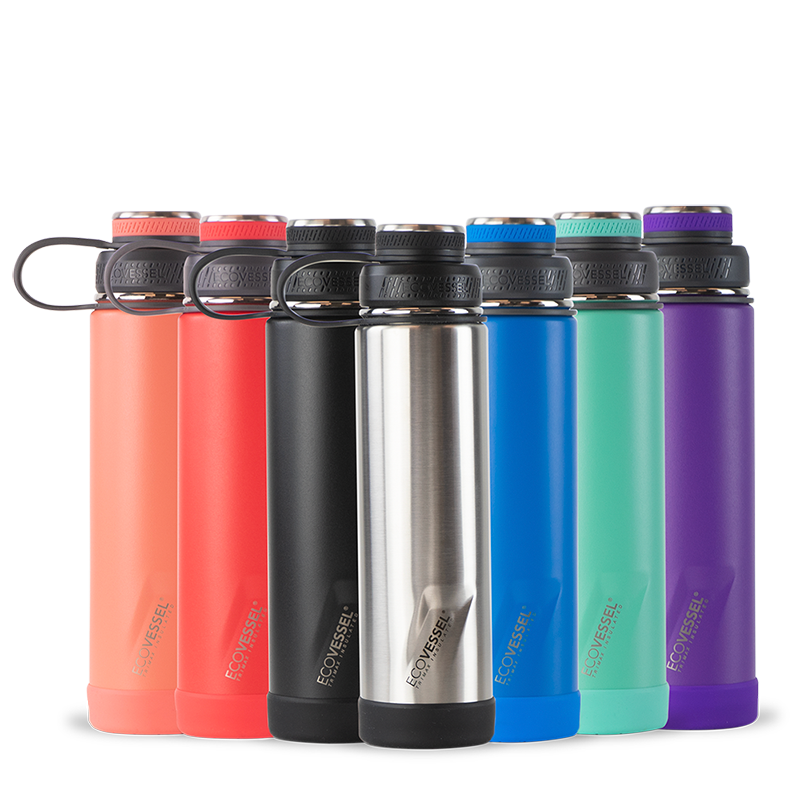 The Boulder comes in 20 and 24 oz sizes in a variety of colors.
To Buy: Ecovessel; $29.95-$33.95