Period Brand August Launches Period Products—And They're Covering The Tampon Tax
There's a new period brand on the Internet, building a digital community of menstruators while reimagining and redefining the experience of having a period. And now, August is moving from your screens into your medicine cabinets and under-sink areas with the launch of their period products: pads, liners, and tampons.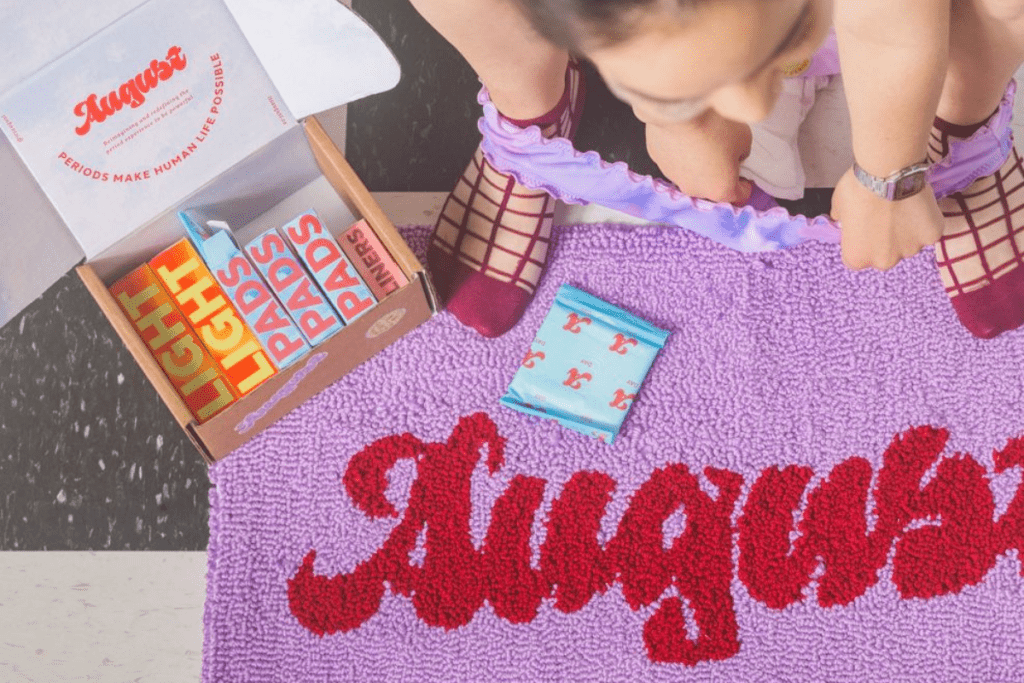 Period products on their own aren't too new (although these are biodegradable, carbon-neutral, and totally traceable. Here's what IS new: August is covering the tampon tax, a.k.a. the tax a government imposes on menstrual hygiene products. For people buying their products, that means if you're ordering from one of the 30 states that still has a tampon tax, August will cover that tax.
That's not the only way August is innovating what that means to have a period. We caught up with co-founder Nadya Okamoto and content director Nadya Eddy to learn more about August's unique place in the period industry, why they're so passionate about offsetting the tampon tax, and what it means to actualize periods rather than glamorize them.
Nadya Okamoto, you've been a period activist since 2014, and you founded August in early 2020—was making period products always in your plan, and why did you feel called to make them in the first place?
Okamoto: No, not at all which often comes as a surprise to most people. I never planned on it or even knew that period activism was a career path option. My original plan, that I held on to for years and into the beginning of college, was to go to Law School and become a public defender. After starting my period activism journey, I realized that it was my passion for advocacy that had drawn me to becoming a public defender rather than the prospect of going to law school itself. For the first time I was reconsidering what path I wanted to take to create the largest impact on the communities I wanted to support.
After spending years working in the nonprofit space with PERIOD and for-profit space in Gen Z marketing with JUV, I quickly realized there were a lot of obstacles to the ideas I was dreaming up from both sides of the fence. One day I realized that instead of asking others to create better, more inclusive, and more sustainable period care–I finally said "let's just do it ourselves."
Nadya Eddy, what opportunities did you see for August to have a unique place in the period products industry? What makes y'all stand out?
Eddy: We have a huge opportunity to change the period space. Periods are something that half of our population experiences, yet I feel like most menstruators don't feel any connection or loyalty to period care brands like we do with other brands in the beauty & healthcare space.
My mom started buying my period care for me when I turned 13, and I passively continued buying the same products for the next 10 years without asking any questions. I think this is the same story for a lot of people, and we subscribe to the norm of what period care is, without putting much thought into what it could be.
August is challenging the current state of consumption and showing people that you can bring the values you carry in your everyday life into any product– even something as small as pads & tampons. Gen Z has been asking for earth-conscious & impactful products in every other industry, and it's about time we reimagined period care.
We have taken a product that everyone knows & loves, and shown that it can be more sustainable, traced right back to the source, and actively impact communities that don't have access to period care. To me I am most excited about that final point, I feel that it is impossible to talk about destigmatizing periods without addressing period poverty. We are in our early days, but have seen an overwhelming amount of our customers donate at checkout. I am thrilled that we have built a community that shares our values and I am ready to collectively fight period poverty!
Tell me about the tampon tax give back—what is it, and why was it important for you to include in pricing?
Eddy: Because so much of what we do is built on the idea of reimagining capitalism, this choice to cover the tampon tax was both clear and necessary. We don't believe that anyone should have to pay the tampon tax, least of all our subscribers. Since adopting this policy, we have seen two states scrap the tax from the original 30 that carried the tax when we began our mission. It's only a matter of time before the tampon tax is eradicated (we hope), but until then we have our customers' backs and will continue to cover the tax!
Your website talks about glamorizing periods vs actualizing periods—what does that mean, and how is that shown in the new August products?
Eddy: We've all seen the tampon ads vs. reality jokes that make their rounds on different social media apps. While a lot of companies may think that they are empowering menstruators by glamorizing periods in their campaigns, from talks with our community we learned that many felt quite the opposite effect. Yes—periods are powerful, but they are also messy! At August we began our #onmyperiod campaign to highlight different period experiences and voices that are often left out of the mainstream period conversation. Whether you run a marathon, or spend the day curled up with snacks and a good book, we are here for it– bring on the cramps and bloody visuals!
What's in the pipeline for August products next?
Eddy: We are so excited for all that is to come! We have the launch of our online blog, The Flow, coming up in the next couple of weeks and are already in talks with our community about summer merch and new products. Join our #INNERCYCLE to stay in the loop on what's going on in the world of August.