Ready for a New Cold Weather Hobby? Try Snowshoeing – Here's How
I have said it once and I will say it again: I love winter! Even living in Chicago where winter weather can be absolutely brutal (and I mean brutal), I still love the winter season. I especially enjoy spending time outdoors in Mother Nature.

One of my favorite ways to embrace the winter season outdoors is by walking the paths of Lincoln Park. Not only do you get glimpses of beautiful Lake Michigan, but you also get to immerse yourself in green space. Well, in the case of winter and snow it is more like white space than green space, but I digress…

While walking, I usually see children sledding the grassy knolls and small hills, dogs frolicking in snow piles, and the occasional cross country skier. But another winter sight I sometimes spot is the ever-elusive snowshoer.

Don't get me wrong, I totally want to try cross country skiing because that looks super fun, but I also want to try snowshoeing. I mean, who doesn't want to walk around in the snow with two tennis racquet-looking things strapped to their feet while they soak in the sights of winter? (Someone sign me up!) If you are anything like me and want to give snowshoeing a go, here is how to try snowshoeing for yourself. Plus, learn about some of the health benefits of snowshoeing.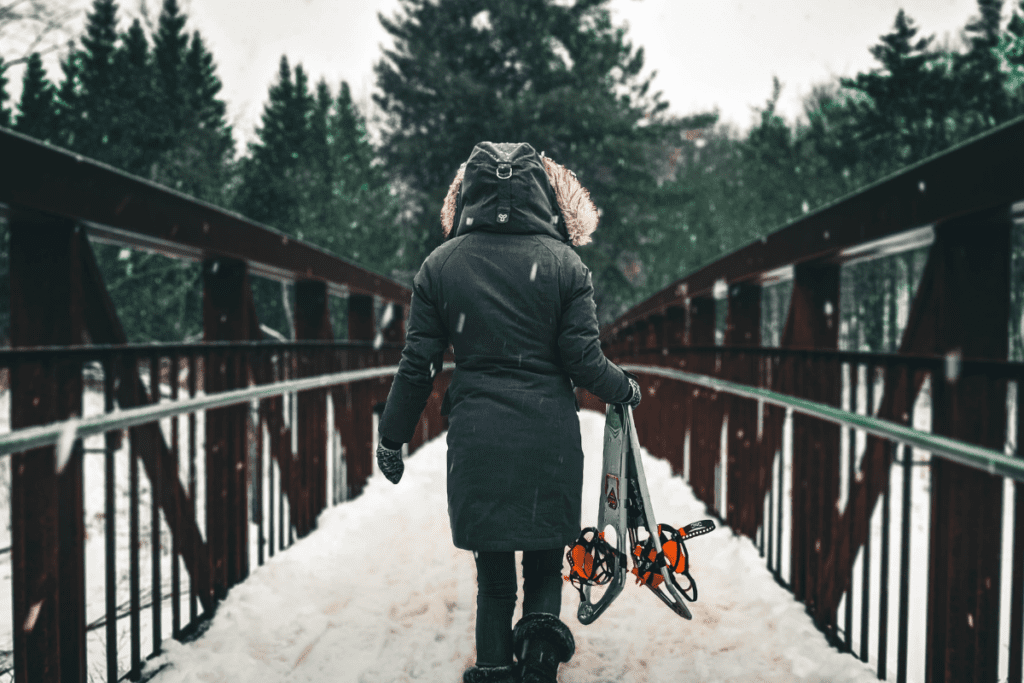 Health benefits of snowshoeing
Besides being a fun wintertime activity, there are some health benefits to snowshoeing. Shawn Richards, Expedition Coordinator at Ultimate Kilimanjaro, shares, "Hitting the trails in the winter to go snowshoeing is the outdoor winter cardio that most people did not realize they wanted. However, it is an awesome way to stay in shape even when the snow falls because it is a low-impact aerobic exercise."
He continues, "It lets you extend your hiking and running season and lets you enjoy solitude in areas that might be crowded in summer. Snowshoeing lets you traverse hills of snow with snow poles, providing you with a tough and fun full-body workout." Who knew snowshoeing could be such a good workout!
How to try snowshoeing
1. Buy or rent suitable snowshoes
First things first, if you want to go snowshoeing you will first need a pair of snowshoes. (I hate to state the blatantly obvious here, but hey, you have to start a list somewhere).

According to REI, "Wet, compact snow is best handled by smaller snowshoes (with less flotation) than you need in powder snow, which requires larger snowshoes (with more flotation). A snowshoe's 'recommended load' refers to your weight plus the weight of your gear."
Still not sure what you need? Check out REI's guide on how to choose snowshoes. Oh and if this is your first time snowshoeing (and hopefully not your last), many experts agree it is best to first rent your snowshoes before making a committed purchase.
2. Consider signing up for a class
Snowshoeing may seem pretty straightforward and appears to be an easy winter activity you can totally conquer on your own. However, signing up for a class or going with a guide can make your first snowshoeing sojourn so much simpler and maybe even way more enjoyable. Plus, isn't everything always better with friends anyways?
3. Don't forget poles
Using poles when snowshoeing can really help with balance and may even make crossing any random slopes or terrain easier. You can use traditional snowshoeing poles, but you can also use basic ski poles or trekking poles too.
4. Keep your feet dry and warm
No one likes a pair of soggy socks, which is why Will Hatton, Founder at The Broke Backpacker, recommends keeping your feet dry and warm. "Luckily, most snowshoes fit any size boot, but it is important that you keep your feet warm and dry. Opt for waterproof winter boots with thick wool socks." Will also recommends carrying an extra pair of socks with you.
5. Stretch your muscles
Snowshoeing may seem like it is just fancy winter walking, but you may want to consider warming up first. Just like any physical activity, it is best to properly warm up your muscles before beginning.

According to REI, "Walking on snowshoes requires that you take longer steps than normal, especially uphill. You also walk with your feet much wider apart than normal. Lightly stretching your hamstrings (muscles on the backs of the thighs) and hip flexors (muscles in front of the hips that lift the legs) will help your flexibility for snowshoeing."
6. Take turns breaking in fresh snow
If you are snowshoeing in a group, consider taking turns breaking in fresh snow, which can be way more exhausting than it sounds. This lets everyone share the extra work equally.
Once the leader gets tired, they take a break by moving to the back of the group. Then, the next person in line blazes a trail for a little bit until they get tired. Then the next person takes over. You get the idea.
Bonus tip: Practice good snowshoeing trail etiquette by avoiding groomed ski tracks used by cross country skiers. Do not be that snowshoer.
7. Visit a ski resort
When it is time to hit the slopes, you may want to visit a ski club that offers it on their snow trails.
"This will take a little bit of pressure off because you will be near snow-sporting professionals who can help you if you need it," says Richards. "Fortunately, though, snowshoeing is a great beginner winter sport."
Now that you know some basic tips on how to snowshoe, it is time to hit the trails. Who's with me? Seriously, though, who wants to go snowshoeing because I am totally game. Let me know!