Should You Rent or Buy Your Snowboarding and Skiing Equipment?
Snow sports have seen a major jump in popularity during the pandemic, and maybe you're one of the thousands of people that took to the slopes as a way to socialize outdoors last year. If so, you might be wondering if you should keep renting skis and snowboarding gear – or if you should bite the bullet and invest in your own?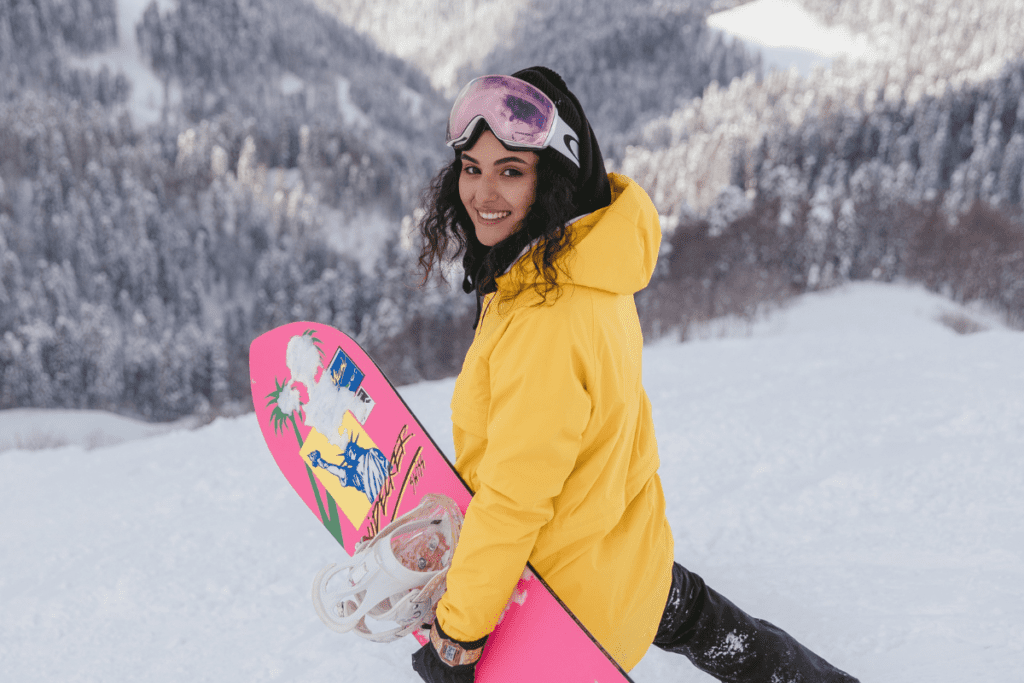 But before we get into the pros and cons of renting your snowboard or ski gear, we're making a couple assumptions about you. Firstly, I'm assuming you already own all the winter clothing must-haves: jacket, snow pants, gloves, beanie, helmet, goggles, and base layers. Secondly, I'm assuming that you are not a complete newbie to the slopes. You're at the point where you've been on a couple of snowboarding/skiing trips and realized, "maybe I should get my own gear." If you're a complete newbie, I would suggest renting skis and figuring out if you like snowboarding or skiing or if you even like being on the slopes at all.
But if you're at that tipping point between renting and owning snow sports gear, here's what to take into consideration before getting out your credit card.
Cost and quality
Snowboarding and skiing are expensive sports. Just getting to the mountain can be very expensive (lift tickets, travel, and accommodation). On top of that, gear is another thing to factor into the budget.
Renting
Pros: You can rent a full package (snowboard/ski, boots, bindings, helmet, and ski poles if skiing) for $40-$125 per day. It can be relatively affordable for a weekend trip.
Cons: Renting skis from the resort is usually the most pricey option. For a cheaper option, look for rental shops located near the resort. The equipment at rental shops are built for durability and not performance. Equipment will be heavier and a little slower on the slopes, but harder to damage. Boots are also heavy and durable, but even though you get the right size it might not be the most comfortable thing you put on your feet.
Owning
Pros: You can customize everything. There are so many different types of snowboards AND skis that will fit your riding style, and customization makes hitting the slopes much more enjoyable. Bindings are just as customizable and you can find the one that fits your riding style.
Boots, in my opinion, are the most important thing you can buy. They're on your feet all day so you want to be comfortable in them. Personal boots will be lighter, and you can find the right brand for your comfort. For higher end boots, you can custom mold the footbed for an even more comfortable ride.
Cons: It's expensive! Snowboards and skis can run between $300-$1600, and you'll still need to get bindings ($120-$700), boots ($150-$850), and poles ($40-$300).
You'll also have to figure out how to travel with all of this gear. If you're flying with your gear you'll need a bag ($100-$300) – and don't forget about paying to check a bag. Depending on your gear, you can spend a few hundred dollars to a few thousand dollars on gear alone. It also takes time to research and find the right gear for yourself, especially when you are first starting out.
If you decide to buy your own gear, Backcountry.com is one of my favorite sites to browse through. Pro tip: wait till the end of the season or summer time to buy gear for steeply discounted gear!
Maintenance, set-up, and travel
Renting
Pros: With renting skis and snowboards, you don't have to worry about the storage or upkeep. If they get a little dinged up, you don't have to worry about fixing it; more than likely, you'll be able to return the gear for a replacement. Waxing and damage repair is all taken care of by the rental staff, as well as setup and fine tuning. You don't have to fly and lug around a huge bag full of gear.
Cons: Rental companies have so many pieces of equipment to deal with on a daily basis, not every snowboard or ski will get the attention it deserves. You won't always get the best wax for the conditions, which can hinder performance on the slopes. If you have a lot of friends with you and your vehicle doesn't have racks, the snowboard and skis will take up at least one seat. So, you might have to squeeze around the equipment as you ride up to the resort.
Owning
Pros: Just like buying your gear, you can customize and dial in your setup. You'll have better performance and a more enjoyable experience on the slopes if you are able to fine tune your equipment setup.
If you take care of your equipment, it can last a lifetime. As long as there is no major warping or damage to the snowboard/ski your equipment will outlast you and your riding days. I've had my snowboarding equipment for over 10 years and it still rides the exact same way from the day I bought it.
Cons: It takes time and experimentation to get the perfect settings for your equipment. DIY waxing your board takes time, extra equipment, and space. Or, you'll have to pay to get it waxed. If your equipment gets damaged you'll have to DIY repair it, take it into a shop, or totally replace it depending on the damage.
In the off season, it's important to find a place to store your gear so it doesn't get rusty or warped. You'll be traveling with an awkwardly long and heavy bag if you don't have wheels. Trying to maneuver with that massive bag is not the most enjoyable experience.
So, should you rent or buy your snowboard or ski gear?
If you value convenience, peace of mind, and ease of travel, rent your gear. If you value customizability, comfort, and performance, own your gear.