Here's How to Recommit to Your Goals After the New Year
At the time of this writing, we are already halfway into February. Of no surprise to me, the novelty of my *New Year, New Me* goals has started to wane. I can feel myself slipping into old habits. This is not a phenomenon that is unique to me. According to New York Post, January 12 is doomsday for our resolutions, and only 8 percent of New Year's goals are actually successful. These statistics are a bit demoralizing. Why is it that we discontinue our goals that we are so enthused about so quickly?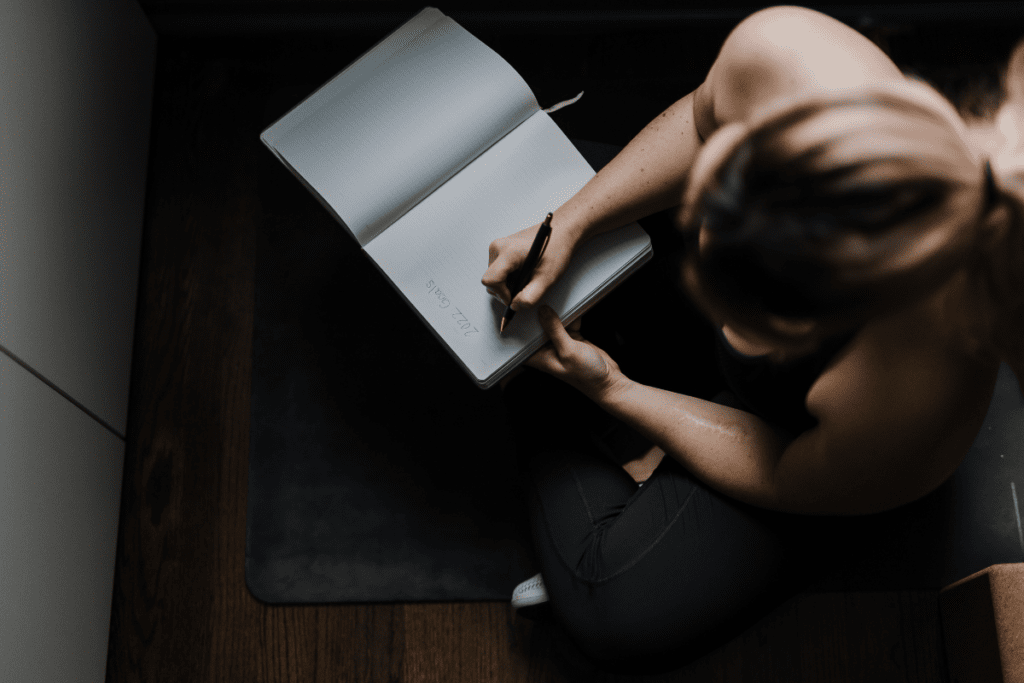 Why our New Year's goals are often so hard to maintain
Business Insider points to three common reasons why we struggle to continue our goals. One reason that the publication speaks to is that many of our goals are not specific enough. I witness this challenge often while setting goals with my therapy clients. I regularly hear goals like "I want to be more mindful," or "I want to feel happier." These goals are valid; however, the lack of specificity can make it challenging for the goal setter to start and assess their progress.
Another factor that impedes goal progress and goal maintenance is if a goal is not framed positively. As humans, our brains have adapted to respond more strongly to positive feedback than to negative feedback. This means that if we set goals in a positive frame, we are better able to commit to them and maintain them. For example, instead of setting a goal like "Do not binge-watch television," set a goal about how you would prefer to spend that time. This could be "I want to read for thirty minutes before bed" or "I want to increase the time I spend meditating."
A third contributor to the demise of New Year's goals is that we may be setting goals that are not about or for us. I have certainly fallen into this trap. Around the New Year, it's common to see chatter on social media about what resolutions people are thinking about. A common goal that I see (and admire) is to read 52 books over the 52 weeks of the year. For several years, I set that goal and inevitably failed because it was not a priority for me. Perhaps someday it will be. But for now, I know that setting a goal that was influenced by other people is going to be less successful.
How to evaluate and recommit to your New Year's goals
Understanding why we often stop short of our New Year's goals can help us feel stronger in our recommitment to them. Here's how to assess your goals and recommit to the ones that feel valuable to you:
Narrow your goals down to two to four goals that feel valuable to you. Setting too many goals can easily overwhelm us. Look at the goals that you've already set for this year and ask yourself which feel most valuable to you. These may be the goals you enjoy working on the most, or goals that will bring the most valuable change to your day-to-day life.
Ensure that the goals that you have set are specific. Maybe your goal was to "run more" or "read more." These are both great areas to seek growth, but you may find more success if you set a specific goal like, "I want to run a 10k by June following the Hal Higdon 10k plan," or, "I want to read a book every other week."
Reflect on how your goals are connected to your personal values. As humans, we are much better at working towards goals that are connected to what is important to us. Utilize a values clarification exercise to determine what drives you. Ask yourself if your goals are reflective of your values. If they are not, it may be time to engage in a different goal.
Celebrate wins – big and small. Often when we are working towards goals, we focus on the end-game and not the positive steps we have taken towards goal achievement. Perhaps your goal is to pay off your credit card debt by the end of the year. Celebrating small wins (like setting up a budget or paying off one debt) will encourage you to keep up your progress.
Create an intentional review plan. Accomplishing goals is often more attainable when we check-in throughout our process. Depending on the goal that I am working towards, I may do a weekly, biweekly, or monthly check-in. This check-in is an opportunity to reflect on what is going well and what may need more support.
Pivot your goals if needed. When we set goals, we are not always able to predict how it will shake out. Perhaps your goal is to save enough money for a down payment on a condo or house. But midway through the year, a medical or auto expense comes up unexpectedly. Or maybe your goal is to complete teacher training to be a yoga instructor, but you realize you don't have the time to commit to the training. It is okay to change your goal to meet what you are able to do. It is also okay to decide to not pursue a goal if you realize it is no longer serving you.
Setting goals is one of my favorite traditions at the turn of the year. It feels like we're starting a new chapter, and setting a goal is a great way to start the year strong. While it feels great to set these goals, it feels even better to achieve them over time. With the right tools, we can all achieve our intentional goals.