How to Celebrate a Major Work Milestone
[This post was created in partnership with N!CK'S, the Swedish better-for-you sweets brand. As always, we only post about the products that we actually love – and we super love N!CK'S. Use promo code SWEATLIFESUMMER by 8/31/21 for 25% off your next order of Nick's ice cream or bars!]
If you find yourself here on this website, you probably know that we recently hosted #SweatworkingWeek, a week where we host multiple workout events, meet hundreds of new friends, and load, unload, and reload a metric ton of swag. It's the most fun we have all year, and it's also the most exhausted we are all year (says me, the girl who mindlessly walked into a men's locker room during our final event).
Your major work event might not look like two workouts a day; it could be hosting a global conference, getting through tax season, or finishing parent-teacher conferences. Taking the time to properly recover from an especially stressful time at work is key to avoiding burnout and maintaining your productivity. Here are our best tips to help you celebrate a work achievement.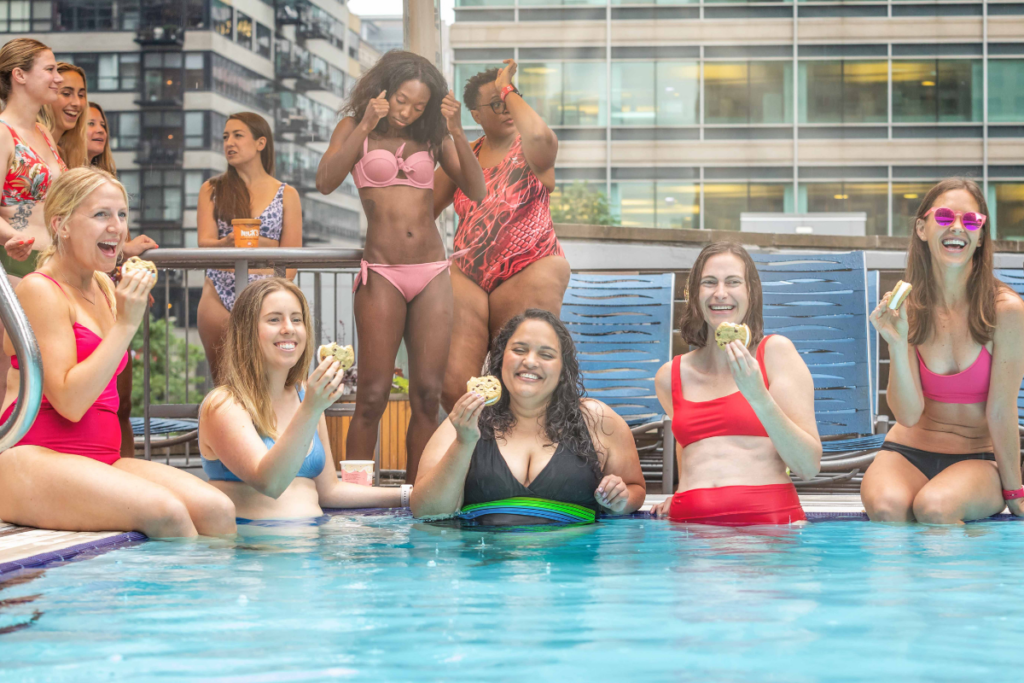 Take time off
If it's possible, schedule yourself some much needed R&R after your work event wraps. Allow yourself to fully disconnect from your work phone and email notifications, and do all the things you let slide during the event. That could be catching up on laundry, reading a good book, or going on a long walk with your poor dog, who wondered where you were all last week.
Of course, some events require you to stay in the office for wrap-up tasks. If that's the case, be proactive about blocking time off your calendar each day for a little break. An hour here and there can feel significantly refreshing.
Celebrate your wins
This is something that the aSweatLife team has to remind ourselves to do, too. This year, we celebrated #SweatworkingWeek with a simple team breakfast (that felt more meaningful after so many months apart). Or, I recently saw someone I follow on Instagram show off a dedicated shelf of unpopped Champagne, each labeled with a Post-It note like "For when Liz writes a book"—and now I'm obsessed with the idea of pre-dedicating bubbly to hitting a certain milestone.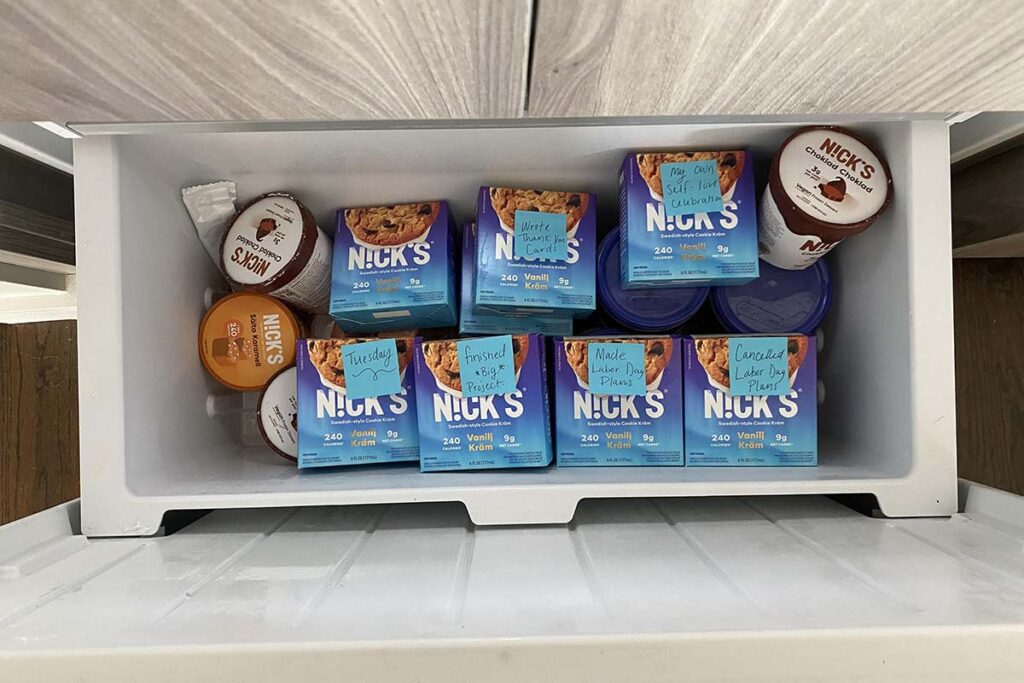 Other ways to celebrate a work achievement? An ice cream sandwich (like N!CK'S Vanilj Cookie Kräm, available online) with friends, a fancy spa treatment, or simply sending out a group text that shares what you accomplished and why you're so proud. You deserve to brag—and watch those confetti emojis flow in.
Take a moment for reflection
Once you've had a chance to refill your cups, dedicate about 30 minutes to reflecting on the event and journaling on it. This doesn't have to be something your boss will ever see, but it's helpful for future-you to remember what went well, what could have gone better, and how you felt throughout the event.
A few questions to guide you might be:
What parts of the event were successful, and why?
What obstacles did we face? How did we overcome them, or how could we have planned for them better?
What changes do I want to make for the next time this event happens?
What did I notice about my own feelings and reactions during the event? How would I adjust my behavior next time?
All too often, we hit a major work achievement and immediately move on to the next thing. But to paraphrase Dave Matthews (and be totally cliche), we've got to celebrate the sweet victories whenever we can.