How To Decide Between Online And Traditional Therapy
Seeking proper healthcare can be overwhelming, to say the least, and making the decision to go therapy is no exception. There are numerous factors surrounding mental health counseling, from insurance coverage to overcoming stigma to finding the right provider. Today's tech-driven world adds one more piece to the puzzle: the option of online therapy.
You can go with traditional counseling, during which you regularly meet with a provider face-to-face. On the other hand, you can opt for online therapy, wherein you communicate with a provider via text, video, or phone. Companies like BetterHelp and Talkspace are perfect examples.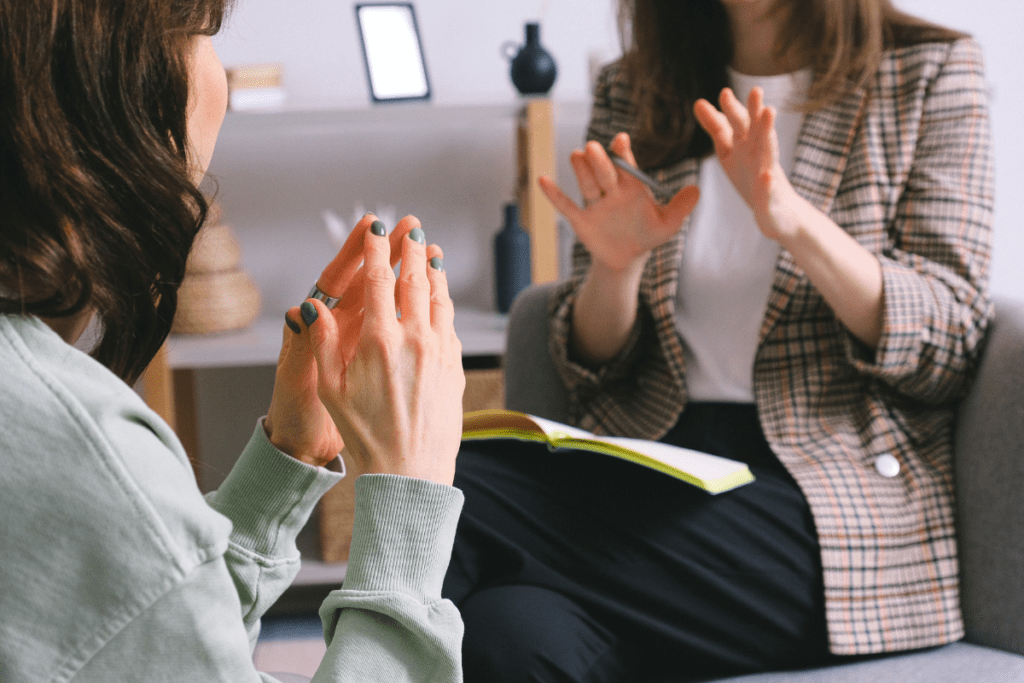 Online therapy vs in-person therapy
Two therapists — each of whom has experience in online therapy and in-person therapy — offered insight into the differences between the traditional and online methods.
Dr. Kimberly Martin is a clinical psychologist licensed in multiple states and based in Washington, D.C. In addition to offering in-person and online therapy through her own practice, she also practices with BetterHelp.
"In my role as a psychologist with BetterHelp, I view my services there as time limited and tailored to brief interventions," she said.
Martin also pointed to cost. "With my experience through BetterHelp, I have discovered that clients pay for services in advance. During most traditional sessions, the client pays for services as they are received," she noted.
Another difference to consider is external distractions.
"Being able to access therapy from the comfort of your home is convenient; however, it is not always easy to keep the dog, your roommate, your children, or even your partner from interrupting you," said licensed psychotherapist Karen Balumbu-Bennett. She has a private practice specializing in maternal mental health and also offers therapy through Talkspace.
Additionally, Balumbu-Bennett pointed to the messaging aspect of online therapy. On the plus side, it's convenient and enables you to immediately jot down your feelings. But unfortunately, you probably have to wait a while before receiving a response from your therapist. Plus, messaging "doesn't allow for the therapist to observe tone, body language, or facial expression, which may result in the therapist missing important parts of the client's message, which can prolong aspects of the therapeutic process," said Balumbu-Bennett.
How to decide between online therapy and in-person therapy
After closely examining both options, here are a few thoughts to consider when deciding between traditional and online therapy:
Time
As Martin pointed out, "an individual may want to consider the time they have available for therapy [and] how long they think they may need therapy."
Balumbu-Bennett seconded this notion. "If you're on the go and have difficulty traveling to an office, virtual sessions are a great option," she said.
What does your schedule look like? Do you foresee yourself seeking therapy for an extended period or just for a short amount of time? Think about which option works better based on how much time you plan to allocate to therapy.
Commitment
If you've decided to pursue therapy, chances are you truly want to overcome obstacles, heal, and be happier overall. You don't want your mode of therapy to get in the way of meeting these goals. That's why Balumbu-Bennett suggested asking yourself the following question: "Will my level of commitment vary if I choose a virtual platform versus in-person therapy?"
Relationship to your therapist
Balumbu-Bennett noted that in-person therapy might be better if "you tend to build more connections with others when you are in close proximity to them" and if "you communicate using body language." Online therapy would work well if you're OK with building a relationship via messaging, phone, or video.
Quiet space
Therapy should occur in a private, quiet area that's free from distractions, whether that's a therapist's office or a room in your home. If online therapy seems more appealing, Balumbu-Bennett recommendeds asking yourself "Will I have the privacy and quiet space needed to have a therapy session?" and "How likely will I be distracted and trying to multitask if I choose a virtual platform?"
It's crucial to note that neither choice — traditional or online therapy — is wrong. Personally, I've found both in-person and teletherapy to be effective. It all depends on your specific needs as well as which choice better suits your life.