The State of Fitness During the Global COVID-19 Pandemic
Turn on the actual TV (not Netflix, you cord-cutters) and listen to absolutely any advertisement. Excellent. Now you know that things right now are different – uncharted and uncertain, even.
You're in the right mindset now to understand that when we released our data from our annual State of Fitness survey in March from our survey in January, it was almost immediately irrelevant.
So, we kindly asked you to fill us in on what you're doing to stay active, what you're spending, and what you predict for the future of fitness as an addendum to our annual State of Fitness.
[Want access to the full report? Download it for free here]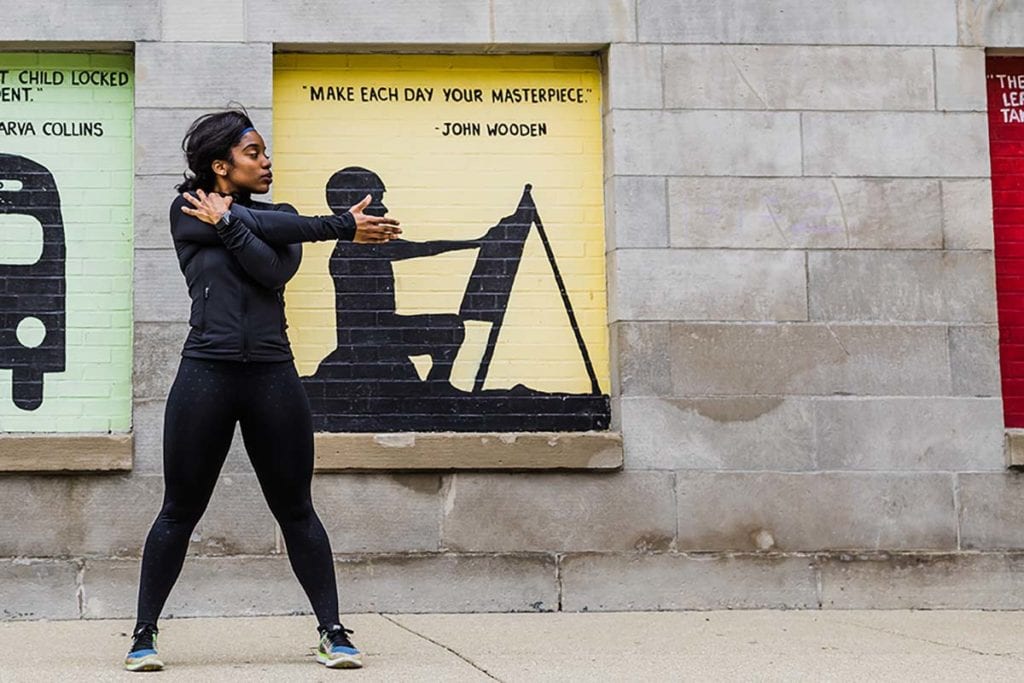 A little bit on who answered, first.
To this addendum specifically, there were more than 1,000 responses in a two-week span. Most were in the 18- to 29-year-old age range and female. Responses came from people who were evenly spread geographically across the United States.
Let's dig in.
How much are they working out?
This question required that our respondents to the addendum survey to reflect on how much they're working out now – in the midst of a global pandemic – in comparison to before COVID-19.
More than two thirds of respondents reporting working out the same amount of hours or more than they were before the gyms were closed.
32.56% work out fewer hours per week
31.17% work out the same amount of hours per week
36.27% work out more hours per week
What we think about this: TIME recently reported that Americans are moving less during the pandemic, but our findings make us hopeful that Americans are making the effort to achieve a healthy amount of movement each day.
There are a few factors to consider, like a lack of commute. Sure, that's time back in your day for many, but without a commute there may be fewer steps taken daily, which many may have factored out of the category of "exercise" before but are currently counting as exercise. More on that below.
What are you doing to work out and how has it changed?
In the before-COVID-19 world, you told us that you were running less for the the third year in a row and were opting instead for more strength-based workouts. Respondents were prompted to choose as many answers as apply to this question, and the top five ways you reported working out back then were:
Strength (68.38%)
Yoga (57.95%)
HIIT (55.73%)
Running (47.52%)
Indoor cycling (41.2%)
In the midst of the pandemic, the top five answers are
Walking (72.49%)
Bodyweight-based strength (67.51%)
Equipment-based strength (52.48%)
Yoga (49.67%)
Running (44.98%)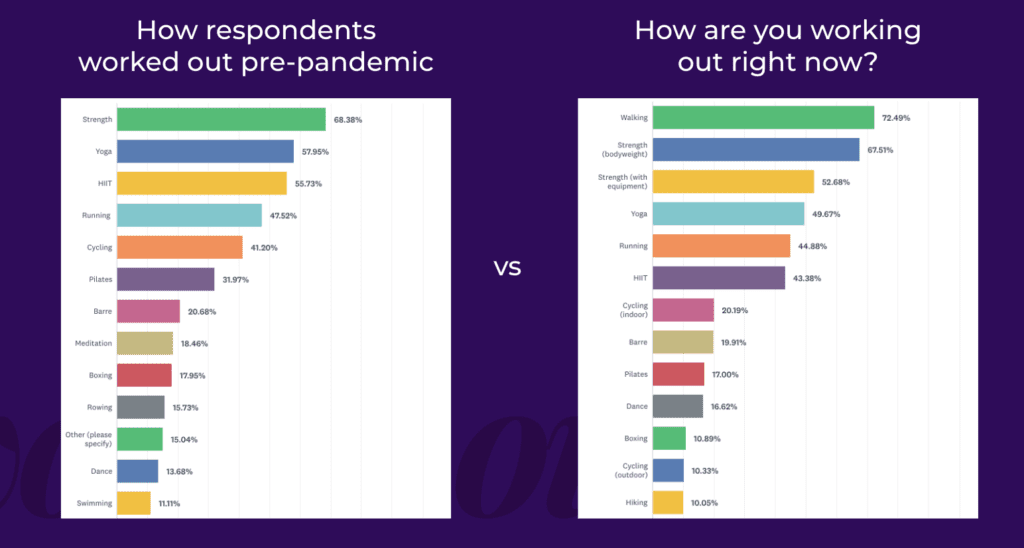 What we think about this: The way we're all moving – for most people – is resourceful and useful as lifelong activities. If you start to think of taking a daily walk as exercise, that habit may continue through life. It's also important to note that most of the top five workouts types can be done without any equipment.
Running saw a small decrease from our January numbers, which can be attributed to safety concerns while running and to races – that many use as a goal for which to train – being cancelled.
It's a little surprising to see yoga drop in the rankings from 57.95% to 49.67%. Between apps and yogis going LIVE, yoga is more accessible than it's ever been.
An interesting call-out is what we're looking at as the opportunity-gap for connected cycling brands like Peloton. There's a huge portion of the population that's currently missing studio cycling – 41% of respondents pre-COVID were cycling – and in the midst of the pandemic, that number is 20%.
Trial is so hot right now.
We had a hunch that as geography stopped being a barrier to entry for the top fitness brands, trial would be at an all-time high. Here's what we learned.
75% of respondents have tried a new workout or workout format during the global pandemic.
58% of respondents have discovered a new studio, gym, fitness platform, or fitness professional.
When we asked what respondents were trying now, we heard names and brands from across the nation:
MV Fitness, the Peloton app, Rae Reichlin and her home strength workouts, Joselyn Griffin from DC Soul Cycle, Rumble online workouts, San Francisco Janet Stone Yoga classes on Zoom, Piyo, OrangeTheory Fitness at home, Erin Oprea's Pretty Muscles program, and Yoga with Kassandra, to name just a few.
What we think about this: We love being right about this. It points to the future of fitness that we've been waiting for: digital brick and mortar.
We truly believe that before-COVID-19, we were on the precipice of a digital fitness shake-up, with studio fitness brands spreading WAY outside of their brick and mortar location by creating digital content. But there was one sticking point: behavior change. It is very, very hard, to change a behavior. It's science.
And for studios and gyms, the adoption of digital fitness alongside their booming in-studio business was often viewed as a distraction. We've had hundreds of conversations with gym owners on this very topic.
Adopting digital fitness when times were good meant that studios would have to adjust their pricing and trust that members would still pay to have the higher-priced in-studio experience while still getting a taste of the studio wherever they were.
But COVID-19 forced everyone off the cliff and Pandora's box is very, very open. While that means that fitness dabblers and fanatics may be trying new digital things (and straying from their a1, day1), it also means that if fitness studio businesses really stop and think about this, their addressable market has shifted from two miles around their studios to anyone who speaks their language and has access to WiFi.
But what are they spending? Two words: Way less.
This is aligned with American spending in general during the crisis. The're saving more and spending less. The personal savings rate jumped from 8% in February to more than 13% in March. And Americans aren't racking up credit card debt. Revolving credit, like credit cards, fell at a 30.9% annual rate in March, which is the biggest percentage decline since January 1989.
Before-COVID-19 for the fourth year in a row, we found that monthly fitness spend was lower year-over-year. In 2018, our audience spent an average of $123.23 per month on fitness; in 2020, that spend is down by around 20% to $100.34 per month.
What about memberships? Pre-COVID, 66.6% of respondents told us they paid for a monthly gym membership or a service like ClassPass (not including streaming options like Peloton or one-off class packages). 8.72% of respondents Before-COVID-19 told us that they did all of their workouts for free.
In the midst of the global pandemic, a staggering 38.72% of respondents are doing ALL of their fitness for free, and another 20% are spending $0-25 monthly. The number of people spending $125 or more monthly dropped from around 37% before-COVID to just 12% during the pandemic.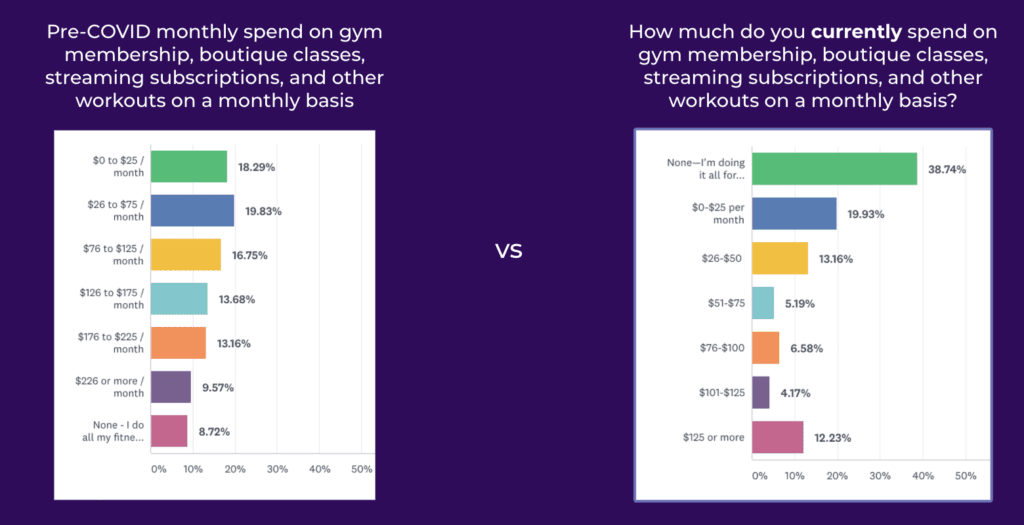 What we think about this: Free digital workouts are incredibly prevalent at the moment. We absolutely think that this will shift as businesses start to open again, but it's going to be a tricky new variable to overcome for businesses. How do you remind consumers that your product is valuable when they've spent nothing for an entire fiscal quarter?
It's not a promising trend for businesses, but it is a promising trend for the democratization of fitness. More people are having higher-quality experiences because of this digital moment.
What about digital fitness?
This has been a massive moment of behavior change and disruption for fitness. The data shows it and we can see it with our own eyes.
Before the global pandemic, nearly 50% of respondents didn't use ANY form of digital fitness, and 34% said they used digital fitness for free. Some respondents spent on digital – about 13% of respondents paid $25 or less for digital fitness.
During the global pandemic, these numbers have dramatically shifted. 86% of respondents are using some form of digital fitness. What are they doing? We allowed them to select as many answers as applied, and 27.3% are working out digitally with a gym where they already have a membership, 45.5% are sweating with a digital fitness app, 36.7% are working out on Facebook or Instagram LIVE, 30% use fitness content on YouTube, and 25.9% are doing workouts a fitness influencer shared on social media (think posts on Instagram).
What we think about this: Consumer behavior completely flipped during the global pandemic. This, for many, has been an introduction to the fact that working out at home is still pretty effective and gains them access to gyms and methods geographically far away from them. We expect some claw-back as studios and gyms re-open, but never a full return to the numbers from before.
Watch for three digital trends:
Powered-up in-gym routines: People using apps and trainer-guided online workouts at big-box gyms to amp up workouts
Mixed digital and IRL routines: We expects to see people augmenting their fitness routines IRL with at-home digital workouts.
Fully digital: Some power users may make a full transition to at-home digital.
Returning to the gym
We asked respondents to predict their future behavior "Post-Covid," which we defined as within three months of shelter-in-place restrictions being lifted. When asked if they would spend on a membership post-COVID, 53% said yes. Remember, that's compared to that 66% paying for membership before the shut-down.
We also asked for predictions on attending studio classes "regularly," which we defined as going to studio classes at least two times per month within three months of shelter-in-place restrictions being lifted. 66% said that they plan to return to studio classes regularly, which is a drop from the 73% of our January respondents worked out at a class-based gym regularly.
We also heard from hundreds and hundreds of respondents who shared what they expect the studio of the post-COVID-19 world to look like. Here's a representative sample.
"I predict group classes will be limited to half capacity."
"I think there will be more disinfecting of machines/weights at the gym and stricter limits placed on number of attendees in fitness classes."
"Smaller class sizes with fewer transitions between machines. Fewer or no hands on assists/ Stricter cleanliness expectations."
"Temps taken at the door. For larger gyms, limit on how many members in the building, limit on use, limit on group exercise classes, employees wear masks and gloves, housekeeping will be on top of cleaning, members will be asked to be diligent on sanitizing equipment before and after use. Doubtful locker rooms, pools, steam/sauna, and other amenities will open right away. All gym equipment spaced out, gym floor re arranged, the list goes on."
What we think about this: We don't know the future and neither do these respondents, but these predicted drops in attendance spell continued bumps in the road for the industry at-large.
For gyms, this means that plans should be put in place to address and communicate openly about the concerns consumers are expressing. Share what you're doing, how frequently you're doing it, and why. Also, plan to continue creating and monetizing digital content – there's that digital brick and mortar again – as you won't be able to physically serve as many members at once.
For consumers of fitness, there are a few paths you can take:
Sweat in the ways that you're comfortable: Ask questions, arm yourself with info and do what you need to do to feel healthy and safe. If you want to know your gym's plan, ask them. If you have feedback, share it (as politely and generously as possible). Go back when you feel comfortable with it and follow the CDC guidelines when you do.
Sweat local: If you have a favorite studio, it's a good time to commit to that studio rather than to a marketplace to ensure that 100% of the money you're spending on fitness goes straight to the gym and its trainers.
Sweat outdoors and digitally: Not ready to hit the gym yet? Continue to leverage resources to keep yourself feeling healthy, strong, connected, and safe.
Have questions about the updated state of fitness? Email [email protected] or just post a comment here.