How Candice Kumai is Breathing Through This Moment
A few weeks ago, six Asian women were murdered in broad daylight in a mass shooting in Atlanta. The event, along with so many unexpected tragedies of the last few years, left me feeling… horrified and tired, to say the least. As a young advocate myself, I find myself putting a lot of pressure on myself to hold it together and stay motivated to keep taking action, but sometimes it feels so hard, and I find myself struggling to keep up hope while also finding time for self-care.
That's why I am so excited to share my conversation with my sister-friend, Candice Kumai, who continuously inspires me to breathe and heal through these moments – and stand in solidarity with my sisters. Candice Kumai has been recognized as "the golden girl of wellness" by media outlets like Elle and Forbes. She describes herself as being a classically trained chef, former line cook, TV host, and model-turned-journalist. Her latest book, Kintsugi Wellness, combines her wellness wisdom and traditional Japanese heritage, inspiring new practices and perspectives.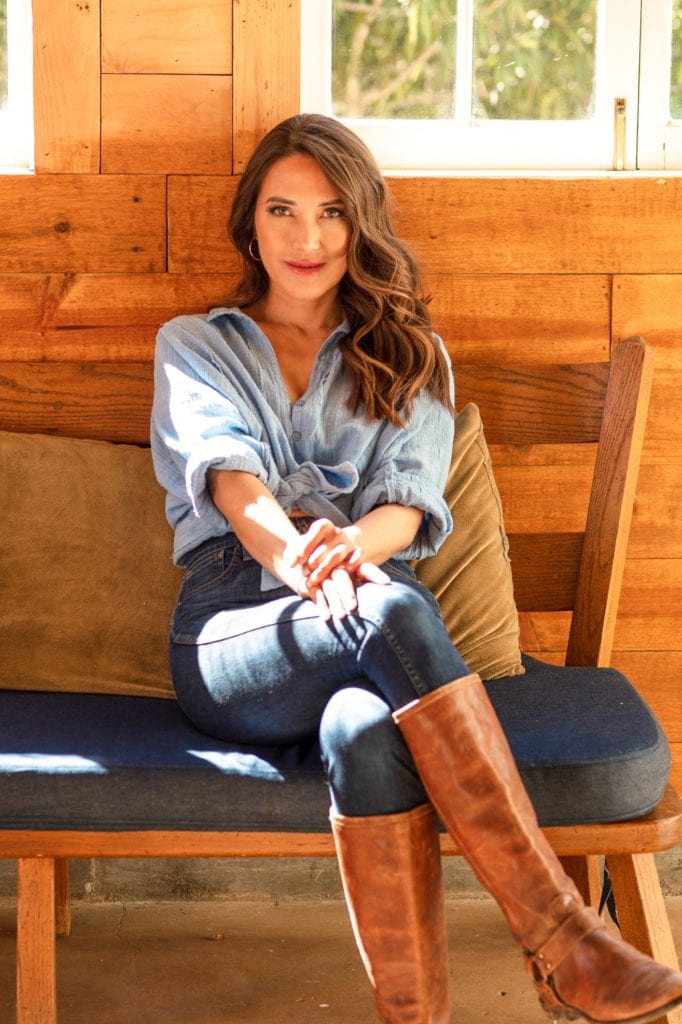 Over the last few months in seeing the rise in anti-Asian violence, Candice has continued using her platform to amplify and celebrate her AAPI heritage and share resources for others to heal and take action with. Here's our conversation:
You've been recognized as the "wellness golden girl" and the "wellness goddess" by some of the biggest press outlets in the world – what is wellness to you?
It's connecting to my inner spirit, my heart and mind… and letting go of all expectations – it's constant practice, grace, resilience as well as growth and constant learning.
How had your wellness journey in the last year, if at all, been different from pre-COVID habits?
Oh man, last year was a mess, as well as 2019. So, I technically had two years of hard financial setbacks to recover from. I cashed out my IRA, moved apartments to downsize and learned to save – I learned how to take *real* good care of myself and made a commitment to work on my mental health first. I didn't take handouts from anyone; I just lowered my overhead costs, and started asking my brand partners and media partners to pay me what I'm worth.
Your book, Kitsugi Wellness, is inspired by conversations with your mom and Japanese traditions. I'd love to learn more about your upbringing, and how your racial and ethnic identity influenced your childhood.
Growing up in North County San Diego, I was the only mixed Asian girl next to my sister in our entire school. It was difficult when I was teased for being "different." Kids are cruel, and I am also aware that they don't know any better because we were all learning and so innocent. But yeah, the sting of those early years, junior high and high school, as much as I loved my friends and my classmates, there were certainly a few bad apples that made my experience tough. When my mother showed me "gaman" with great resilience in Japanese, I learned and grew. When my mom showed me how to cook Japanese I LOVED it. It made me exactly who I was. When my mom shared with me "ki yo tsukete" to take great care I did so. And later in life, I felt bad for the others who made fun of me, because they could not see the beauty of culture, diversity and an enriched life!
A few weeks ago, there was a mass shooting with six Asian women murdered in Atlanta. Since then, you have used your social media platform to mobilize your network to reflect and take action – sharing toolkits of resources via your blog and social pages. How have you felt over the last few weeks and what keeps you motivated to keep mobilizing during this time?
This time has been heavy man. I have stuck by the side of my Asian American girls in media – because too many vulnerable Asians are being targeted as a scapegoat. We focus on Clubhouses with our girlfriends Ally Maki, Jamie Chung, Erin Lim, Shanina Shaik, Liv Golding, Kristina Rodulfo, Shadai McSween, Nadya Okamoto, Aya Kanai, Diana Tsui and Candice Kumai. Support Asian business, buy Asian books by Asian authors, uplift Asian women, appreciate Asian culture, don't appropriate!
You can find out more on my Kitsugi Series here, and read more about my activation with other AAPI women here.
Anti-Asian racism, although heightened over the last year with the racist rhetoric around the global pandemic, is nothing new – have you experienced racial discrimination?
Oh hell yeah – see my notes above and also my entire career in media. Asian women can be objectified as sexual beings and this issue is not taken seriously because of history's past and it's a 200-year-plus problem. It's time we address this issue, have the uncomfortable convos, and start taking action to change public policy and protect our Asian American history.

With the pandemic, quarantine, and emotional rollercoaster of the last year, what does taking care of your mental and physical health looks like today? What does community look like for you today?
It's connecting with those who love, support and uplift you, especially those who support your creative process and mental health journey—no judgement. Say bye to the people who don't make you feel amazing.
For readers who might be struggling to stay hopeful and energized during this time, emotionally or with their own wellness journey, what advice would you share with them?
I want everyone to know; this too shall pass… it's just a moment in time, and it doesn't define who you are or where you are going. It's nothing compared to what our ancestors went through. Let your faith be your greatest light and guide and continue to do things that make you feel good: take baths, long walks, be in nature, call a friend who cracks you up, take a Pilates class, read a book you love, cook a meal just for you. It will pass, nothing is forever.
Any go-to self-care tips?
Yes! Try swapping from coffee to matcha tea every AM. Try to do yoga nidra or meditate for 20-30 each day. This commitment to excellence TRULY helps with each day and overcoming my own mental health issues, I needed a hard wake-up call to see how meditation and workouts can help you, plus "shin rin yoku" forest bathing—being in nature at least one time daily has been like medicine.
Check out Candace's book Kintsugi Wellness for more tips like this!