5 Tips for Being Sober During the Holidays
Eat, drink and be merry. 'Tis the season after all, right? Well yes, December is the month to be jolly… as long as you don't get carried away on alcohol. The end of the year is abounding with delicious dinners, festive cocktail hours, and holiday parties galore, all of which usually include alcohol (even—especially?—if they take place on Zoom).

Since the holidays are a time to make merry, many of us feel like it's more acceptable to drink because it's the time of the year to celebrate (and after the year we've had, we all could probably use a drink or two). Instead of downing the drinks like they're going out of style, use the month of December as a warm up, so next month's Dry January won't be such a challenge. Here are five tips for being sober during the holidays.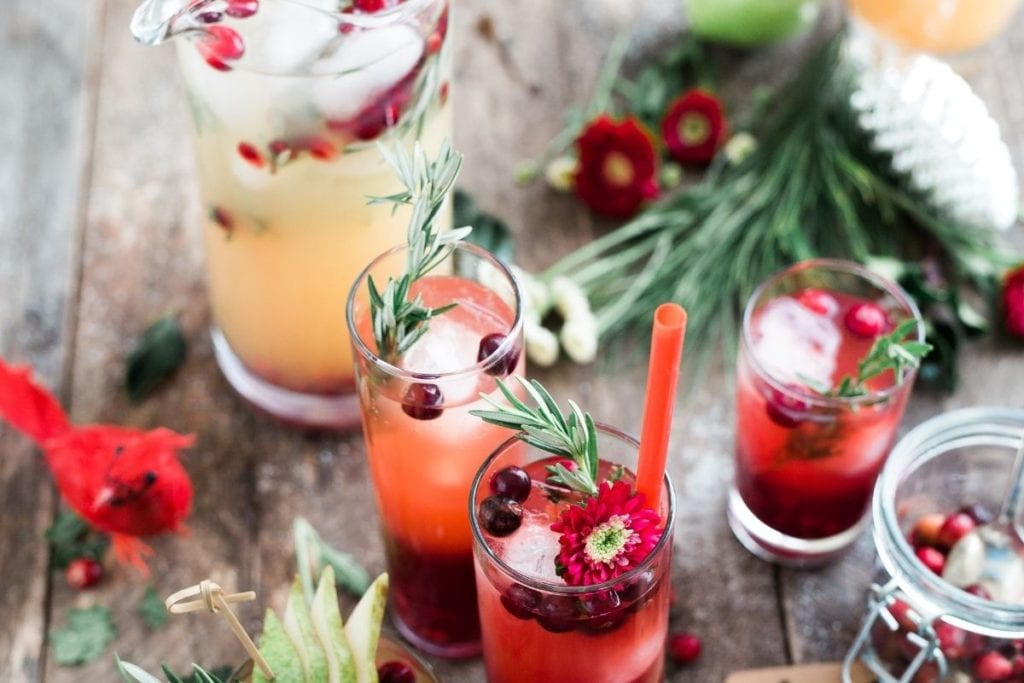 Holiday drinking
Dr. Sabrina Romanoff, Harvard trained clinical psychologist working in New York City says, "Being sober during the holidays enables you to fully experience your emotional reaction to the events occurring around you. Some [people] may not find this very appealing, but the reality is, we have emotional reactions for a reason and understanding them is the key to getting a handle on them."

Ben Barrett, a licensed clinical social worker and addictions counselor, agrees. "The benefits of being sober for the holidays is to tactfully take on a new perspective and relationship building with your family. Without alcohol and other drug use, you will be better suited to instill positivity. Alcohol, which tends to be the most commonly used drug during the holidays, is a depressant. Using it may give you an initial feeling of euphoria and coping, but it will not last. Sobriety allows you the opportunities to engage intentionally and redirect even triggering conversations from occurring."
Tips for staying sober during the holidays
1. Enjoy one drink

When attending holiday parties, have only one (okay, maybe two) drinks. Personally, I would rather eat my calories than drink them (all of the Christmas cookies, please), but alcohol is basically just empty calories. We've all heard this before, but unlike food, the calories found in alcohol have little to no nutritional value, hence, empty calories.
Instead of taste testing all of those Christmas cocktails, mindfully choose one (maybe two at the most) and truly savor each and every sip. You may even find you enjoy your drink even more knowing it's your one and only alcoholic beverage for the night.
2. Hydrate
The Sober Curious Movement has grown in popularity, so you're no longer considered a social pariah if you opt for a glass of water instead of a cocktail. (Ask for water on the rocks with a hint of lemon or lime if you're really feeling like a rebel).
Besides exposure to more alcohol at holiday parties, we also encounter plates of sweets and treats we usually don't enjoy any other time of year. If you are consuming foods you usually don't eat (think dairy, gluten and sugar) you'll want to stay well hydrated to minimize the food hangover that is most likely going to show up the next day. Since alcohol is dehydrating, all the more reason to minimize your consumption and opt for a hydrating beverage instead.
3. Just say no
Just like it's completely okay to say no to holiday parties, you can always say no to alcoholic beverages. Many people seem to struggle with Dry January because they've enjoyed the holiday season a little too much. Instead of doing a disservice to yourself, use the month of December as a warm up or practice run to Dry January so you can absolutely crush it next month.
4. Opt for a mocktail
If you still want a holiday drink in your hand at all times, consider a holiday mocktail instead of a cocktail. Mocktails can be just as delicious, if not even better, than traditional cocktails. Plus, you can still enjoy a festive and fun drink, but without the added alcohol.
One note: keep an eye out for extra sweet drinks or anything else that might induce a sugar hangover the next day. Here are five mocktail recipes you may want to try this holiday season.
5. Provide nonalcoholic options
Even if you don't plan on adjusting your alcohol consumption during the holidays, be respectful of those that are, especially if you're having your quarantine pod over for your annual viewing of The Grinch. Make sure there are plenty of drinks including coffee, nonalcoholic beverages, mocktails, sparkling water, tea, and water so everyone can enjoy the most wonderful time of the year the way they would like.
Staying sober during the holidays doesn't have to be a total drag. Use these five tips as we head into the holidays and enjoy the holidays sober.