Strength Coach Undergoes Heart Surgery, Learns to Love Fitness Again
For Dan Geraci, owner of heavy lifting gym Hardpressed, competition learned in a weight room was woven into his identity. But underneath the exterior strength, one big weakness lurked: The most important muscle in his body – his heart – was a ticking time bomb.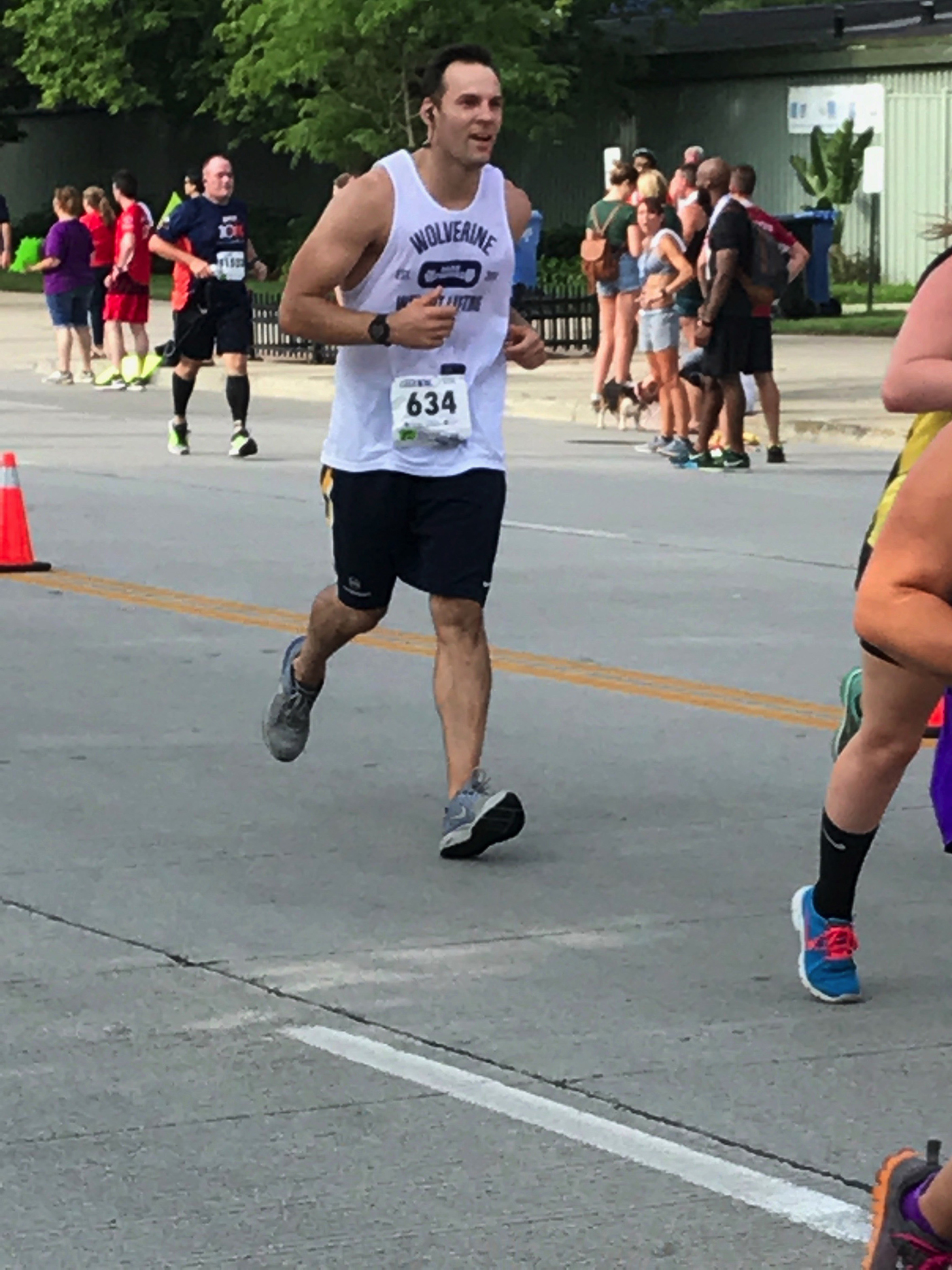 "If you get a test done it's totally preventable," Dan said. "Alan Thicke, John Ritter, they all had it and didn't know and just died. That part wasn't explained to me very clearly when I was 18."
At 18-years-old, Dan learned during a physical to qualify him to play football that he had a bicuspid aortic valve, an abnormality in the heart that tends to go hand-in-hand with ascending aortic aneurysm – Dan had both. An aneurism in the ascending aorta – or enlargement of an artery wall caused by weakness –  can lead to the splitting of the aorta, a complication that can be fatal.
Because of this, those who have the condition are required to get frequent check-ups. Although he followed this stipulation, he never fully processed the severity of his condition – perhaps because he didn't want to.
"I would get it checked every three years," Dan said, explaining that until recently he saw his general practitioner for a test to check the size and progression of his aneurism.
With the diagnosis at 18-years-old, Dan was barred from playing football, which meant there was nothing left for him at a "really terrible football school in upstate New York."
"I was able to transfer to Michigan, not only get in there, but walk down to the weight room wearing red shorts and still get a job," Dan said, explaining how competitive the strength and conditioning field is now – especially there.
The Michigan weight room was where Dan met Coach Mike Gittleson. If you hear Dan tell the story, he'll use phrases like "legend," or "genius," to describe this coach – whatever his verbiage, it's obvious he'd met his Mr. Miyagi.
"I would go into [Coach Gittleson's] office in the morning, and he would throw real science research at me and then I would have to figure out how to find more and more studies like that and bring it back to him," Dan recalled. "So that's how I learned molecular biology in a weight room – because I needed to learn how to read the studies."
One of Dan's obsessions was the abnormality in his heart and its links to sudden death while exercising.
"Valsalva, so holding your breath when you're weight training and that causes an aneurysm in the ascending aorta," Dan said.
Eighteen years into his diagnosis and regardless of his own research, Dan continued to live and train in a way that was riskiest for someone with an aneurysm, pushing heavy weights at his own gym, Hardpressed.
"I was getting up at 3:30 am and going to the gym and lifting four or five times a week by myself," Dan recalled. "You start weight training for football because it's competitive and then you just become competitive for no reason."
But as he amassed clients and loyal followers at Hardpressed, he inevitably mentioned the heart condition to one who would be instrumental in saving his life. After training Erin Chikaraishi for six months, Dan asked her what she does professionally and she noted that she was a social worker in the Cardiology department at Northwestern Hospital. Dan casually mentioned his heart condition.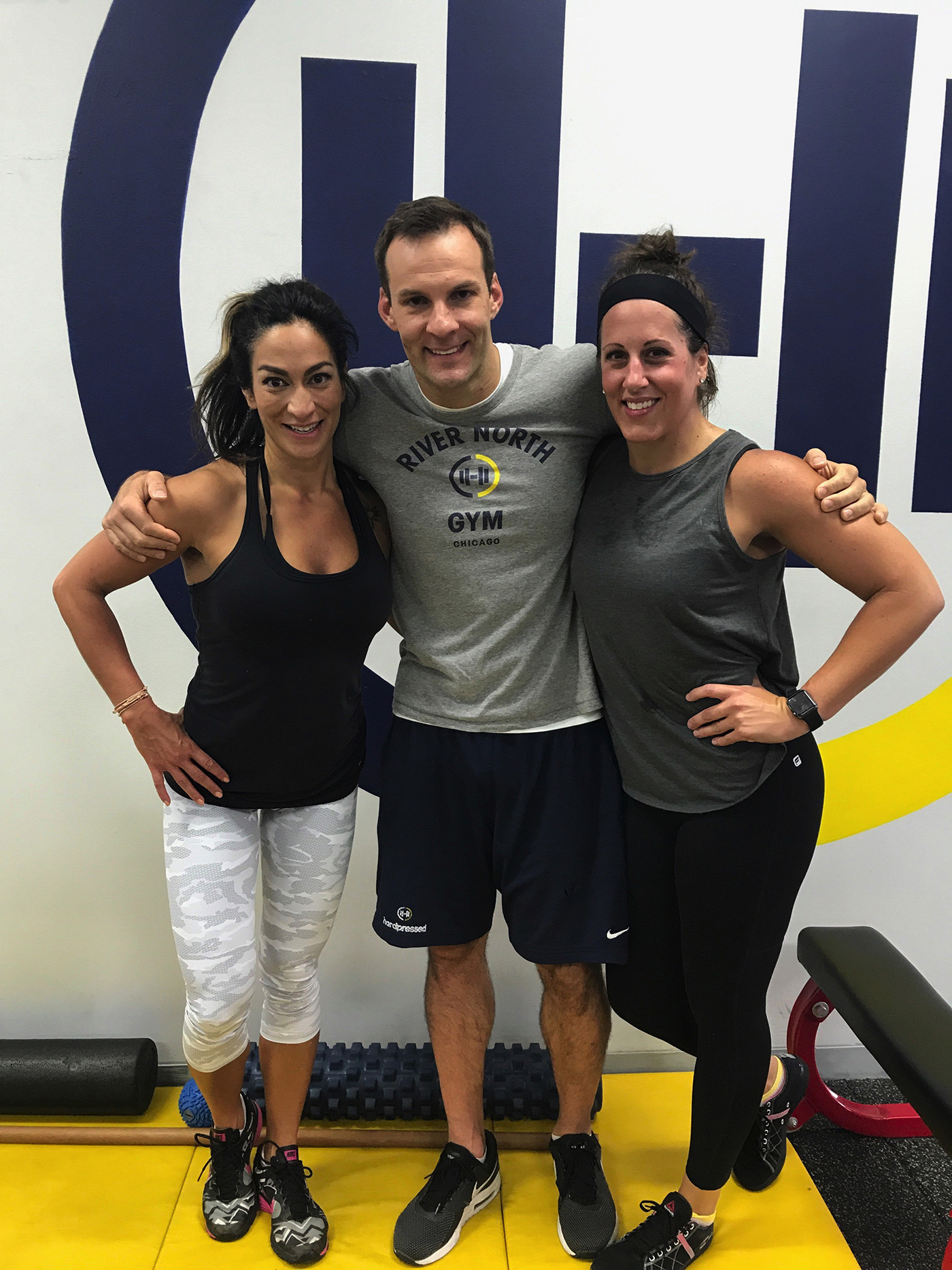 "She's like, 'How often do you see a cardiologist?'" Dan retold, sharing that he'd never actually seen a cardiologist – just his general practitioner. "She's like 'you're an idiot, I'm calling for you today and I'm making you an appointment over at Northwestern.'"
After seeing a Cardiologist at Northwestern, Dan quickly learned that his aneurysm had advanced to levels that would require surgery in less than a month's time. Forced to finally submit to having open-heart surgery, Dan prepared for a long recovery and a change in his habits and identity.
"The biggest thing you have to wait for is the bone to heal because they saw your chest open," Dan shared, noting that without proper time to heal, your breast bone can "click" when exercise is performed.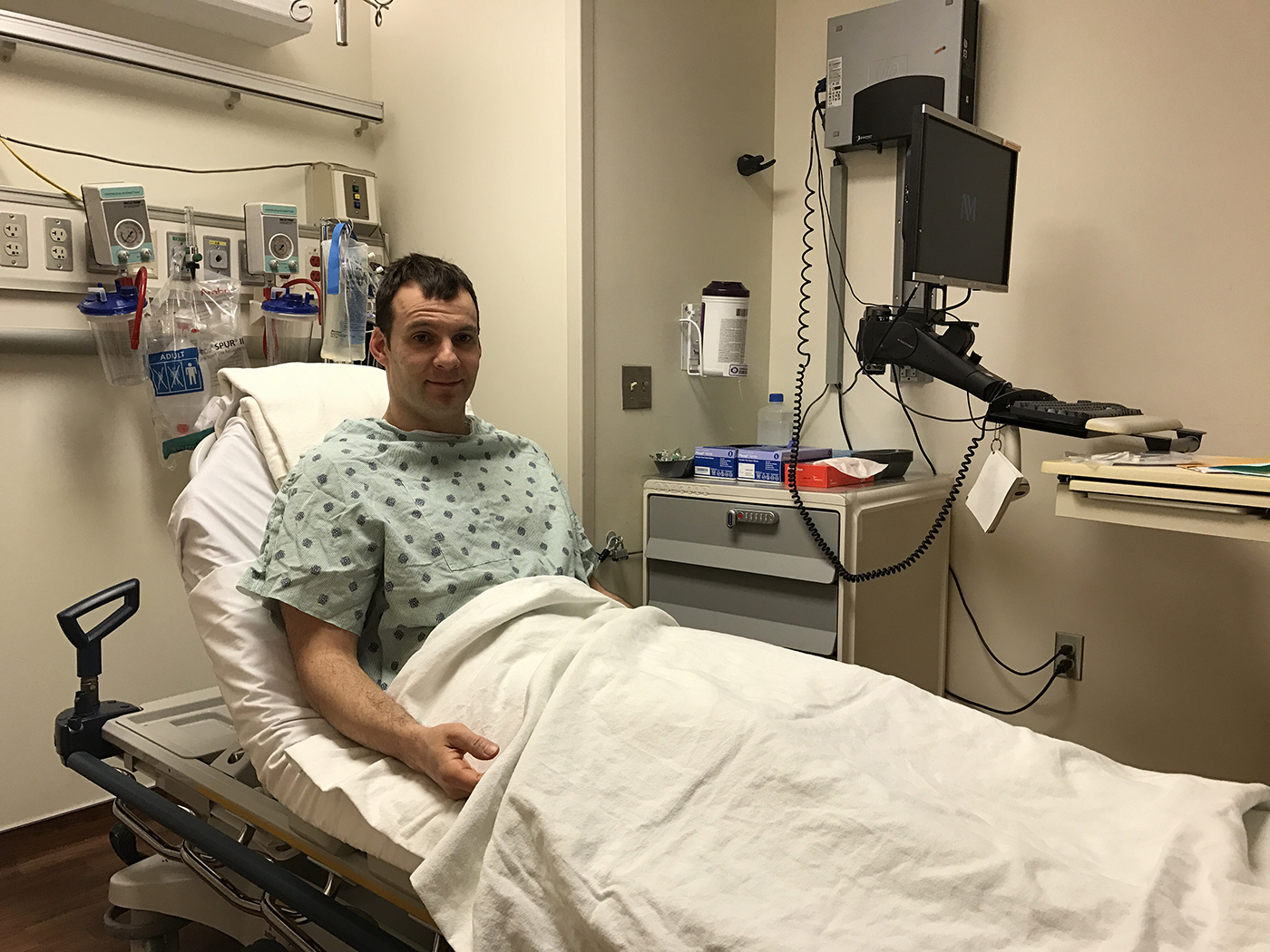 Slowly, and pushing every limit given to him, Dan returned to the gym, finding new ways to work.
"I couldn't run until the twelfth week because they didn't want me to move my arms," he said of his choice to use the stationary bike and the step mill in his early weeks of recovery.
And because he was desperate to move again, he – someone who previously claimed to hate cardio – signed up for the BIG10 10k from his hospital bed.
"I looked up when it was and then I signed up for it," He said, noting that after his February 28 surgery, his medical team signed off on the July 23 timing of the race.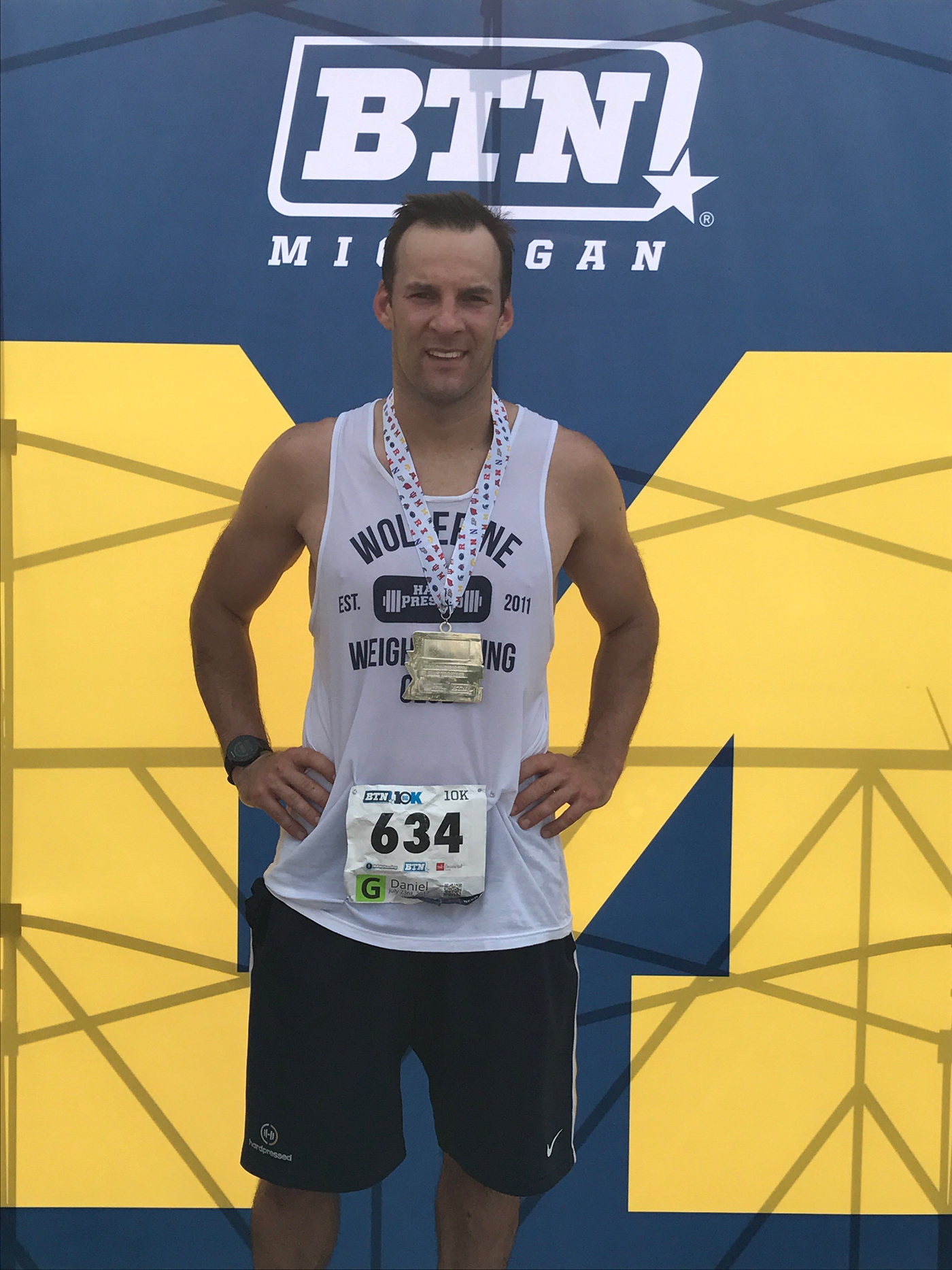 As he slowly recovered, he also found joy in moving again. His goals today are a far cry from those of last year at this time – he wants to be able to exercise every day of his life for as long as possible. He wants to move for as long as possible and to feel good doing it.
"Ten years ago I would've said people are nuts for trying to train everyday," he said.
Without competing with his own numbers and weight lifting performance, Dan shared that he's found himself bringing variety into his routine – from Pilates to spinning to weightlifting in his own gym (with his team's blessing) – which changed the way he coaches as well.
"Instead of trying to kill people on day one, I think of how I can get someone from being sedentary to training as hard as they can each time," Dan said. "It's like the process I had to go through – from being sedentary and having my chest split open to continuing to train and getting back to the point where I used to be."
For Dan, every day is now an opportunity, he said.
"If something bad happened, I had this opportunity to experience this bad thing, it's not that big a deal," he said. "If you miss a workout, today I have an opportunity to rest."
Find Dan living with this new, refreshing attitude, enjoying moving right at the edge of what his doctors recommend at Hardpressed and Hardpressed Conditioning.