A Recap of a First-Time Group Fitness Experience
I recently had the odd experience of working out with the same instructor who taught my very first group fitness class. It brought me down a strange road of self-reflection (so much has changed since then!) but also the realization that other things don't change much at all (I swear this particular instructor has not aged one bit and his class was just as difficult as I remembered it to be).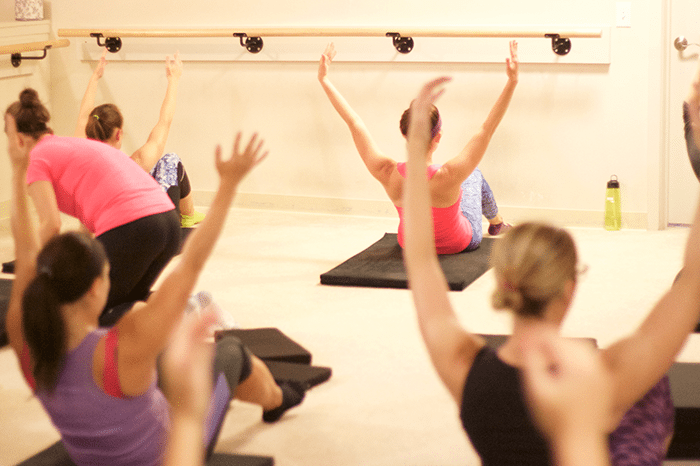 Five years ago, I purchased my very first group of fitness classes. Thanks to my addiction to RueLaLa.com (an addiction that is still alive and well today), I stumbled upon a deal for five classes at a fancy studio-slash-spa named exhale that was only a few blocks away from my then-apartment.
I went online and booked my first few classes, all of them with names I didn't recognize. That was the first time I had even seen the word "barre" spelled with an "re" at the end. After a few clicks I was all set, and a barre class was going to be my first dive (more like belly flop?) into the world of group fitness.
Realizing that I had only really worked out in free all-cotton t-shirts from college, I decided I should step up my gear game before I stepped foot in the studio. I finally settled upon a reasonably priced (and on sale) black and purple tank top and capri* combo from Gap Body.
*This was my first time venturing into the world of spandex, and I decided that a flared capri (you read that correctly) would be flattering. Looking back, there was probably a reason they were on sale.
I called my mom, long-time advocate and participant in group fitness classes, for some reassurance. Before this, I was always a lone wolf at the gym. The gym was not a social hour after all; I was there to get sweaty and gross and repeat the same mundane workout routine I learned during basketball conditioning in high school. Needless to say, she was happy to hear that I was venturing out of my comfort zone, and even more excited to learn that I finally bought some bottoms that weren't basketball or soccer shorts.
When I arrived at the studio, I found out that I didn't have to wear shoes (what?) and that special socks would be helpful. I reluctantly handed over my credit card to pay $14 for some socks with grips on the bottom. I grabbed a few items that others around me seemed to be grabbing (I now recognize them as usual suspects: baby dumbbells, resistance bands and a mat) and maneuvered myself into a corner of class where I could hide from the world (or at least the instructor).
There was only one guy in the class, and we both smiled hesitantly at each other in recognition, "You don't know what's about to happen here either, huh?"
I spent the next 45 minutes realizing that there was a lot I didn't know, such as:
How to engage my abs without looking like I can't breathe
That you could get an abdominal workout without doing traditional crunches
How to "tuck" (ok, it took me several more classes to figure this one out)
That top knots are actually a very practical way to wear your hair so it doesn't get in the way
That baby weights are deceptive and are secretly the devil
That it was possible for so many weird muscles that I never knew about to be sore at the same time
That it's okay to wear strange Gap capris because no one really judges you for not wearing Lululemon all the time (this was a real fear at the time)
There are few things in life quite as amusing as the bewildered face on a guy holding up 3-lb weights with shaking arms
That "high heels" are much more fun when actual shoes are involved
That my body shakes uncontrollably when placed in awkward positions for thirty seconds (er, maybe more like fifteen?). Thankfully, I wasn't alone in this.
That grippy socks really do help! Thank you, person at the front desk!
That grippy socks, helpful as they may be, cannot make up for a complete and utter lack of balance and coordination
No matter how hard you try, you can't hide from a good instructor (I'm pretty sure he fixed my form a million and a half times over the course of the class – for which I am grateful. I was basically given a 1-on-1 training amid a group class because I had no idea what I was doing)
… and, undoubtedly, much more.
I left class that day feeling slightly defeated, but mainly very proud and accomplished for stepping out of my comfort zone and getting in a good workout. Over time, my fondness of the group fitness class only grew – now, you can find me studio hopping on ClassPass, at as many #Sweatworking events as my schedule allows and looking for any excuse to sign up for a class with friends.
Do you remember your first group fitness class? Feel free to share the details with us in the in comments!