Why Now is the Right Time to Seek Fun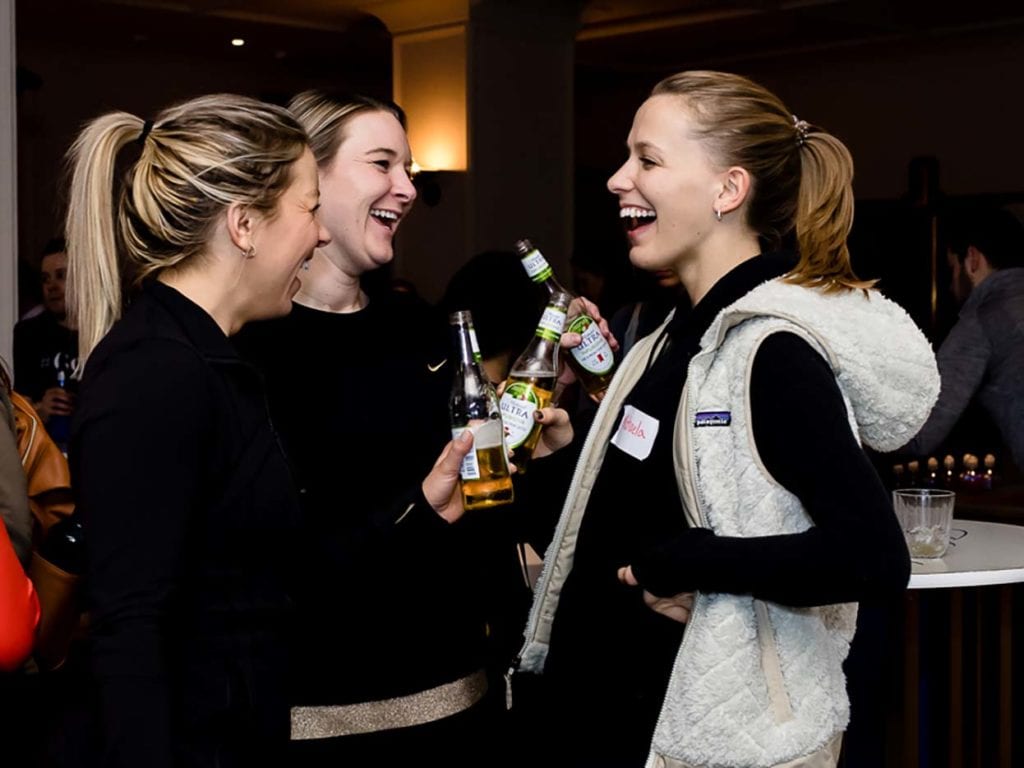 There's an episode of The Office that I feel like we're living at aSweatLife and well beyond our digital walls: "Murder." It's incredibly well-written and worth a watch – especially right now. At the start of these delightful 20 minutes of TV, the entire Scranton branch of the Dunder Mifflin Paper Company is preoccupied with rumors that company is going through bankruptcy.
If none of that made sense to you, please go watch "The Office" from the beginning (cut season one some slack, the characters get more lovable). I'll wait.
Back to the episode: At that moment of shared tension, anxiety and a shaken foundation, Michael Scott decides to take out a murder mystery game. And he refuses to break character for the rest of the day – or acknowledge anyone who does. Jim Halpert (co-manager of the office) is frazzled by this – attempting to get the rag-tag bunch to go back to work.
At the end of the episode, Jim Halpert (co-manager) finally realizes what's been happening all day: "I think today was a good day to have two managers. 'Cause if you're a family stuck on a lifeboat in the middle of the ocean, one parent might want to just keep rowing. But if the other parent wants to play a game, it's not because they're crazy. It's because they're doing it for the kids. And I get that now."
Do you need me to draw the parallels between that episode and the current moment?? I'll just leave this part of the synopsis here: shared tension, anxiety and a shaken foundation.
That's why we're choosing to seek fun.
Right now, we're intentionally acting like Michael Scott and we're pulling out the murder mystery game in a time of chaos. We're creating diversions in this shaken-up snow globe of a world.
We've made choices to keep things fun and distracting from reality, not because we don't understand the seriousness of the world around us. We're making those choices because we do understand the situation and we know that if we have your attention for 30 minutes or – gasp -an hour, then we'd better do something to make you feel better, stronger and more connected to the world around you in that time.
That's why you'll see us do things that are downright silly right now – like a week of themed workouts ranging from "wigs" to "pajamas."
That theme week started with a "crazy sock" barre class with Glenn Snellgrose on Facebook LIVE. There was no person better suited to create a collective moment built around unabashed nonsense than Glenn. When asked, "can you ask people to wear crazy socks for a workout with you?" He said, "Hell, yes." And went on to invite people into that shared silliness with him while wearing some weird socks and sweating in their living rooms – the same rooms they're using as a makeshift office, entertainment room, and everything else right now.
It was 45 minutes of pure joy. I challenge you not to smile while doing that workout in your wildest, silliest or dumbest socks.
Once your face hurts from smiling, you'll see what we mean. And The Mayo Clinic backs up this approach, saying, "A rollicking laugh fires up and then cools down your stress response, and it can increase and then decrease your heart rate and blood pressure. The result? A good, relaxed feeling."
Sure, it may feel like taking your eyes off of the stressful stuff may be counterproductive, but walking away from the stress for a second can help you to come back more focused and ready to dedicate yourself to the task at hand.
Harvard Business Review wrote that"Chronic stress floods our nervous system with cortisol and adrenaline that short-circuits important cognitive functions … When we can't focus at work because of distractions, it may lead us to feel stressed about not being productive, which then causes us to focus less, further feeding the cycle."
Your challenge this week: Be silly, unabashedly silly.
We're inviting you to take your eyes off of your news feed, to stop scrolling on twitter, to not think about whether or not you're being productive enough for just a little bit of time each day. Embrace the silliness, get stronger, and feel more connected. You'll go back to the serious stuff ready to face it.