Tips for Fitness Professionals Teaching Live-Streaming Workouts
If you're a fitness professional, you've already been affected by COVID-19—gyms have closed, personal training clients have moved to virtual sessions, and everyone's wandering around their house wondering if a gallon of milk works for bicep curls (it does!).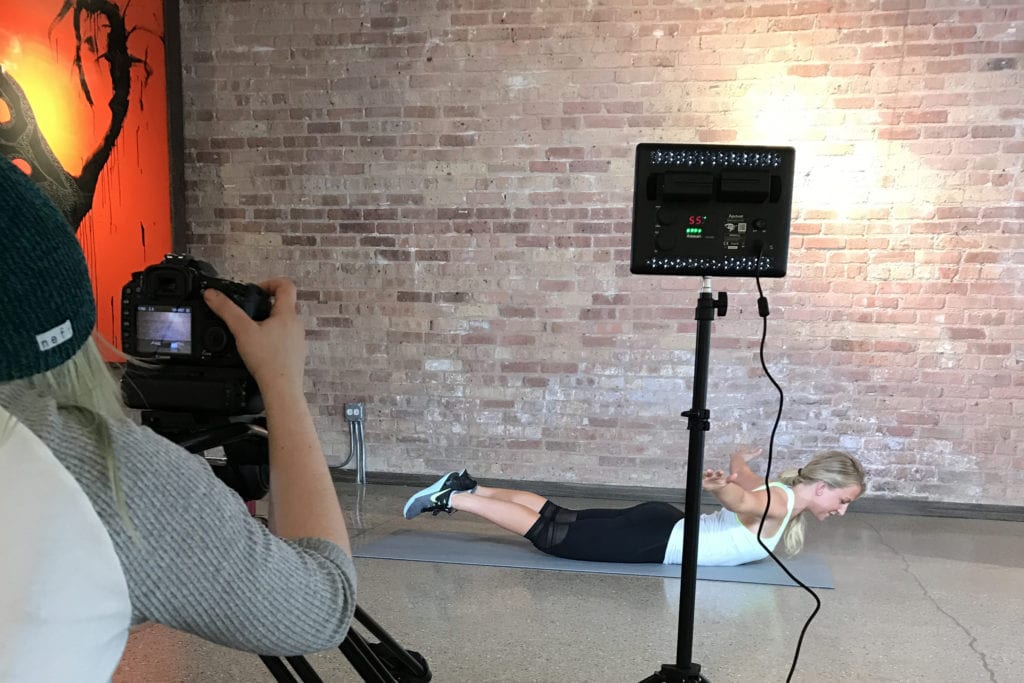 But with the grand power of the Internet, fitness professionals can still stay engaged with their communities and maybe even—dare we say it—turn this into an opportunity to bring people together via free live-streaming workouts. Facebook Live and Instagram TV are quickly becoming the virtual boutique studios we're all missing right now, and social distanced humans are searching for ways they can still connect through fitness.
However, teaching a live-streaming workout isn't quite the same as teaching in a group fitness class. If you're planning to teach your first-ever live-streaming workout, follow these tips for teaching live-streaming workouts to host a smooth, sweaty virtual workout.
Test your set-up before going live
A dress rehearsal will help ensure you're not scrambling to find better lighting when it's time to host your live-streaming workout. Here are a few things to consider:
What time of day will you be hosting the workout? Where does the light hit during that time? Do you need any extra lighting? (Aim for natural light to be in your eyes during the workout, behind your phone)
How and where will you set up your phone? A tripod is ideal, but you can get scrappy with stacks of books or other household objects.
Test your sound (including music). How loud will you need to talk? A test recording might be a good idea to really hear yourself and adjust your volume (as cringey as that might feel). Owner and CEO of Sweat Fitness Studios Paul Michael Rahn recommends keeping music at a lower volume to ensure viewers can hear everything you're saying.
Remember to film vertically for best user experience on both Instagram and Facebook.
About music…
You might think it's totally cool to crank your Spotify from your laptop and let the playlist bang—but the unfortunate reality is, that could backfire on you in a major way. Think: a lawsuit.
"ASCAP and BMI are extremely litigious," explains Anderson Cohen. "Facebook has been known to remove videos with music playing." Her official advice: avoid, avoid, avoid.
Instead, you can encourage viewers to use their own playlist. Or, create a public playlist for that workout before class and share the link with your followers; they'll be able to follow it along from their own homes. Lawsuit: avoided.
Tips for when the live-streaming workout begins
First, know that punctuality rules don't necessarily apply to streaming fitness classes. Jeana Anderson Cohen, founder/CEO of aSweatLife, recommends a five-minute hold from when class "officially" starts. After all, life happens, and people are less likely to join a workout that's already started. Use the first five minutes on the clock to introduce yourself, explain the style of workout you're leading, and give a quick overview of the format you'll be teaching.
Once you begin teaching, check your comments and engagement after a few minutes. Viewers will (quickly) point out if you're accidentally muted, if a weird glare is blocking your body, or if your phone is tilted at a weird angle. Checking comments early can catch and fix a lot of mistakes.
Talk more than you would in a regular class
You may not be able to get the same feedback you would in a studio, but it's still important to talk frequently to your audience. Your music won't be able to fill the gaps here, so your voice and your verbal encouragement have to work a little bit harder when teaching a live-streaming workout.
Peloton instructors do a great job of this on the digital app—they frequently shout out different users and give them major praise, especially if the client is a regular. You can do something similar by addressing comments from your viewers in real time!
Proactively offer modifications, progressions, and form cues
You won't be able to see your class, but it's still crucial that they're working out safely and effectively. To that end, Jordan Borkan, Director of Hospitality at LifeStart Wellness Network, recommends thinking ahead for each movement before you even begin coaching, paying special attention to moves people frequently do wrong.
"They won't have anyone correcting them, so really focus on setting up the movements!" she writes.
In general, be prepared with three talking points for each move:
A progression to make it harder
A modification to make it easier
A form cue to help people complete the movement correctly
Show off your personality
You're outside of the friendly confines of your home gym or studio—now's the time to really connect with your clients and show them who you are as a person. Leave a few of your personal home decor items in the video frame so it's not a super sterile environment, for example, or have a partner or roommate say hi over the camera.
"I'm loving watching people be SUPER organic to who they are and showing their fun, energetic sides within the platforms!" says Rahn.
And hey—loosen up a little bit and enjoy this new way of teaching! In the wise words of POPSUGAR Fitness Host Anna Renderer, "who cares if you mess up, as long as you're not an asshole?" Your viewers want you to do well, and they're happy to have the distraction and the service you're providing. Have fun with teaching live-streaming workouts, and who knows? You might have a few more regulars in your classes once you're back in the gym.