Gift Guide #8: Woo-Woo Holiday Gifts
This post contains affiliate links. As always, we only recommend products, brands, and experiences we truly love ourselves.
We love to give gifts that are powered by a sense of connection to the universe or connection between the mind and body. This year, we've classified those sorts of gifts under our loving catch-all: Jeana's Woo-Woo. Why is my name in the title of today's gift guide? Slowly, over the years of operating aSweatLife, I've gone from a squinty-eyed skeptic about the woo-woo end of the wellness spectrum to a full-on advocate.
As I write this, I sit with an obsidian crystal in my sports bra and a plan for a Sunday night smudge to prepare my house for a new week with great energy. I don't care if the effect is placebo or real – I'll take it. The woo-woo holiday gifts in this category are perfect for the woo-woo curious because it's full of things that they want, but haven't yet bought for themselves.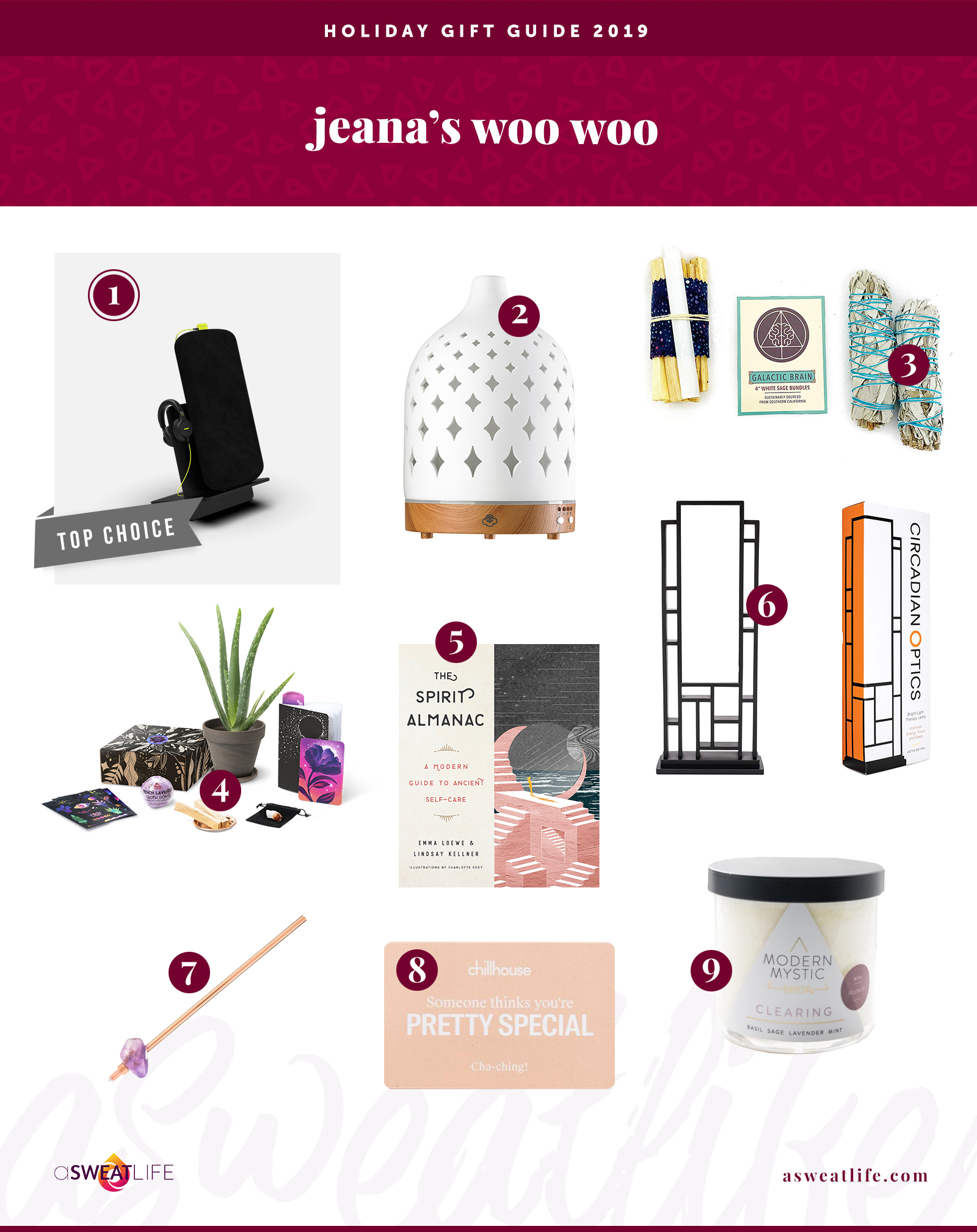 1.Meditation kit and subscription, Wave Meditation 2. Supernova Electric Aromatherapy Diffuser, Serene House 3. Home Cleansing Kit, Galactic Brain 4. New Moon Subscription boxes, Lunarly 5. The Spirit Almanac, by Emma Loewe and Lindsay Kellner 6. Lattis Light Therapy Lamp, Circadian Optics 7. Crystal Straw, Gem Water 8. Chillhouse Giftcard 9. Clearing Candle, Modern Mystic
When we had the founder of Wave Mediation Mason Levey on our podcast, #WeGotGoals, we were immediately smitten with the idea of an immersive, musically driven, at-home meditation system. Its combination of hardware and guided meditation is so unique and so perfectly built to help you relax. We get the feeling that when Levey spoke to us about his vision of bringing on big-name DJs and composers to create new mediations, that future is not far-off. This is the perfect gift for a loved one who wants to make meditation a more frequent practice – one spin with the headphones and pillow that moves with the vibration of the meditation and they're sure to return day after day.
Ready to nudge the recipient of your gift into some beautiful woo-woo? Try starting them off with a Clearing Candle from Modern Mystic that gives off scents of basil, sage, lavender, and mint as well as a peaceful vibe. Another home-clearing gift that's great from someone moving into a new home or just looking for an energy reset is the home smudge kit which comes with white sage smudge bundles with one palo santo and one selenite crystal.
For the eco-conscious friend on the woo-woo spectrum? This reusable Crystal Straw is the perfect gift. Mix and match the color of your straw with a crystal that matches their intention – rose quartz for greater kindness and empathy, clear quartz to amplifies any energy or intention or amethyst to alleviate sadness and grief, and dissolve negativity. Want to open up the eyes of any friend to all sorts of woo-woo? The Spiritual Almanac, which was written by two editors from mindbodygreen and share pages full of ancient self-care tactics to "nourish yourself and connect to the rhythms of the Earth." That's a recipe for a year of fantastic Friday nights, if you ask us.
And for the new-to-woo-woo holiday gifts, try getting them self care that's meant to ease their stress and get them back in rhythm with the world around them. Top on our list? A few household items like an aromatherapy diffuser from Serene House and a beautiful light therapy lamp from Circadian Optics have low barriers to entry. The Circadian Optics Lattice light is a Shark Tank product that's perfect for anyone who gets the winter bummers – it was built to help beat the winter blues, regulate sleep, fight fatigue, boost mood, and improve focus.
Seeking a little hands-on self care? Plan a trip to to NYC's Chillhouse to calm your spirit and pamper your body with an assortment of services like massages tailored to the moms-to-be and the stressed out professional.
Today's giveaway: A WAVE Meditation kit
Today's giveaway prize includes:
This giveaway is now closed. Congrats to Caitlin B!