How to Deal When You Fail at Your Big Goal
In February, I wrote an article about how 2019 would be my 'year of running.. To check off the marathon distance, I was offered an opportunity to be coached by Nike Master Trainers and train alongside some Chicago media personalities. I set a BHAG (big hairy audacious goal) to improve my time by one hour. I spoke about this goal often and documented my journey on social media. I knew it was ambitious, but I thought it was realistic given my training progress. When I crossed the finish line nowhere near my goal I was bummed. I may have PR'd by seven minutes, felt good, and enjoyed the crowds, but it wasn't my goal.
The next day, I received an email from Coach Robyn requesting a race recap. It had over 15 questions covering nutrition, hydration, recovery, and headspace for the entire race weekend.  It forced me to acknowledge a few things that I could have done differently, appreciate some things that went just right, and finally plan my path forward. I decided to take the principles behind the questionnaire and have candid conversations with other Ambassadors, writers, and friends around the times we failed at our big goals. I was surprised by the commonalities between sport, finances, and career.  
What went right: Building my community
The Chicago running community is large and diverse. There's a group for everyone at any pace, and through my training journey, I got to run with several different training groups and run clubs, all of whom added something a little different to my marathon journey.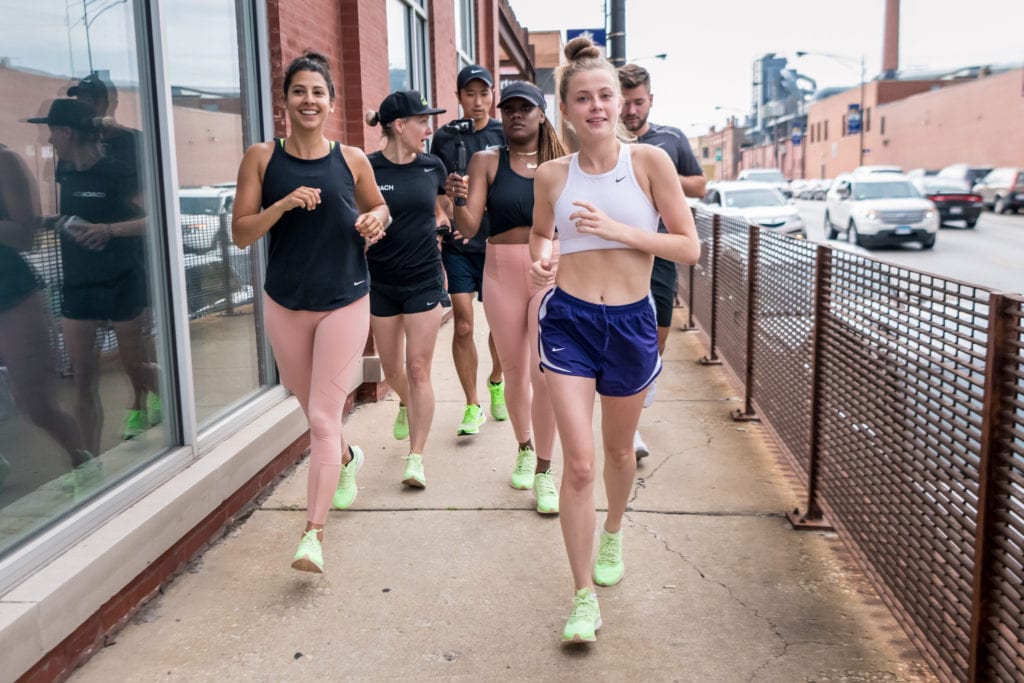 Through Nike, I ran almost every Thursday morning with the same five people. We grew close and they pushed me on workouts I may have slacked on otherwise.
I used free resources like Nike Run Club and Nike Training Club to cross train, and I found new communities by joining in on neighborhood run clubs and races, like running with Heartbreak Hill Running Company for my longest run. I participated in three Nike Unsanctioned races leading up to the marathon with other aSweatLife ambassadors. 
For others, successful goal-getting was defined by a simple, subjective measure, like making sure you enjoy the process of going after your dream. I asked my teammate, Erica Agran, how she managed to check off her 50th marathon and she said she found joy in the journey. Whether it was a fun training run, a coffee date after a tough run or mentoring other runners, she made sure that running was adding to her happiness, not stressing her out.
What I could have done differently: Executing my training plan
Leading up to the race I told myself I did the work and it would show, but in retrospect I wasn't being honest with myself and in turn with my coach. Lucky for me, I had trained with Coach Robyn for the Shamrock Shuffle in March. She has been professionally coaching athletes for over 15 years. With experience she gained the ability to know which questions to ask, when to push harder, and when to pivot or reevaluate goals, but ultimately it's up to the athlete to execute—and that's where I suffered.
There were days where I walked instead of ran, ran straight pace when it was tempo, or just simply took extra rest days. It is true this was the hardest I've ever worked on a running goal, but I know if I want to drop more time I need to wake up and do all the work.
Nimbe Juarez, NASM certified personal trainer, had similar feedback when she failed her first attempt at NASM certification. She went in confident and missed by only a few percentage points. She said the recommended study time was a ten week timeline and she only ramped up studying five weeks out. However, her experience taking the test taught her what to expect for her second go-round, and she passed on her next attempt.
To improve and hit our BHAGS, we need to be honest with ourselves on our abilities and commitment and then execute. 
What's next after you fail at your big goal: Pivoting
We can't change the past, but we can build a plan for our future. We can change, pivot, and remove goals when we realize they don't match our vision any longer. For me, I've signed up for my first ever Hot Chocolate 15k in November (which I will be running in a parrot suit ) and I'm signing up for the 2020 Chicago Marathon lottery with a new goal of a sub-five hour marathon.
Stef Kassab, Service Manager at LulaFit, told me she was disappointed when she hadn't paid off her final student loan when she hit the "deadline" she set with her significant other. She reflected on her previous month's budget and decided on a new strategy and timeline. Instead of larger monthly payments which she would sometimes decrease at the last minute she has started doing smaller weekly payments. For her, changing the approach made the payments seem more manageable and worked better with her pay schedule.
Failing at a BHAG is not the end of the world. It is an opportunity to reflect, reset, and move on to the next adventure. If you've failed recently I encourage you to get back up and go get 'em #goalgetter.