How Robyn LaLonde of EDGE Athlete Lounge Created "Cheers for Athletes"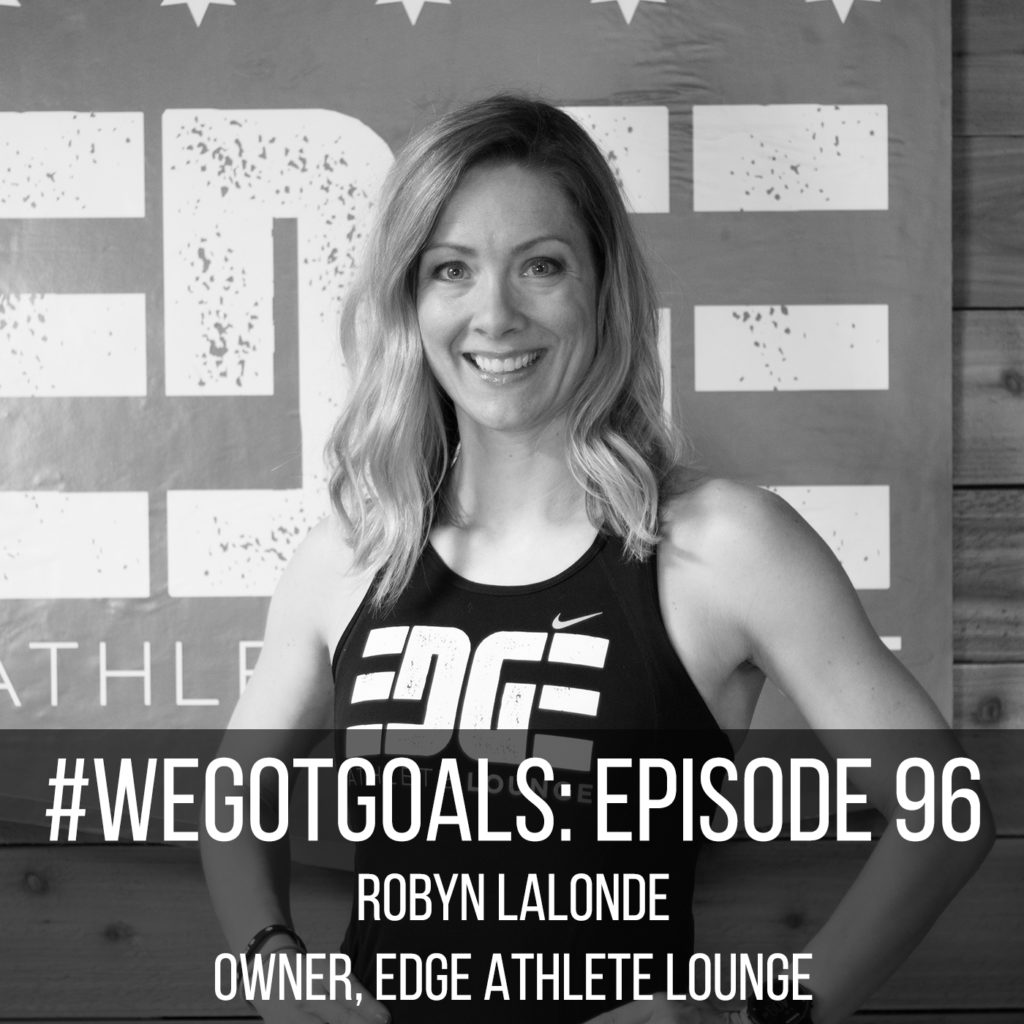 Some athletes aim to run or bike faster, others to score more points or lift heavier. But those at Chicago's EDGE Athlete Lounge have the same underlying target: "becoming better people and helping each other attain whatever goal is in front of them."
Robyn LaLonde and her husband Brian opened EDGE about five years ago as a space where athletes can "do hard things together," she told me on this week's episode of #WeGotGoals.
The idea came to the couple when they were training for an Ironman triathlon and found that, even after hours together on the ride or run, they wanted to keep hanging out with their training partners.
The only obvious location was a bar, but the LaLondes thought there must be another option. So they went about creating it, opening a spot that feels like the sweatiest living room you can imagine.
There are plenty of recovery tools—from ice baths to lasers to inflatable compression boots—along with bike trainers, Woodway treadmills, and training classes. The facilities draw high performers from CrossFitters to triathletes, but as LaLonde said, "technology has always been secondary to the human interaction and empowerment that happens."
Bringing the EDGE vision to life was the hardest thing LaLonde has ever done, she told me—she's quite honest about the struggles, financially, emotionally, and physically. By the end of the buildout, she and Brian were low on cash and completing tasks such as painting and laying carpet with their own hands.
They got through it with some sleep deprivation, advice from good friends, and a mantra they'd developed on a cycling trip: "You're already on the mountain."
In other words, once you start pedaling to the top of a peak, any push forward will get you closer to your goal. Your pace might feel slower than you'd like, your final destination a bit shrouded in fog. Still, steady progress beats doubt and anxiety every time, and you can remind yourself it's all a bit easier on the downhill.
After the doors opened and athletes streamed in, LaLonde began to see the community she'd always envisioned take shape. She, Brian, and the staff take many active steps to encourage its growth. When new members sign up, there's space on the form for their athletic goals and mantras, so coaches get to know them on a deeper level right from the start. EDGE hosts cheer zones at races, gathers for off-site events from bocce ball tournaments to service projects, and communicates through newsletters, social media, and their very own podcast.
But many of the connections made there are organic and natural. After all, when you're sweating hard next to someone—or relaxing in boots or shivering in an ice bath—there's almost no choice but to chat. Even athletes from very different sports can "cross-pollinate," connecting on what's similar and learning from what's different about each others' pursuits.
When it's time for a race or competition, everyone's out there in their EDGE gear, supporting one another in person and virtually (another key to community? "Plenty of schwag," LaLonde said). The results are impressive—for instance, 93 percent of EDGE athletes who toed the line at last fall's Chicago Marathon finished their first 26.2 or set a personal record.
Perhaps more importantly, when someone faces a struggle outside of sports, the community comes through again. For instance, when the LaLonde's beloved pug Bruce passed away suddenly last year, their kitchen was stocked with food and their offices filled with flowers. "It was the kindest thing," she said. "We were like, 'whoa, yeah, this is a special group.'"
Listen to the full episode of #WeGotGoals for more on EDGE, and if you're in Chicago, you can check out the space for yourself at 1747 N. Elston Ave.
We're talking community for the rest of April and May on #WeGotGoals. The rest of the season, we'll hear from goal-getters who are making the world a better place, getting better, stronger, and faster, and giving generously. You can subscribe on your favorite pod platform—including iTunes, Spotify, and Stitcher—and if you like what you hear, please take a minute to rate and review the show so others can find us.