Let's Talk About Sex, Baby!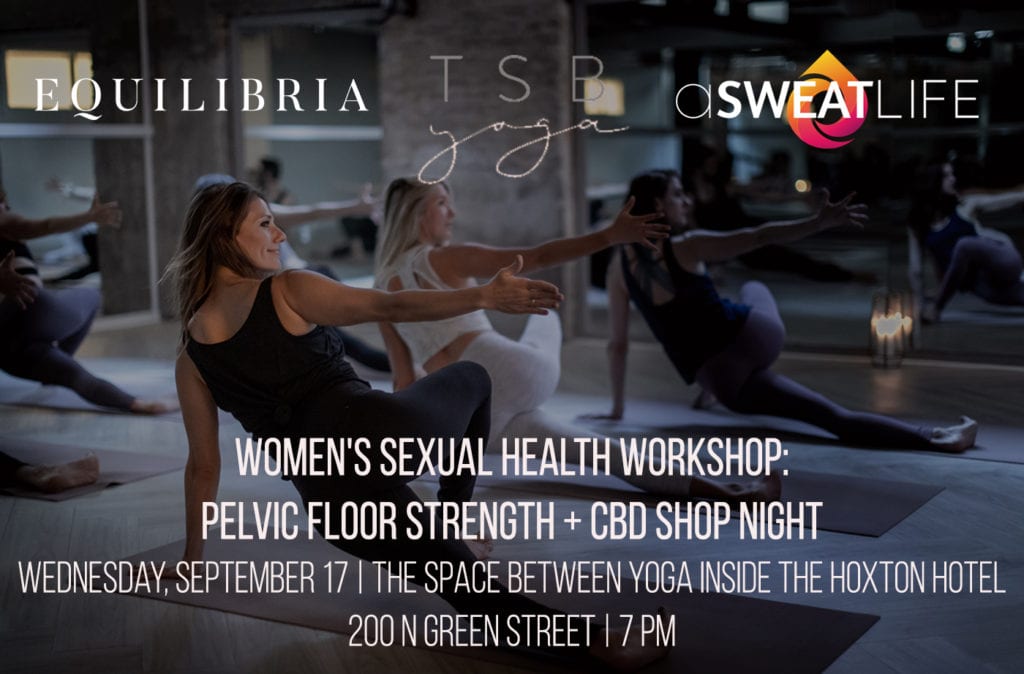 [Get tickets to the Women's Sexual Health Workshop here!]
Join us Tuesday evening, 9/17, for a Women's Sexual Health Workshop including a yoga flow and Kegels workout focused on pelvic floor strength and sex education on how CBD can be used to meet your sexual wellness goals!
Equilibria, The Space Between, and West Town Physical Therapy are coming together to talk about all the good things and the bad things you may be experiencing when it comes to sexual health. This evening is all about providing you with an opportunity to learn more about getting intimate with yourself, providing a safe space for you to ask any questions you might have about S-E-X and check out some amazing CBD products.
Turns out, yoga can be pretty sexual! To kick things off, The Space Between will lead us through a mula bandha-inspired yoga flow. Mula Bandha is a yogic practice that involves an engagement of the pelvic floor muscles in order to lock in energy and a build sense of vitality. You can still expect an all levels flow, but with an emphasis on improving the health of this important anatomy and energy center of the body, and an explanation as to how it relates to how it relates to the health and well-being of the rest of our energy systems too.
Then Erin Conroy, Physical Therapist and owner of West Town Physical Therapy, will lead us through a Kegels workout to not only strengthen your pelvic floor muscles but teach you how training of the muscles can help you achieve a better orgasm during sex! Erin specializes in Women's Health PT and pelvic floor work, so she will be able to answer any questions you might have about working out those unseen but very important muscles.
After the workouts, experts from Equilibria will share all of the ways CBD can help you meet your sexual health and wellness goals. As a female-founded premium CBD company for women, Equilibria's mission is to help women find balance. You'll be able to work with their dosage experts on site to come up with a routine that fits your needs and purchase a custom package of Equilibria products that support that routine. There will of course be refreshments, CBD sparkling water from superhUe and more to accompany this night of sex ed!
Ready to sign up? Here are all the details:
What: Women's Sexual Health Workshop with Equilibria
Where: The Space Between at the Hoxton, 200 N Green St.
When: Tuesday, 9/17, 7:00 – 8:30 pm
Where do I get tickets? Right here!