How to Host a Clothing Swap with Your Friends
Beyond being eco-friendly and economical, a clothing swap with friends is a good excuse to clean out your closet and is way more fun than a yard sale with total randos. Plus, there are some major benefits.
"In today's social media driven society, we may find ourselves trying to 'keep up' with others, be it a vacation or tangible items like clothing, often to the detriment of our own financial situation," explains Taylor Anderson, Sr. Portfolio Specialist with DWS Group. "By saving what may seem like small amounts of money, but investing over a long time horizon, you may set yourself up for potential future financial success later in life."
She continues, "With the power of compounding interest, it's possible to make your money work for you over your lifetime." By saving small amounts of money (i.e. spending less on accessories, clothing, shoes, etc.) you could potentially save yourself a pretty penny later down the road.
If saving money and getting a new wardrobe both sound good to you (and your wallet) here are six tips on how you can host a clothing swap with friends.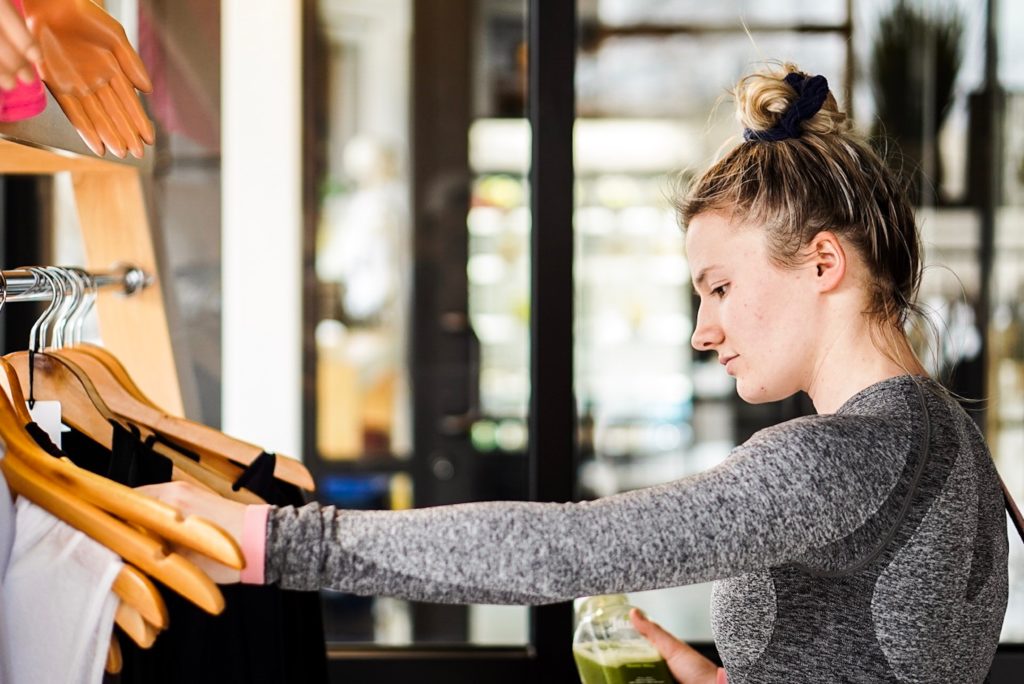 #1 Invite guests
For a good variety of merchandise, invite at minimum three friends with a maximum of 20 friends. Though you could invite more, 20 or less is a doable amount of guests; anything more than that could get a little overwhelming. Give guests at least two weeks notice so they have an ample amount of time to start gathering their belongings. You may also want to remind guests to wear casual and comfortable clothes the day of the event to make trying on clothing options easier.
Tip: You may want to invite friends who are roughly the same size to make swapping easier, but anyone can trade handbags, jewelry and scarves.
#2 Set up a space
Before guests come over, set up a space so they can set up their clothing items, handbags, hats, shoes and accessories. Flat surfaces like dining tables and end tables work best, but you can also use bins and trunks to serve as display spaces.
Tip: Set up garment racks with hangers and grab that full-length mirror from your bedroom so guests can better see the items they are trying on. Make signs and sort fashions by categories like season, size or type.
#3 Plan a menu
No one likes to shop (or in this case swap) on an empty stomach, so make sure you have plenty of snacks such as chopped vegetables, fresh farmers market fruit and dips like homemade salsa and hummus. You can even put together a first rate charcuterie board with cheese, crackers and a selection of meats. Be sure to include wine pairings or mocktails as well.
#4 Establish ground rules
Keep order by first establishing some ground rules. Ask friends to bring clean clothing in gently used condition. Guests should also come with an extra tote bag for carting home their new treasures.
#5 Pick a swapping system
Before you begin swapping, pick a strategy, which should be explained on the invitations or in person before shopping begins.
When Kiley Peters, Owner and CEO of Brainchild Studios, a digital content marketing and website creation agency, decided to host a Team Clothing Swap last fall for her mostly female team, laying down ground rules was a big deal as everyone was excited!
"We had a great time gathering the team around for a fun and different get-together. I hosted at my home and we used the living room and bedrooms to lay out all of the different types of clothing. Everyone had the chance to lay out their items and everyone got to walk around and peruse, but then when we said it was time to go, we just went for it! First come, first serve. There are definitely more systematic ways to approach this, but we had a group of seven ladies, so it was intimate enough with enough space that it worked just fine for us! Then we donated all leftovers to The Salvation Army."
Here are a few more ground rules to consider implementing for your clothing swap:
Keep it even. Everyone goes home with the same number of items they donated.
Take turns. Draw straws to pick who shops first. Limit the number of items to three per turn to keep the clothing swap fair and moving in an efficient manner.
Use tokens. The host hands out poker chips for every item a guest donates. If a person brings 10 items, they will receive 10 tokens, which they can use to purchase 10 new items.
#6 Donate the leftovers
If any clothing remains after your clothing swap, make sure whatever items are left go to a good home such as Dress for Success, Good Will, The Salvation Army or a local church or women's shelter.
Hosting a clothing swap with family, friends and neighbors can be easy when you remember to incorporate these six simple steps. Happy shopping, errr, swapping everyone!
Let us know!
Did this post help you get closer to achieving one of your goals?