Tips for Shopping the Summer Farmers Market
It's officially June, which means we're entering peak farmers market season. I know I'm ready to spend my Saturday mornings out in the sunshine sampling fresh produce and brunching at the market stands, instead of in a restaurant where I need a reservation weeks in advance. And I can't wait for my weekly summer farmers market haul to spark my creativity in the kitchen and keep my meals full of fresh and delicious produce—I especially can't wait for peach and tomato season!
As much as I love the farmers market now, when I first started going to them I found myself confused and intimidated. I'd always try a fun new pastry or juice, but I would save my grocery shopping for the supermarket where things are more predictable. If you haven't shopped many farmers markets and are confused about what exactly to do, use these tips to get started.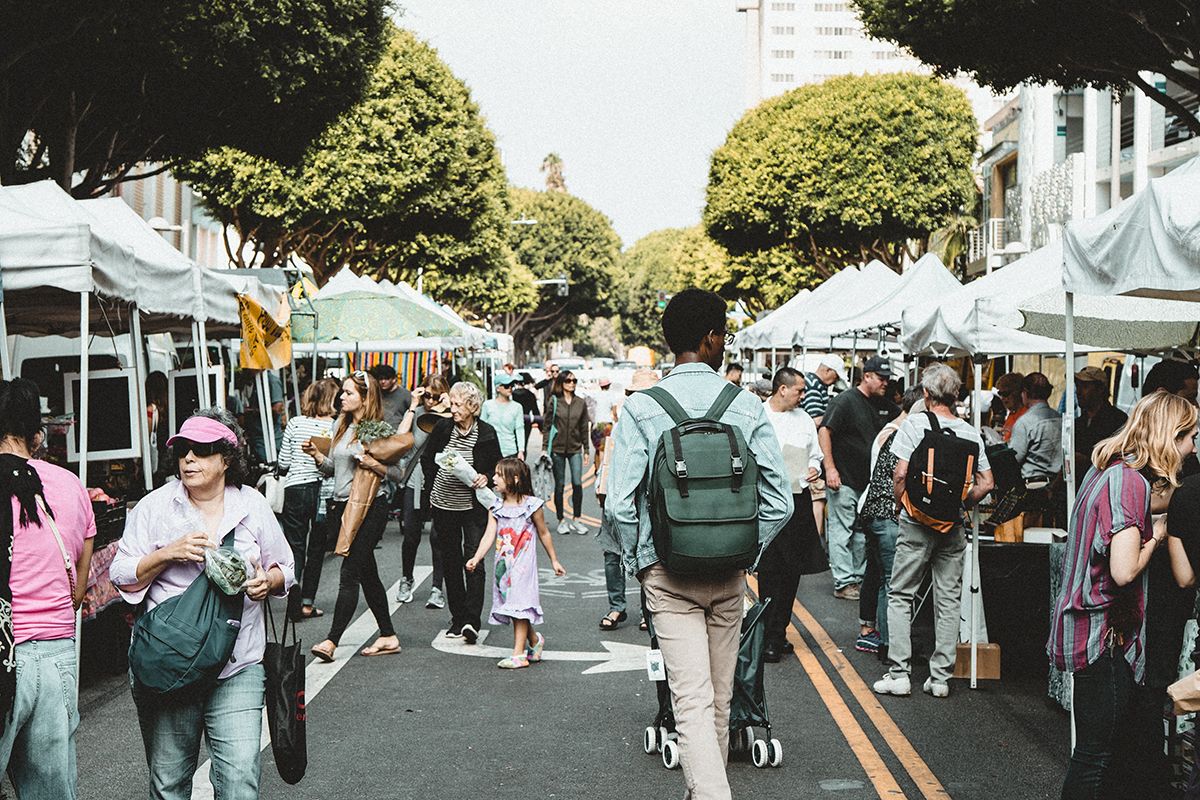 Be open minded
The best thing about summer farmers markets is the variety from week to week. Seasons and what's ready for harvest dictate the market stock. While this gives you a chance to try new things every week, it also means that something you fell in love with last week may not be there the next and if you try heading to the market with a definitive list, you may be in for an unwelcome surprise.
To avoid disappointment, head to the farmers market with an open mind and no grocery list (or a pretty general list that's open to swaps). Most farmers will put out samples so you can pick produce and other items based on what looks and tastes good that week. Then plan your weekly meals around your haul.
Talk to farmers
Unlike a grocery store where employees who have nothing to do with sourcing or growing the food stock and maintain the aisles, the people working at summer farmers markets are directly involved in the harvest. See a new item that speaks to you but aren't sure how to use it? Ask the vendor! These people eat their crops all year and are sure to have creative and delicious suggestions for how to cook with them. They may even let you in on a secret recipe that you can share with your friends and family for years.
Choose your timing
Not all times are created equal when shopping at the summer farmers market. The best time to go really depends on your goals.
It may sound like a good idea to get up at the crack of dawn and beat the crowds for the best variety, and that definitely isn't a bad strategy. If it's important to you to have the first pick of the day, go as close to opening as possible.
But if you find yourself intimidated by the price tags on all that organic and local produce, you might consider heading to the market near the end of the day. Farmers have to pack up anything they don't sell, so if you show up close to closing you may be able to score some deals with vendors looking to lighten their return haul.
Come prepared
It's not a bad idea to come to the summer farmers market stocked with grocery bags, produce bags, and even jars. While most vendors will have bags and containers available, you may run into a couple that don't. Even if they do, you're already shopping local and reducing your carbon footprint, so why not rid yourself of plastic for the day to keep your trip as sustainable as possible?
It also doesn't hurt to head to the farmers market with cash in your wallet. A lot of vendors will accept credit cards, but you don't want to fall in love with some locally made artisan honey only to find that you have no way to pay for it.
Using these tips will help you get started shopping at the farmers market. Maybe you'll just buy a few new items to spice up your cooking routine, or maybe you'll find that the market changes the way you shop. Either way, farmers markets are a fun way to mix up your weekend routine and enjoy the summer!
Let us know!
Did this post help you get closer to achieving one of your goals?