6 Tips for Keeping Spring Cleaning Mojo All Year Long
You know that fresh, "spring cleaning" mojo you get once March hits, and all of a sudden you're on a five-hour cleaning spree the first Sunday afternoon of spring? Well, for starters, it's pretty awesome (and helpful!), and secondly, it gives that re-set on life, where you feel more organized and free from any toxic elements that may have been holding you back over the winter.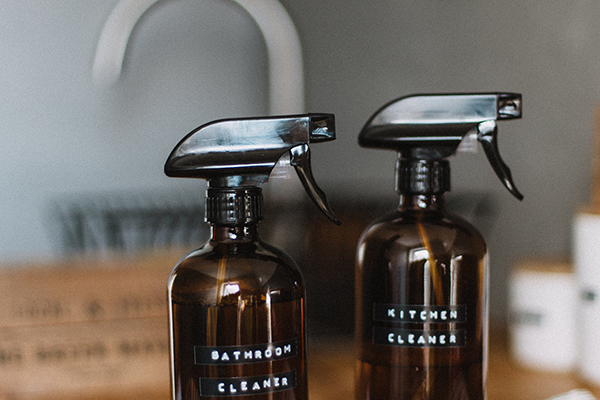 Plus, springtime means it's almost summer—needless to say, us Chicago folk certainly know how spectacular that season is and what a blessing is to say goodbye to winter's snow, ice, and below zero temperatures. (Okay, and maybe the occasional hail storm in April every so often.)
Still, this high-spirited outlook on bringing order back into your life and starting the rest of the year on a fresh note is so powerful in benefiting our health and wellbeing. And that's why it should be implemented every season! Here's how to keep this "spring cleaning" mentality going all year so you can always feel at your best self.
Set a date on your calendar
Hold yourself accountable by putting a date on the calendar for a whole day of banishing clutter and re-setting yourself.
"Pick a date every season that will be your decluttering weekend or decluttering day. At our house, we mark the first weekend of November as 'Donation Weekend,'" says Ali Wenzke, author of The Art of Happy Moving.
Planning in advance will motivate you, and it ensures that you make the time for a quick refresh. Treat it as a work assignment, but enjoy it. Try listening to different playlists to keep your energy high!
Invite friends over
You don't want you home looking like a pigsty when you're entertaining, right?
"Invite friends over for a monthly get together and you'll want to spruce up your home before they come over. Out of town guests are even better for that 'time to clean-up' motivation since you never know what closest may be opened," Wenzke says.
Donate to a charity each season
When you have a charitable cause in mind and you know your donated items will helps others, it gives your spring cleaning efforts a true purpose.
"You can donate books to Bernie's Book Bank or furniture to the Chicago Furniture Bank or kid's crafts to The Kindness Connection," Wenzke suggests. Here, your spring cleaning habits take on new meaning. 
Have a system to stay organized
Don't want to do a five-hour cleaning day? Maybe you'd rather be relatively organized all the time instead. If that's your preference, then make it so you only need to freshen up each week.
"Develop systems to automatically keep things organized. Have a location for your keys and mail, a location for your books, location for pantry jars and teas etc, so that you have 'home' for each item," says Dr. Dewan Farhana, founder of Betternest. This way you can naturally put things in their location instead of having to think about it.
Don't forget digital decluttering
"Consider deleting apps that you don't use; color code and organize them in the order of usage. Use back-up hard-drives, create folders and delete documents that you don't need to create room in your storage," says Farhana. This way, you're getting rid of things that take up time and energy (and space) on your phone so you can feel freer each day.
Want a five-day guide to your digital declutter? We've got it for you right here.
Consider hiring an organizer
It's not a bad idea to hire an organizer to help you out the first time and teach you how to keep that cleaning mindset year-round on your own.
"Consider hiring a certified professional to help you get started, and make your space more functional and productive," says Farhana. You can also do a few follow-up appointments throughout the year to make sure everything is kept in place and make any adjustments, as needed.
Let us know!
Did this post help you get closer to achieving one of your goals?