Here's Why You Can Get a Great Workout Through Recreational Sports
Working out should be fun, so if the idea of spending time indoors at a gym (especially as the weather warms up!) seems like a chore, there's no reason not to get outdoors and try recreational sports as a form of fitness. Not only can playing a game of volleyball or baseball get you in shape and burn calories, but they also involve working out with others and creating a sense of community, which makes time fly by.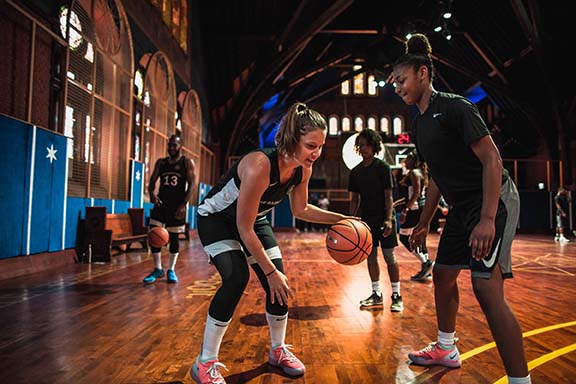 If you're considering jumping on the recreational sporting trend and joining a league this summer or rounding up some friends for a game of kickball on a beautiful day in the sun, here's why it's a great idea. You won't even realize you're working out!
You're using total body muscles
If you're playing sports like baseball, volleyball, basketball, or even Frisbee, you are using your whole body with each time you spike, shoot, or sprint towards a base. Sports are a great mix of sprinting and endurance work, and that combination will get your seriously toned without you even considering it a "workout" as you would when on a treadmill at the gym.
You're building a community and being held accountable
Working out solo can be great for when you want to just zone out to your tunes and recharge, but there's also a real benefit to doing a workout class or joining a sports league where you're sweating and getting stronger with others. That sense of camaraderie will motivate you to stick with your fitness regimen (a kickball or volleyball league is like a weekly appointment), and you'll make some great new friends perhaps in the process.
Time passes easily
When you're playing sports, it's a reminder of childhood and literal "play," which doesn't seem to be associated with working out all that often, no matter how much you might love your spin class or trail run. When you're in a recreational sport, it's a way to reconnect to your inner child and have a reminder of doing something that doesn't feel so "adult-like." (Adulting can be tough, right?)
You're training like an athlete
You might be in great shape from doing a standard gym workout of cardio and lifting, but professional athletes' bodies are so strong because of the drills they do during their sport-specific training. By doing these sports regularly, you'll be training as athletes do to find tremendous fitness gains.
If you're thinking of trying recreational sports this summer, get outdoors in nature and have fun with a crew. You surely won't regret it!